With so many different models available in the market, it does sometimes get really intimidating to decide on the best one. Eagles Nest Outfitters(ENO) and Grand Trunk, both have some fantastic range of products when it comes about hammocks.
A hammock is a portable furniture that can be carried around and it is no longer loved by hikers, backpackers and campers only. Its convenience and ease of use have made it an excellent choice to spend the leisure hours in the backyard as well.


It's a daunting task to decide on the best hammock to invest on especially if you're a novice. In this article, we will review two of the best hammocks in the market and compare them to help you make the ultimate decision.
Let's have a look.
The ENO DoubleNest Hammock is an incredibly lightweight and compact hammock that weighs only about 19 ounces. The hammock comes with a bag that's sewn to it hence you don't need to spend an extra amount on a separate carry bag.
The DoubleNest is made with 70D grade high tenacity nylon taffeta with breathable quick-drying technology that can hold up to a whopping 400 pounds.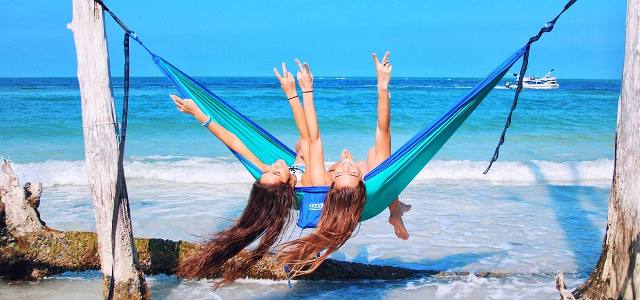 The hammock comes with a stainless steel carabiner and nautical grade line with stainless-steel snap links which enables you to attach the hammock to any pole, trees, boat masts or even walls.
So, even if you're not an outdoorsy person, you wouldn't miss the goodness of this hammock as you can easily place it in your backyard to enjoy the summer breeze with your favorite book in hand.
As the name suggests, you probably have already guessed that it is meant for two people. However, the users mentioned that it isn't roomy enough to fit two people if they are on the heavier side.
On top of that, ENO also offers a warranty on the product. Bear in mind that ENO believes in utilizing all of their fabrics to reduce waste, so the product you get might not look exactly the same as the one in the picture.
Thumbs Up For
Lightweight
Durable
2 years warranty
Can withstand up to 400 pounds
Thumbs Down For
Doesn't include hammock strap
Last update on 2023-12-02 / Paid Link / Images from Amazon Product Advertising API
Imagine the agony of getting non-stop mosquito bites when you're trying to catch some sleep after a long tiring day camping or hiking.
Heartbreaking, isn't it?
The Grand Trunk Skeeter Beeter Pro Hammock will let you sleep like a baby and keep you safe from those deadly mosquito-borne diseases with its bug net protection. The net is attached to the hammock with double-sided zipper for ultimate protection from mosquitos and bugs.
This hammock is a perfect alternative to a tent or sleeping pad that is excellent to use for camping or for relaxing at the backyard.
Along with the net, it also comes with marine grade carabiners and starter rope kit that let you easily attach the Skeeter Beeter anytime, anywhere.
It's made with top quality 70D grade nylon that provides excellent strength to it. It can sustain a whopping 400lbs without a stretch.
The Skeeter Better weighs only about 2.2 pounds and has a dimension of 10'6" x 5' which provides enough room for you to sleep comfortably.
Another great news is that Grand Trunk has been helping the small businesses for 15 years so you can also contribute and bring changes with your purchase.
Thumbs Up For
Comes with mosquito net
Includes carabiners and rope kit for quick set up
Made with high quality 70D nylon material
Can sustain about 400lbs
Thumbs Down For
suspension straps is not included.
Last update on 2023-12-01 / Paid Link / Images from Amazon Product Advertising API
Eno vs Grand Trunk: The Ultimate Comparison:
Comfort
Comfort is a very crucial factor when it comes about hammocks. No matter how expensive your hammock is, if it isn't comfy enough, you wouldn't be able to sleep at all.
Material wise ENO has a much smoother surface than Skeeter Beeter. However, Skeeter Beeter is bigger in size compared to ENO. So, it depends on you what you value more, size or smoother material
Price
Price certainly plays a vital role in all our purchase decisions. No one ever bought gold with a nickel.
We recommend you to not spend money on cheap products rather invest your money a good durable product. The ENO and Skeeter Beeter has a similar price range.
The ENO hammock doesn't come with a strap so it'll require some additional amount to get it.
Design
There are tons of designs available for the ENO hammock and you'll definitely find a color that matches your preference. ENO reduces wastage by using all the fabrics. So, their stitches and design might slightly vary than the ones we see on photos.
On the other hand, only two colors(olive green & navy) of Grand Trunk might not be preferred by everyone.
Straps
One of the most significant differences that these two hammocks have between them is the straps. ENO DoubleNest is compatible with slap traps that have loops in between. The straps are not included with the package and you need to buy them separately.
However, the Grand Trunk uses rope straps that come along the hammock.
Last update on 2023-12-02 / Paid Link / Images from Amazon Product Advertising API
Wrapping Up
Both of the hammocks are of excellent quality. However, the final decision is yours at the end of the day. Apart from the straps, they are quite similar in most of the aspects.Both of them have a similar price range.
If you prefer a roomy spacious hammock then go for Skeeter Beeter and if you prefer vibrant colors with comfy material then you should opt for the DoubleNest.