When it comes to sleep, make no compromise. Sleeping pads are one of the most important yet the least discussed gears when it comes to camping.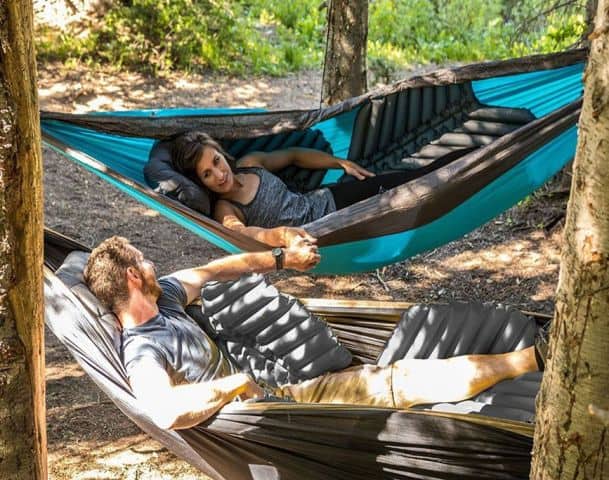 The sleeping pad provides two important functions. First of all, they provide cushioning so that you catch some good night's sleep. Secondly, they provide insulation by keeping you warm from the ground.
After researching countless sleeping pads, we have narrowed it down to the top eight that are a perfect match to be paired with your hammock. We hope this article will help you find the sleeping pad that is your perfect match.
IN A HURRY? HERE'S OUR TOP PICKS…
Size ( Length x Width x Thickness)
Material
Rip-stop 20 Denier Nylon Fabric With A TPU Lamination
30D Super Durable Polyester Material On Top & 75D Material On Bottom
Last update on 2023-09-22 / Paid Link / Images from Amazon Product Advertising API
Top 8 Sleeping Pad For Hammock We Reviewed Today
You have probably guessed from the name that the Klymit Hammock V Sleeping Pad is specially designed for hammocks. Its unique design gives the sleeper a 180 ̊ insulation giving the utmost warmth and comfort which significantly reduces the loss of body heat. It is incredibly lightweight and weighs only about 27 ounces.
Klymit has its signature body mapping technology which ensures to keep you warm no matter which position you sleep at, be it on your side or your back, the V shape of Klymit has got you covered (literally and figuratively). It also has no-slip security that will hold the hammock pad in place while you sleep and restricts you from sliding off.
The Klymit V is made with super sturdy 20D polyester that fights against any tear, abrasion, and puncture. It includes flush flat valves that help in easy inflation and open wide for quick deflation.
Imagine you're in the wilderness and your sleeping pad gets punctured in the middle of the night. Scary, right?
Well, the Klymit V includes a patch kit for emergency repair. The kit is stored in the small storage bag of the pad so that it's always close by when you need it. It also has an anti-bacterial laminate that prevents the growth of microorganisms such as bacteria, fungus, etc. that can generate odor or cause material damage.
This sleeping pad has a deep weld that creates expansion zones for better thermal control and side rail wings which provide more flexible movements while sleeping.
What I Like:
Lightweight
Rugged 20D polyester body
Includes limited lifetime warranty
Anti-microbial laminate [/su_list][/su_box]
What I Don't Like:
The Klymite Insulated Static V is an inflated sleeping pad that weighs only 25 oz and has a dimension of 72″ x 23″ x 2.5″. However, there is a bigger and non-inflatable version of this is available too.
This sleeping pad looks quite traditional yet does no compromise with comfort. It has a unique V-shaped design that will help you not to slide off while you're sleeping and acts like a bumper on the sides.
The Static V is made with incredibly durable polyester 75D grade material which enables it to endure any harsh or extreme condition. It also has a twist pull valve that enables you to inflate it in 10 to 15 breaths and there's also a wide opening for quick deflation.
It comes with a pack so you can roll it up after use. It also comes with a patch kit which is stored in the bag. The kit will help fix any unwanted mishap such as a sudden tear, or a leak, etc.
The Static V is an excellent choice for use in hard places where you need extra padding. Sleeping pads are one of the heaviest items while we're backpacking or going on a camping trip. Even though it's insulated, it is lightweight which makes it an ideal option for carrying around.

We already mentioned that there is also a non-inflated version of this. But, if you prefer some extra warmth and comfort during cold snowy days then the static V will be your best friend throughout the trip.
What I Like:
Lightweight
Comes with a patch kit
Durable and ultralight polyester material
Affordable [/su_list][/su_box]
What I Don't Like:
The V shape might create discomfort
The Outdoorsman Ultralight Sleeping Pad lives up to its name and known to be one of the lightest sleeping pads in the market weighing even less than a pound. On top of that, this sleeping pad is quite inexpensive so you don't need to make a dent on your wallet to have some fun time in the wilderness.
The sleeping pad comes with a storage sack. When it's compressed, it has a dimension of only 9 inches by 2.75 inches. So, gone are the days when you had to worry about the extra load due to the sleeping pad in your backpack.
The Outdoorsman Ultralight is made with rip-stop 20 denier nylon fabric with a TPU lamination that provides durability even in extreme conditions. There are three color variations available: blue, green, and orange.
Inflating this sleeping pad is a piece of cake. You can do it very quickly and easily with roughly 10 to 15 breaths. Most sleeping pads have a valve on the upper side. However, on the Outdoorsman Ultralight, the valve is at the bottom by the feet. So, don't get confused about that. The valve also has an automatic shut-off system so you can close the valve, catch some breath and work again.
The Outdoors Ultralight has a height of 73 inches and a width of 21 inches providing you plenty of space to wrap yourself around and 2.2 inches wide cushion will give you enough comfort throughout the night.
What I Like:
Affordable
Lightweight
Durable fabric
Easy to inflate
What I Don't Like:
The cushion thickness is enough for people with back issues
TNH outdoors is one of the leading and most trusted camping brand around the world. TNH understands the tiredness and discomfort you get after sleeping on an uneven mattress overnight. Hence, they make no compromise with the quality of their product.
The TNH sleeping pad comes with its own compression sack which also has a repeater patch inside that can be used to repair in case you get a tear in the bag. The pad itself is made with very sturdy and durable material.
This sleeping pad has a dimension of 15.9 x 9.8 x 6.5 inches and weighs around 2 pounds. This might not be the lightest one in the market but its high R-value provides warmth and comfort when you're camping during winter nights.
It has extremely strong 75D grade polyester skin that protects against wear and tear. It has twist open 500 series pneumatic valve technology which will help the pad to inflate itself. Fascinating, right? If you want to fill it faster or fill it to the maximum then just a few simple puffs will do the trick.
This sleeping pad has a thickness of 1.5 inches which will make sure that you don't feel the gravel or jagged rocks on the ground at all. The size is pretty decent for camping and it has an R-value of 4 which provides utmost comfort even during the cold wintery night.
TNH makes their customer their first propriety. They stand by its customers and there's absolutely no excuse for any manufacturer defects. If you're unsatisfied with the performance or want a refund, you're more than welcome to seek help from them.
What I Like:
Affordable
R-value of 4
Comfortable
Compression sack included [/su_list][/su_box]
What I Don't Like:
Klymit is one of the most reliable and widely popular brands when it comes to camping gear. Considering the other mattresses in the market with similar size and R-value it weighs incredibly light and 12% less than the original static V.
Along with being super lightweight, this sleeping pad is extremely compact so you can easily fit it in your bag.
Comfort wise Klymit is one of the best in the market. Its unique pattern and construction provide a secured and comfortable experience throughout the night.
The side rails help to keep you centered in the pad if you move during your sleep. Its incredible V shape provides utmost comfort despite the position you sleep in.
The Klymit V2 has 30D super durable polyester material on top along with 75D material to ensure wear and tear or puncture against extreme weather conditions.
However, even if you face any external damage on the bag, you can immediately fix it with the emergency patch kit that comes with the pad. The patch kit is stored at the top pocket of the storage bag so you can reach for it anytime you need.
If you're a frequent camper then you are probably concerned with the germ or other microorganism buildups on your sleeping pad. Well, the Klymit V2 is equipped with anti-microbial laminate which will prevent any microorganism buildup and keep it odor free as well.
What I Like:
Lightweight
High R-value
Sturdy looks
Easy to carry around [/su_list][/su_box]
What I Don't Like:
The Therm-a-Rest RidgeRest Sleeping Pad is a classic closed foam sleeping pad so there's no hassle of blowing it up and inflating the pad. If you're on a budget but don't want to miss the fun of camping then this bad boy is for you.
This pad's primary function is to provide a thermal barrier between you and the ground. Besides being a thermal barrier, it also smoothens out any rock or gravel that might be on the ground. The Therm-a-Rest RidgeRest has a dimension of 77 x 25 x 0.5 inches and weighs only 19.5 ounces.
These sleeping pads are quickly washable with soap and water and you can easily dry them up in the sun. It comes in two sizes. The large one has a dimension of 77 x 25 inches and the regular one has a dimension of 70 x 20 inches.
The Therm-a-Rest RidgeRest has a heat-trapping mechanism that traps the heat and keeps you warm during the chilly winter nights. It has an R-value of 2.6 which is suitable for all weather conditions apart from extremely cold or snowy days.
This sleeping pad is made with super durable crosslink polythene which is absolutely indestructible. The crosslink polythene makes it last through any harsh or rough surface without any puncture or wear and tear.
What I Like:
Budget-friendly
Solid cross-link polythene material
Two size variation
No need to blow air to inflate the pad [/su_list][/su_box]
What I Don't Like:
Not suitable for extremely cold weather
Low R-value
Therm-a-Rest produces incredible camping gears and the Z Lite Sol is no different. It's a classic and ultra-lightweight mattress that couldn't get any simpler. Once you open the package you'll notice that the mattress is packed in a "Z" sort of pattern.
The Z lite Sol comes in two sizes. The regular one weighs about 14 ounces and the small version weighs only 10 ounces. Its feather-light feature would be a perfect choice for you if you prefer to travel light and hassle-free.
Despite being this lightweight and compact, it has quite a high R-value. Also, it has an egg crate design which helps to fold down the mattress into a compact size saving a lot of space.
Since this mattress is very thin and lightweight, you can use it on top of another mattress that you use during summer days that doesn't have a high R-value. You pair it with another sleeping pad to stay warm and cozy during chilly winter days.
The Z lite is made with unique ThermaCapture material. The silver color on top basically acts as a barrier and it traps your body heat and sends them back to keep you warm even in cold snowy nights.
One of the best features of closed foam pads is that there is no risk of it getting punctured or popped as they are not inflatable. On top of that, it's very durable, so with proper care, it'll last you for years.
What I Like:
Lightweight
ThermaCapture material
Egg crate design
Two size variants [/su_list][/su_box]
What I Don't Like:
The ECOTEK Outdoors Hybern8 Ultralight Inflatable Sleeping Pad is one of the most affordable and comfortable sleeping pad out there in the market. Despite being so affordable it has unique hexagon pattern that provides immense comfort and support by keeping you off the ground.
It is made with high-quality and durable 75D polyester material that is ultra-soft yet strong enough to resist any wear and tear. The Hybern8 has a dimension of 74 x 22 x 2.2 inches and weighs only 18 ounces.
The ultra-lightweight feature of this pad makes it an excellent choice for light packers as it doesn't occupy much space in the bag.
Inflating this sleeping pad is quick. It includes an easy-to-use one-way valve that makes the inflation and deflation process a piece of cake.
You can fully inflate this pad with just 10 to 15 blows and deflation couldn't have been any easier. All you need to do is take off the valve opening and voila! You're done.
The air-core sleeping pads are known to lose heat through convection. The EcoTek Hybern8 has FlexCell technology which causes the air passages to constrict and the cells to self-isolate as the pad inflates. This process reduces airflow and increases insulation and stability without putting additional weight on the sleeping pad.
EcoTek outdoor values their customers and they believe in the motto that customers are always right. They offer a lifetime warranty and they will help you out with any problem you face with the bag. On top of that, the company also plants a tree for every purchase to retain the greenery of the Earth.
What I Like:
Inexpensive
Lightweight
FlexCell technology to retain warmth
Easy inflation and deflation [/su_list][/su_box]
What I Don't Like:
The Ultimate Buying Guide
If you've been looking for the best sleeping pad hammock to make your days in the wild little more fun and carefree then you've come to the right place. We've done our homework hence we will provide you with nothing but the best. All the products that we reviewed are premium quality and top of the market.
However, when you choose a sleeping pad several factors should be taken into account so that you make the right purchase.
Types Of Sleeping Pads
There are three main types of sleeping pads: closed cell foam, inflatable, and self-inflating pad.
Closed Cell Foam Pads
The closed cell sleeping pads have been a staple for backpackers for years as they have thousands of tiny air bubbles that provide the insulation and cushioning to keep you warm from the cold rocky ground.
They provide excellent insulation as well as very lightweight and inexpensive at the same time. Even though closed cell sleeping pads aren't very thick but they are virtually indestructible.
Inflatable Pads
Inflatable sleeping pads are basically nylon shell that is filled with air. One of the most significant advantages of these kinds of bags is that they are incredibly lightweight and compact, sometimes only as big as a one-liter water bottle.
However, the disadvantage is that they require to be inflated manually which requires some time. They are also susceptible to puncture but they are easily repairable.
Self-Inflating Pads
Like the inflatable pads, the self-inflating pads are also made with nylon material and filled with an open-celled foam core. As the name suggests, the advantage is that they are self-inflating so it doesn't need any assistance from you. While being lightweight, they also provide generous cushioning to keep you away from the cold.
However, the disadvantage is that they tend to get really bulky and also susceptible to punctures.
Comfort
Comfort is a subjective matter even though it usually varies from pad to pad. The thicker pads provide better cushioning to the hips and knees compared to the thinner ones.
Also, a flat surface is deemed to be more comfortable than a bumpy surface. Try to avoid slippery fabric as they don't grip very well. Go for a fabric that has good grip which will prevent you from sliding off overnight.
R-Value
The R-value is the numeric rating system that indicates the level of insulation the mattress provides. For example, if a pad is rated with the R-value of one, it wouldn't provide you much warmth. If a pad is rated as four or five, it means that it will provide you substantial warmth during cold weather camping.
Faq's
Do I need a pad for the hammock?
Whether or not you need a pad for your hammock depends on several factors, including your personal preference, the type of hammock you have, and the weather conditions you will be using it in. In general, a pad can provide added comfort and insulation, which can improve your overall sleep experience and keep you warm on chilly nights. However, if you have a hammock with a built-in pad or quilt, or if you are using your hammock in warm weather, you may not need a separate pad. It is ultimately up to you to decide whether or not a pad is necessary for your hammock.
How can I make my hammock sleep more comfortable?
There are several ways to make your hammock sleep more comfortable. First, you can choose a hammock with a built-in pad or quilt, which can provide added cushioning and insulation without the need for a separate pad. Second, you can use a sleeping pad in your hammock, which can provide added support and insulation, as well as protect your hammock from sharp objects or abrasions. Third, you can use a hammock underquilt, which is a special type of insulation that attaches to the underside of your hammock and provides added warmth and comfort. Fourth, you can use a hammock top quilt, which is a special type of insulation that covers the top of your hammock and provides added warmth and comfort. Finally, you can experiment with different sleeping positions and techniques, such as lying diagonally or using a hammock-specific sleeping bag, to find the most comfortable and supportive position for your body.
Final Thoughts
There are numerous sleeping pads but with our extensive researched, we have picked the top best sleeping pad for hammocks so you don't have to spend the night shivering in the cold. Choosing the perfect sleeping pad depends a lot on your preferences and intended use.
If you don't like sleeping on a lot of cushioning or you want to pack light then go for a closed-cell foam pad. On the other hand, if you prefer a lot of padding and cushioning then an inflatable pad would be an ideal choice for you.
Finally, choose the sleeping pad that suits your body size, shape, and sleeping style. There are wide ranges of pads available in the market. We hope this review will help you find out the best one in the market.