Hiking in the rain has not been an easy task for most of the guys. From slippy trails to wet socks, the experience of hiking in the rain to most people doesn't seem to be the most enjoyable adventure for spending a day.
Always checking the weather conditions is a must-routine when you're preparing a hike, but sometimes we just have to do it in the rain.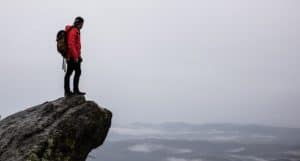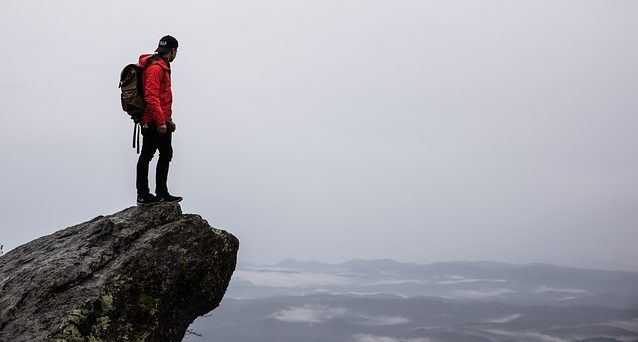 Take an example, people living in areas close to large water bodies, they receive tons of rain each day and night. For this reason, if you wait for the rain to stop to hike, then you may never have an alternative option, but to face the rain.
Therefore, the secret to a pleasant experience hiking in the rain is adopting a positive attitude and proper preparation. In fact, doing it in the rain has been one of the most enjoyable experiences by a lot of people.
So as long you get ideas on how to do it right, then rain shouldn't be the reason for not going on a hike.
This is the main reason why today, we have listed our handy tips that will give you an enjoyable experience when it comes in hiking in a rainy day. Follow them and enjoy your next hiking in the rain.
Choose The Right Trail When Hiking In The Rain
This is true for every hiking trip. Ensure that you're familiar with the surrounding terrain. Selecting the right trail is based on your interest and the weather at large. You may want to consider the steepness of the land where you want to hike.
For instance, more steeply area can be challenging with the mud which can cause you to slip and injure yourself. Also, heavy rainfall can make some terrain to erode, resulting to blocking of your desired route.
Therefore, we recommend selecting a direction that's on a flat land. This area gives you the best platform needed to make your hike enjoyable and less risky. Chances of falling and injuring yourself on flat ground are very minimal.
Besides, we recommend that you select a trail that is covered with woodland. The trees in these areas will reduce any likely damage to the train caused by wet weather. Also, woods will shelter you from rainfall.
Bring The Right Wet Weather Gear:
When planning your hiking trip, it's essential to consider what you need to wear. You will be thankful for picking the right wet weather gear. We suggest you consider the following fundamental layering system to come up with the right gear:
The Base Layer
The base or lightweight tights are the most comfortable gear. They will keep off the moisture caused by exercise and keep you warm and fresh.
Some synthetic is also quick-drying and still can give you warmth when raining. Some polyester can also be the best option for you.
Fleece
We recommend wearing synthetic and fleece insulation only. They will maintain your body warmth in rainfall. Unlike other natural materials like downs, wool materials tend to dry faster in bad weathers keeping your external moisture at bay.
That's why fleece should be your better option.
Waterproof Jacket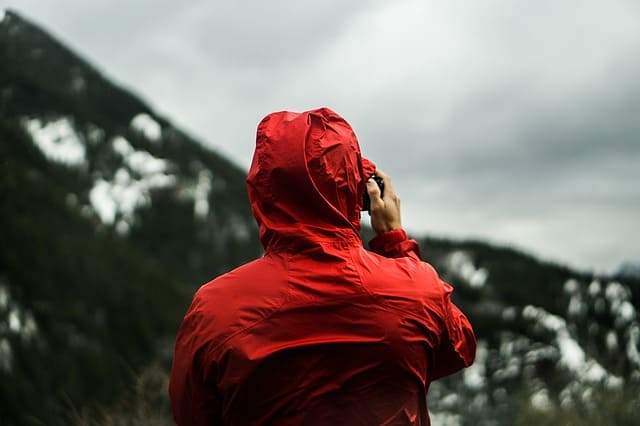 Investing in waterproof jackets is one of the most important factors to consider to keep yourself away from wet-chill. This is done by having the right waterproof coat. Consider looking out waterproof jackets with the following features:
A proper durable water repellant jacket which will keep water off of your body.
A relatively lightweight to enhance your movement around.
A quick drying jacket will also ensure your underneath layer remains dry at a long run.
Pit zips on the side of the jacket which will ensure proper breathability.
Adjustable wrist cuffs to keep off raindrops from running up your arms when climbing up steep terrains.
Last update on 2023-12-02 / Paid Link / Images from Amazon Product Advertising API
Pick The Right Socks And Hiking Boots
Generally, it's vital to have sturdy hiking boots. However, when hiking in the rain, trail-running boots are considered the best since they are waterproof and they dry up quickly.
Another important feature to consider when selecting your rain hiking boots is mesh materials. These materials are made up of fabric designed with tiny holes which aid to keep off moisture and allow fresh air to help boots dry quicker.
Last update on 2023-12-01 / Paid Link / Images from Amazon Product Advertising API
Rubber shoes can also be your best option as they provide excellent traction on different terrains including wetlands hence aiding in balance. This is equally important when hiking. With rubbers, you will reduce the chances of getting yourself in troubles of slipping.
You'll also require considering the type of socks you're wearing. Wet socks can rub against your skin which can lead to blistering.
Last update on 2023-12-03 / Paid Link / Images from Amazon Product Advertising API
We suggest to pack dry socks for your trip and also look for socks that make use of an anti-blistering system. This means that even if your feet get wet, you need not worry about sore feet which can halter your hike progress.
Safety First
When planning for a hike, It's essential to pack a first aid kit with you since accidents are uncertain. Equally, hiking in wet weather and slippery terrain are mostly associated with high chances of accidents.
Hiking poles are a great way of keeping your balance during or after rain. In case you're not using them, attach them to your bag so that your hands are free.
Aootek Upgraded first aid kit Emergency survival Kit....
Powerful Combo set: Spring-action Needle nose Pliers, Spring-action Regular Pliers, Spring-action Wire Cutters ,Wire Stripper, Saw Blade, Can Opener, Bottle Opener, Wood/Metal File, Phillips Screwdriver, Medium Slotted Screwdriver, Key Buckle.
Survival and Emergency prep areredness be prepared during unexpected major emergencies, natural weather disasters, and survival situations that require medical-grade supplies for immediate treatment, relief, and prevention of injuries and infections first aid kit
Unique And Upgraded items - based on customers' feedback.Bigger, stronger metal scissors. inside is everything you need to help you survive: fire starter, compass, whistle, saw, multipurpose flash light pliers,scissrs,flashlight,fishing lines,fishing weights,fishing
Wire saws: with super sharp blades and smooth features do not hurt the hand, is the fastest existing pocket wire saw. Rare earth alloy Ignition rods: directing fire can not ignite, scooped into the water can be wiped away immediately make fire. It can also be make fire under wet, cold, rain, snow weather and low pressure. Compass: compact and flexible high sensitivity
Small size and easy to carry, this extremely useful kit can be placed in a backpack, car, drawers, etc. It's necessary when camping, hiking, adventures, survival and in emergency situations
Last update on 2023-12-01 / Paid Link / Images from Amazon Product Advertising API
Also, remember to avoid walking and standing on large rocks and tree roots. It's also vital to mind your steps especially during and after rain. The ground may be too slippery for you to maintain your stability. Be keen on landslides and floods.
Pack The Right Snacks
Sale
Millennium Assorted Energy Bars (6 Count) - Long Shelf Life...
LONG SHELF LIFE - It is strictly made with long expiration date for up to 5 years even if you stock in a long period of time the taste is still the same crunchy and fresh that keeps you nourished and alive. Each bar contains over 400 calories!
VARIETY FLAVORS - These are very tasty and filling it comes with different fruity flavors Lemon, Raspberry, Raspberry, Cherry, Tropical fruit, Orange flavored bars. It won't make you thirsty or dry out your mouth. You will receive 6 different flavors.
DURABLE PACKAGING - The packing is absolutely Mylar vacuumed packed and BPA-free which preserved them crunchy, safe and fresh to eat. No worries about broken packaging this is very well sealed solid plastic.
UNIVERSALLY NEEDED – These is a very good substitute if ever you are in an emergency situation like calamity, out of food, camping, boating, hiking and more outdoor or indoor activities. These are ready to eat, non-perishable for adults and for kids.
PERFECT GIFT - Excellent gift for your friends, kids or to anyone in your life. Survival tips inside for you and for your family.
Last update on 2023-12-01 / Paid Link / Images from Amazon Product Advertising API
One of the best experience of hiking is breaking for a picnic. For wet weather hiking, it's good to bring foods that you can eat on the go like energy bars, protein bars, and fruits.
Try to avoid foods that will expose your hands to wet.
Keep The Right Attitude
Just like doing anything else, your attitude plays a vital role in how good an experience is. For instance, if you go out with the right mindset, keeping in mind that it's enjoyable hiking in the rain, then you will eventually enjoy the whole experience.
Protect Your Map
A map is not something to forget when going on a hike as it will guide you in the directions in your journey. When in the rain, using your map can be challenging as it can get soaked in water and smudge the print giving you an easy task of reading the information.
We, therefore, recommend protecting your map by use of a map protector.
Waterproof Your Backpack
In case you're going to carry wet-sensitive gear, it will be essential to get the wrap in garbage bags, Ziploc bags or dry bags.
Dry bags are best tools for keeping valuable equipment inside. It will protect your gear from getting wet and makes it easy for you to separate items hence keeping you organized.
On the other hand, Zip-lock bags are great at keeping your small things like food and other necessary bits that are helpful in your trip.
Stay Hydrated
When it's raining, it's easy to forget that you also need to drink some water and you may not be able to notice when you're getting dehydrated.
Therefore, it's equally essential to stay hydrated when hiking in wet weather just like it is when doing it on a sunny day. So be sure to take a water break. Carrying backpack hydration packs can be the best option for staying hydrated while hiking.
Last update on 2023-12-01 / Paid Link / Images from Amazon Product Advertising API
Last words
Hiking in the rain doesn't have to be a terrifying experience. Just make sure you consider what is important to have on your hike, ranging from your clothing, footwear to backpack and food. Follow these tips and be sure to enjoy your rainy day hike. Go out and enjoy.