Be it winter, summer, or the rainy season, are you the type who does not mind being as close to nature as one can be?
The beauty of nature does not let you stay confined indoors. You want to experience first hand what it feels like to be amid nature in all its forms.
In fact, you want to sleep with the white of the snow around you, the raindrops deafening you, and the sun lighting around you.
However, you want to experience nature from a distance because its forces can be quite powerful. The cold and UV rays can do you more harm than good.
This is why when you choose to relax on a hammock, it is best to consider buying a hammock tarp with it.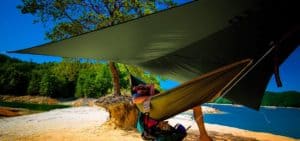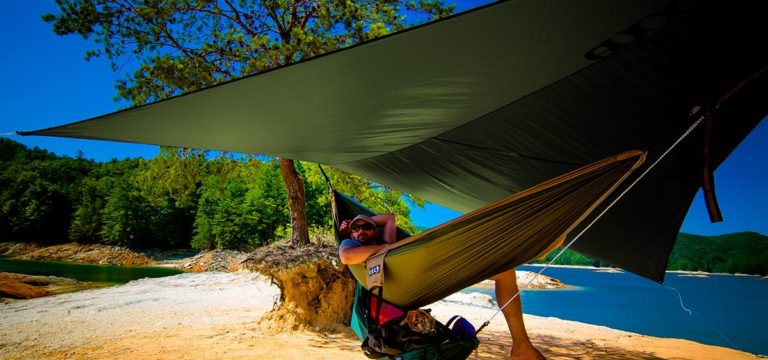 However, have you ever tried covering your bed with a mosquito net? It is not the simplest thing to do and setting a hammock tarp is an even difficult task.
So, when you are buying a hammock tarp you have to make sure you are buying the best hammock tarp you can use for yourself at the price you want to pay.
You will know about the best seven available right now through our reviews. Other than that, our buying guide will help you develop a kind of judgment skill yourself.
IN A HURRY? HERE'S OUR TOP PICKS…
Last update on 2023-12-01 / Paid Link / Images from Amazon Product Advertising API
Hammock Tarp Reviews
Want to experience heavy rain sitting amid it but not letting it touch you while you just feel the cold breeze?
Then, this Chill Gorilla is a strong big boy to do what you need it to do.
Thumbs Up For
Good coverage area.
Very waterproof.
Strong stitch and build.
Includes everything needed.
Extreme weather protection.
Easy to set up.
Good value for money.
Thumbs Down For
The grommets and stakes are not durable or strong.
A bit heavy.
Horrible graphics.
It's not great when used in a diamond shape.
Last update on 2023-12-01 / Paid Link / Images from Amazon Product Advertising API
Apparently, it is made of ripstop nylon and is just heavy enough to deal with the pressure the weather puts on it.
You have the options to hang it up in either square shape or diamond shape. However, the diamond shape does not provide you with the best form. Apart from that, setting this whole tarp up is quite easy and it provides a lot of coverage too.
It comes with a stuff sack which includes pretty much everything you need. However, the grommets provided with it are neither enough in number nor the strongest. They will bend like coke cans.
Apart from that, the stakes are quite fragile as well. You may find that the centerline is not long enough as well. Other than these minor inconveniences, what may catch your eye most (literally) is the graphics that almost no one likes.
However, it is quite waterproof with rare instances of leaks. It is a good buy for the price it comes at.
If you want the tarp to stay put even when the wind is enough to carry you away, this Best choice Rain Fly Tent Tarp is what you need.
Thumbs Up For
Excellent performance in tough winds.
Protects from rain and sun.
Great quality build.
Very affordable.
Comes with everything necessary.
Quite lightweight.
Thumbs Down For
The ridgeline may be useless or too long.
Unclear instructions.
Last update on 2023-12-01 / Paid Link / Images from Amazon Product Advertising API
Apparently, it has a catenary shape that makes it ideal for use in heavy winds. However, that is not its only forte.
This tarp will provide you protection in rain and sun. Apparently, it is made of 210T waterproof diamond ripstop nylon that is coated with UV protection. Furthermore, it comes with everything you need to set it up and also a few extras that you may consider using.
Everything it comes with is of high quality except the stuff sack maybe. The only problem you may face is when setting it up. Apparently, it does not come with clear instruction so you may get confused and the setup may take quite some time.
Otherwise, it is quite lightweight and easy to carry. It covers enough area as well. It is a great buy for the price it comes at and you can even use it over a bug net.
Just as Noah's Ark saved his family and the animals, this Kelty Noah's tarp may be able to save you from weather with mood swings.
Thumbs Up For
Quite lightweight and easy to carry.
Offers good protection in rain, wind, and sun.
Versatile in design.
Clever mechanism.
Good quality build
Thumbs Down For
The accessories provided with it are of lower quality.
The tarp may take an uncomfortable shape in too much wind.
Last update on 2023-12-01 / Paid Link / Images from Amazon Product Advertising API
Apparently, you can find this tarp in three sizes and each size has a shape that you can configure in multiple ways. With its four-point shape, it is quite versatile but not all shapes work best with it as the diamond shape.
You will find a number of accessories included with this tarp and you will have to buy a few others separately. Apparently, the quality of the things included in the stuff sack is nowhere near the best. They can be flimsy and not durable.
With its catenary cuts, it is quite protective in wind but does take a shape that may make you feel a bit claustrophobic. You may have to use some strategies of your own to set this tarp up in the most efficient way.
Pricewise, it is at the mid-range and exactly cheap for a tarp. However, the quality of the tarp itself is quite great so if you are alright with the extras being off a bit lower quality then it is a good buy.
Looking for something that you can pack easily and travel with?
A hexagonal tarp will be the best choice for it and if it is from a brand like Chill Gorilla, you have nothing to worry about.
In fact, in terms of quality, this is one of the best tarps you will ever find.
Thumbs Up For
Easy to pack and carry.
A shape that is easy to set.
Comes with parts that are necessary.
Good value for money.
Good quality build that protects well.
Actually waterproof.
Thumbs Down For
Included parts are flawed.
Difficult setup.
Last update on 2023-12-01 / Paid Link / Images from Amazon Product Advertising API
While the tarp itself is designed to be put up quite easily, the parts that come with it make it hard to do so. Apparently, the lines, grommets, tie-outs, etc. Are not built to perfection and are not the easiest to work you. You will need to make adjustments to set this tarp up without any instructions.
For the price, it is of great quality so worth a buy if you are alright with the setup hassles.
If your needs are not that big then this UST Tube tarp may be able to delight you.
Apparently, the main complaint it receives is that it is too short for some people. Well, if it fits your size and the hammock, you pretty much have nothing to complain about its hexagonal functionality.
Thumbs Up For
Very compact and lightweight.
Protects well against weather.
An affordable choice.
Insulates heat.
Thumbs Down For
Included accessories are not the best.
A bit small for all.
Last update on 2023-12-01 / Paid Link / Images from Amazon Product Advertising API
It is very weatherproof and will protect you well. In fact, it is very lightweight and will fold down to a very compact size for easy portability. However, the stakes included in the stuff sack is not at all reliable.
So, this is an affordable, safe, and efficient choice for the smaller, more compact needs.
If you love to utilize any matter to its full potential then you will feel proud to own this UST Tube tarp.
Apparently, it is not just a tarp, it is a tent as well. You can convert this from tent to tarp and vice versa using the zips.
Thumbs Up For
Very lightweight and strong.
Offers protection in several ways.
Extremely dependable.
Very affordable.
Quite easy to set up.
Thumbs Down For
Does not take a diamond shape well.
The included stakes are not the best.
Last update on 2023-12-01 / Paid Link / Images from Amazon Product Advertising API
Furthermore, it also comes with a flame retardant side. So, you are protected in every way you can imagine. Although it is lightweight, it is tough against the forces of nature. What you may have trouble with are the stakes as they might seem flimsy.
Make sure you seal the seams right to get a total water resistant experience. It offers great value for the money.
Want something that can handle your heavy needs but not weigh as heavy?
Then, this ENO rain tarp is what you need.
Thumbs Up For
Very protective in extreme weathers.
Covers what it is capable of covering very well.
Easy to set up.
Good for the price.
Thumbs Down For
The accessories are not very efficient.
May leave edges dry on double hammocks.
A bit bulky.
Last update on 2023-12-01 / Paid Link / Images from Amazon Product Advertising API
It can handle anything starting from rain to snow easily and keep you and your gears completely dry.
However, it is not the greatest option for backpackers because it is slightly bulky because of its higher abilities.
Moreover, while this tarp is large enough, it is not large enough for even larger needs like for a double hammock. You may find the edges wet if you use it for a double hammock.
Other than that, it takes some time to set it up but it is simple to do. However, the accessories included are not the best.
Your Hammock Tarp Buying Guide
If you keep in mind to check the following factors, you are more likely to find a hammock tarp that is not only durable but perfectly suitable for you.
The Material Of Protection
What you need the tarp to do is protect you from weather conditions. It may be rain, snow, or just the sun but what makes the tarp plays an important role in determining how well it handles the elements. In fact, you have four popular choices of materials to choose from.
Nylon: What comes to your mind first whenever you hear "Nylon"? An umbrella.
Now, you can imagine how waterproof a nylon tarp will be. In fact, it will dry up very quickly and will last quite long. Furthermore, it is lightweight in nature.
Blue Polyethylene: If you are not planning to carry your tarp too often then this is a great choice. It is quite thick but heavyweight. And, of course, waterproof.
Polyester: Apparently, this material is both lightweight and thick. This is more suitable for sunny weathers than rainy ones.
Plastic Polymer: If portability is your top priority then you cannot go wrong with a plastic polymer. It is light and easy to fold but also quite thin which reduces its durability.
You will find that tarps made with any of these materials may be made with a treated version of these materials. For example, you may find ripstop nylon instead of normal nylon. Apart from that, the density of stitch is also an important factor.
The more the density, the stronger is the material for the tarp. So, you know what to look for.
The Size That Fits The Hammock
Choosing a tarp, in general, would not have been such a difficult task but choosing a tarp for a hammock requires more coordination.
Apparently, the tarp should not only cover the hammock, but it should also be larger than the hammock so that the elements it protects you from does not fall on you. The length of the tarp should be at least ten feet along with the ropes.
If you are planning to cover a bigger or a double hammock then the hammock should be even larger in both length and width. Even the width of the hammock should not be less than ten feet as it needs to be set at an angle.
The Shape Which Is Most Effective
If you are familiar with tarps you may have noticed that they come in various shapes to offer protection in different ways.
However, it is mostly the assembling process that receives the greatest influence on the shapes. They usually come in four shapes.
Rectangular Tarps: You know what a rectangle is and rectangular tarps have the shape of a rectangle. This makes the tarp take the shape of a tent when it is suspended.
As a result, you get maximum coverage for it, and the water or snow whatever collects on the top slides down very effortlessly on it.
However, these are a bit difficult to set and also quite bulky and heavy. In fact, they have four anchor points and a central ridgeline.
Hexagonal Tarps: If you are looking for a lightweight tarp yet with a good coverage area than the hexagonal tarps are the best choice.
Apparently, they are similar to rectangular ones but with a different type of edges and with better ventilation. However, these come at a higher cost.
Diamond Square Tarps: Are you looking for the easiest tarp to set and also the most lightweight?
Then, the diamond square shaped tarps come with very little weight of its own and only two anchor points. However, the lightweight is accompanied by a smaller coverage area.
Catenary Tarps: These tarps have curves in them and the curves help to deal with windy conditions. Therefore, if it is windy around where you want to lie on a hammock, catenary tarps are your go-to tarps.
Other than these you will find square-shaped and asymmetrical tarps available. Apparently, various brands often come up with unique shapes that serve one purpose better than the other.
You just have to keep your needs in mind when looking for the perfect shape.
Weight Can Burden The World With
Apparently, the tarp should neither be too heavy nor too light. However, it is better if it is on the lighter side. Because if it is lighter, the pressure on its support is not much and thus the durability is increased.
Furthermore, a lightweight tarp won't droop down on your face or sides. If the tarp has to deal with accumulated snow or rainwater then it should harbor ample weight to be strong enough to hold the heavy matter.
However, it should not be so heavy that the weight adds to the overall weight and rips apart the tarp.
An ideal tarp usually has a weight of around 1 to 2 pounds.
The Centerline That Provides Support
It is not only the tarp weight that can bring your fort down, but it is also the centerline as well. Apparently, as you can imagine, the centerline is something that goes through the center, providing support to the tarp, and dividing it into halves.
What you have to check is that the centerline is sturdy enough and has a long enough length to support the length of the tarp.
This will highly affect how your tarp is spread around you. If you want proper coverage, the centerline and its length is a must-check. Furthermore, you also have to check how the centerline holds the tarp in place.
Whatever it uses, ropes or anything, it should be able to keep the tarp firmly in place. You can look at centerline as the skeleton of the tarp.
The Angle That Will Handle The Pressure
If you are expecting only protection from the sun from your tarp then the angle is not that big of a deal. But, if you are planning to use your tarp in the rain or snow, angle plays a huge role. In fact, it also plays a huge role when determining how well the tarp covers all of the hammocks and around it.
Tarps do best when set at an angle of 130 or 150 degrees. Apparently, this angel is enough to let the accumulated matter slide down and also provide the hammock and you ample coverage.
The Process For Hanging
It is usually a rope on both sides of the hammock tarp that fastens the tarp to the same trees that the hammock is attached to. What you have to make sure is that you have the right pair of trees for it.
Apart from that, everything else should be included with the tarp itself.
If the tarp is attached to the rope itself then the rope can tear off when too much pressure is applied. This is why carabiners are a good choice when it comes to ease of assembly and also durability.
However, you will need ropes to suspend the tarp one way or the another.
Another consideration is the ridgeline. It is best if the tarp comes with an included ridgeline as that will fit the tarp best. Apart from that, the anchor points and how they attach should be considered for ease of suspension.
The Accessories & Features It Comes With
One of the most important thing you will find coming with a tarp is a bag. Apparently, most people go a distance to find the perfect spot for hanging a hammock and a tarp.
The hammock usually comes in a compression bag so a tarp is best off if it comes in a small bag that it can perfectly fit in to.
Other than that, the tarp may include various other accessories that come in handy in different conditions. A few of them might help you suspend the tarp faster and in an easier way.
When it comes to features, some tarps come with UV-resistant materials that protect you well from the sun. There are various other innovative features that you will find handy. Just look for what you need and consider it.
However, the more the features and the more they help, the greater will be the price.
What Are The Benefits Of Buying A Hammock Tarp?
People often buy a bug net with hammocks to protect themselves from bites. However, you may need protection from nature at its extreme itself than from bug bites. In such cases, a hammock tarp plays a very beneficial role.
Weather-resistant
The sky can turn from sunny to cloudy in seconds and if you are on a hammock with a hammock tarp over it, you can still save your relaxing day.
An Affordable Solution
Relaxing sessions can be quite costly if you want the perfect one. However, you can deal with the mini problems that hammock naps come with by using a tarp that is neither very costly nor needs fast replacement.
Ease Of Setup
You do not have to use many tools or much of your energy to set up a hammock tarp. So, most of your relaxation time is saved in the best way possible.
Frequently Asked Questions:
Can Extreme Temperatures Harm A Hammock Tarp?
Hammock tarps are usually meant to deal with extreme temperature and weather conditions. So, if the brand is true to nature then extreme heat or cold should not harm a tarp.
At What Height Should The Hammock Tarp Be Suspended?
You want the hammock tarp to give you ample space to breathe and move around. So, a distance of two to three feet from the hammock is a good idea for the tarp.
Final Words
You should leave no stone unturned in making sure that you have the most relaxing time when you are at having it. Relaxing in the middle of nature has its cons but they can be dealt with easily. A hammock tarp is the best way to deal with the cons that come with sleeping or relaxing on a hammock.
However, the wrong hammock tarp can put in more discomfort than the absence of it. Therefore, when you are out buying a hammock tarp, make sure you are doing everything to find the best hammock tarp that meets your needs. Our buying guide and reviews should have taught you what to look at to find the best.