Hammocks have been a camper's best friend for ages and they certainly don't need any introduction. Just imagine, after a long tiring day of hiking you want to catch some sleep but your hammock is so uncomfortable that you just could not shut your eyes for a bit?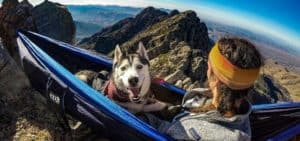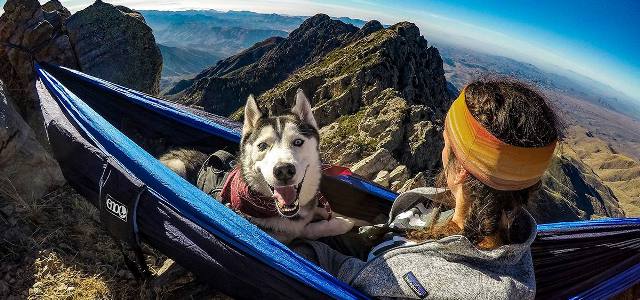 Heart-wrenching, isn't it?
A good hammock should be able to help you with the quality of your sleep when you're sleeping outside. A hammock is an essential tool that has numerous uses and benefits. It's an excellent portable furniture that you can carry around for camping trips or to simply enjoy the summer breeze in your yard.
There are countless hammocks available in the market but when you're camping out, you surely want a product that is durable and high quality with top notch performance. We will review the Eno Doublenest Hammock that promises to deliver superior performance in the wilderness. Let's begin.
Thumbs Up For
Extremely lightweight
Durable
Spacious
2 years warranty
Thumbs Down For
Hanging strap is not provided with the package
Price is slightly higher than other similar products
Last update on 2023-09-19 / Paid Link / Images from Amazon Product Advertising API
Eno Doublenest Hammock Review:
Features
The Eno Doublenest is a super lightweight and compact hammock that weighs about 19 ounces only. It can easily be stuffed into a bag as it occupies very little space. The best part is that the bag is sewn to hammock itself thus eliminating the requirement of an extra item.

This hammock is made with 70D grade high tenacity nylon taffeta with breathable quick drying technology that can hold up to 400 pounds. It has aluminum wire gate carabiners and marine grade lines with stainless-steel snap links that let you secure the hammock to the trees, poles or even walls.
One of the most fantastic features of Eno is that they reduce as much waste as possible and utilize every bit of a fabric they got. You might not get the exact same design on the picture and there could be some variations. However, you'll be contributing nature to reduce waste as well.
Is She(The Hammock) The One For Me?
As the name suggests, the Eno Eagles Nest Outfitters is a portable hammock for two people. This is a perfect fit for the campers, hikers or people on the heavier side who prefer to have more space. Even though it's very light and tiny, it can withstand a whopping 400 pounds. So, if you're looking for something strong yet lightweight then this is your match made in heaven.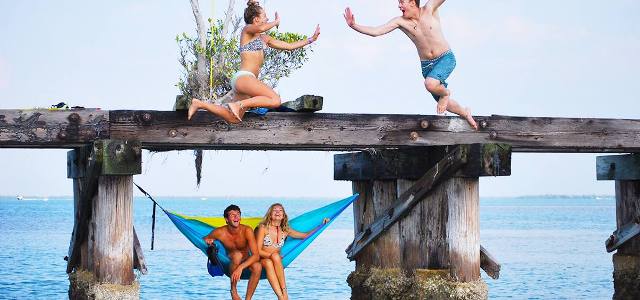 The top grade nylon taffeta fabric offers tremendous durability in all kinds of weather. However, the fabric used to make the Doublenest is a bit hard to clean during snowfall. The cleaning process is pretty quick and easy. Even if you're a lazy person you can ace this task as you don't even need to use any harsh chemical based detergent to wash it.
So, if you match the above criterion and you are in dire need of a perfect hammock to make the trip memorable then think no more, just get your hands on this awesomeness.
The Benefits Of The Doublenest
One of the greatest benefits that you get from the Eno Doublenest is its versatility. Its compact size makes it suitable for camping, hiking, boating, beach parties or even for relaxing at the backyard. The Doublenest hammock is big and robust enough to accommodate two people while maintaining such a lightweight.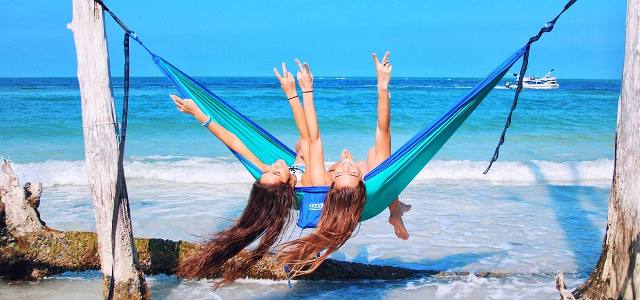 Weight and space are a great matter of concern when you're backpacking. With the Doublenest, you can take all those worries out of your head as it occupies very little space and weighs only 19 ounces. It also comes with carabiners and nautical grade stainless steel snap links that allow you to attach it seamlessly in trees, polls, boat masts, wall, etc.
Even if you're not adventurous or outdoorsy, the Doublenest will come in handy for you too. This hammock is an excellent portable furniture where you can lay down and enjoy the cool breeze with your favorite book in hand.
As the Eno Doublenest is made to accommodate two people, you can also spend a romantic night out with your loved one under a sky full of stars. With adult supervision, children can enjoy some jump and bounce too on this super strong hammock.
The Ultimate Question: How Big of A Dent Is It Going To Make On My Wallet?
Well, the price of the Doublenest is slightly on the steeper side. There are other variants available in the market with a cheaper price tag.
But, hey! Who bought gold with a nickel?
The performance does absolute justice to the price so you'll be left with no room for regret. It has a superb price to performance ratio hence investing on the Doublenest would be an excellent decision if you don't mind paying to have some sound sleep after a long tiring day.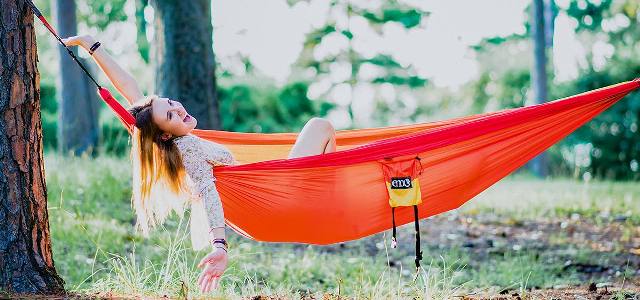 On top of that, ENO provides 2 years of warranty from the date of purchase if bought from an authorized seller. If you have proper purchase details available, they will replace or repair any manufacturing defects.
However, bear in mind that the warranty doesn't cover UV damages such as discoloration and brittleness of the fabric, accidental damage due to wind, burns, animal bites, improper care or use such as hanging over 18″, jumping, swinging etc, regular wear and tear, after-market design modifications and lost or stolen products.
User's Opinions
The ENO Doublenest got mostly positive remarks from its users. Most of the users mentioned that it's a perfect product to be taken on the tour due to its lightweight.
Many of them said it's incredibly comfortable for not only laying down but also for sitting side by side. A reviewer suggested using a sleeping pad along during the cooler nights as the fabric tends to get cold with the flow of cool breeze.
However, some reviewers mentioned that they felt like threads are snapping when two people laid down, so few of them do not recommend it for two people.
Instead, they think it would be more appropriate for one plus size person. Despite the massive withstand capability, it is better if a single person uses it as a sleeping pad instead of two.
Frequently Asked Questions:
Does the hammock come with a strap?
No, the Eno Doublenest does not include any strap. You need to purchase them separately.
Can I use it indoors and hook it on the wall?
Yes, you can. Eno has specialized hooks for indoor uses that help you hook it on the wall.
What is the dimension of this hammock?
The EnoDoublenest has a folded dimensions of (Dia x L) 5u0022 x 5" and unfolded dimension of (L x W) 9′ 4u0022 x 6′ 2u0022.
Is there color variations in this product?
There are tons of color combinations available from teal to orange to navy to grey, even Rasta print! However, please be noted that the print and stitches might not come same as the picture as Eno tries to reduce as much waste as possible.
What are the accessories included with the hammock?
The Eno Doublenest only comes with itself and the carabiners. No other accessory is included.
Wrapping Up
With its superior features and top-notch quality, Eno has already been ruling the hammock industry for quite some time. The Eno Doublenest Hammock has super sturdy and solid build quality that will make your tour a lot more comfortable and cozier.
It's a competitive market and there are tons of different variants available and you can get a parachute hammock for a quite cheaper price than this.
These hammocks are made with extreme care and they also reduce potential waste so buying this product would result in helping the environment. We have listed up the pros and cons in this Eno Doublenest Hammock review, so weigh them out and decide if this is the one for you or not.
The durability and the brand value that the Doublenest provide are over the top, so investing in this product would be a wise choice after all.