People who love to camp a lot with their family or friends, usually also love to have a hammock on their camping. Resting in a hammock and seeing the nature or reading a book is one of the best feelings that one can have.
It brings peace and serenity to our mind. Falling asleep while you are lying down in your hammock and watching the stars is something that you will remember for a long time.
One can get all of these amazing things only when he/she has used a high hammock. For various reasons like weather damage or for overusing, hammocks tend to tear down. Therefore, one needs to use a good quality hammock.
There are many hammocks available in the market, but not all of them are going to serve you will.
For this reason, we have come up with this Bear Butt Hammock Review; where you will you get to know about this impressive hammock's all amazing features. The product itself called the Bear Butt Double Parachute Camping Hammock or the short name is Hammie.
Before we get into the details review, let's just see the basic measurements and material specifics of this hammock.
Height: 10'by 6′
Weight: 1.5 pounds ( including the gear)
Material: 75 D Nylon Taffeta
Length: 10 feet
Package size: 7x 4.5 inches
Thumbs Up For
Durability is the number one advantage of this hammock.
Considering its high quality, we think it is super affordable.
Lifetime replacement offer and money back guarantee.
All the gears are included.
Large enough for 2-3 individuals.
Tall persons can easily fit in.
Quick set up.
Thumbs Down For
The straps of the hammock are just a little sub-par.
Not a budget-friendly option for everyone.
There is hardly anything to complain about the Bear Butt hammock. We think these are just some areas where there can be an improvement, nothing serious actually.
Last update on 2023-05-31 / Paid Link / Images from Amazon Product Advertising API
Features Of The Bear Butt Double Parachute Camping Hammock:
Strength
The main issue for any hammock is how tough or strong the hammock can be. While buying a hammock this is the most important feature we want that it should be long-lasting and durable. The Bear Butt Double Parachute Camping Hammock really stands out in this category.
This is one of the best long lasting hammocks that you will get in the market. This Bear Butt Hammock is made of strong nylon fabric which can give support to 500 lbs. To be more specific, it is made from 75 D Nylon Taffeta that gives this hammock the best durability and toughness.
So, you don't have to worry about the toughness of your hammock if you are using this one.
High Comfort
Now, when you heard that this hammock used very strong fabric, you might think that this fabric is not something very comfortable. The toughness of some hammocks actually made it a little uncomfortable to use.
However, the Bear Butt Hammock is different. With its strong nylon fabric, it has also used the 210 thread cunt that gives a luxuriously soft feeling to the hammock.
From our findings we think, this is actually the best comfortable hammock in the market. There is no comprise have been done with comfort while making the hammock strong.
So, you can see you are getting comfort plus strength both from this Bear Butt Hammock.
Liner
An important feature of a good hammock is having a liner. A liner is very needed with a hammock, especially for cold weather. The Bear Butt Hammock has included an inflatable liner in its design.
This liner will give you extra comfort during the cold nights. On the day it can be stored easily also.
No Stand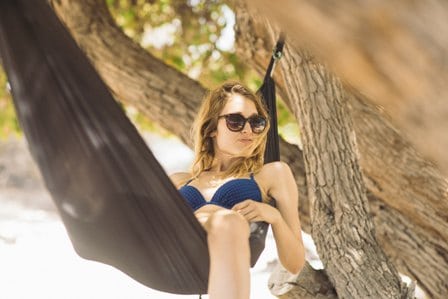 While going for camping we have to take so many things and that time taking an extra stand to set your hammock is really painful.
With the Bear Butt Hammock, you don't have to face this problem also. It does not require any stand to be set up. This hammock can be set very quickly without any special setting system.
Therefore, not only at camping but you can actually set this hammock very easily at your house backyard, even inside your house.
With no standing requirement, this hammock is going to be the perfect afternoon seat for you.
Carabiners & Ropes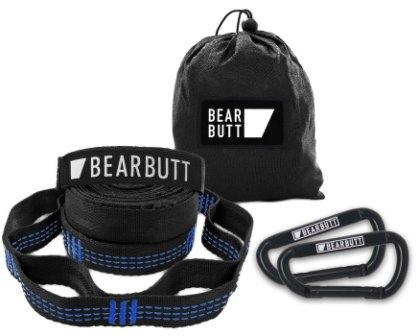 The Bear Butt Hammock comes with carabiners and ropes. There are two heavy-duty carabiners and two 10 foot length tactical grade rope.
Moreover, there are also nylon straps at either end of the hammock to give it more durability and to prevent any kind of tearing.
You just need to hook the rope through the straps and then secure tying those ropes with a tree or a post. Your hammock is ready to go.
Portable
One of the great features of the Bear Butt Double Parachute Camping Hammock is that it is really lightweight. The hammock weighs only 1.5/1.6 pounds with all its gears.
Moreover, when folded down it has a compact size which can be fitted easily in a car. For these reasons, this hammock is perfect for traveling.
It is so portable that you can carry it anywhere for a casual trip or bigger trips. With this Bear Butt Hammock, you are ready for adventure anytime.
Cost
Now we think the main feature of any kind of product is its cost. Not everyone can invest a lot of outdoor activities. Most of the people actually want a cheap hammock which can meet their primary needs of a hammock.
However, what happened that these cheap hammocks can be torn down easily and then one needs to buy again another one.
That' why we will recommend you rather than buying frequently a cheap hammock it is better to go for a good one at the very first.
The Bear Butt Double Parachute Camping Hammock is not that much expensive but it is not so cheap also. We think this has a moderate budget that one can go for.
As it is meeting all your requirements so perfectly, we recommend that you go for this.
Cool Colors
This is not something we look out at the very first for a hammock, but we cannot ignore this that the Bear Butt Hammock comes in some really cool colors and patterns.
There are so many different color and patterns to choose from. There is obviously a color for everyone, which will match their personality.
You can easily find all of the colors and patterns on their website or at Amazon. Regardless of the colors and patterns, the Bear Butt Hammocks will cost you the same price.
Storage
The Bear Butt hammock has an attached stuff sack that is capable to hold the entire hammock inside of it. This hammock can be store down effortlessly for your next adventure.
The storage bag is perfect where you can tow down the hammock safely. However, you have to make sure that, before putting it back it is totally clean and dry.
If somehow the hammock remains wet and you store it then there can be damage to the fabric. While washing the hammock always use warm water and a cloth soaked in cloth. Let it dry in natural air.
Warranty
There is no specific warranty or guarantee period with this hammock. Wait, don't just get it wrong. The Bear Butt Double Parachute Camping Hammock comes with a lifetime refund opportunity.
The company believes that there can't any complaints about their product. They think their product doesn't require any guarantee or warranty period.
Rather than offering a warranty, they offer a lifetime promise that at any time for any reason they will stoke with your Bear Butt gear and replace it with a new one.
The Bear Butt Company has called it as the "Easy peasy lemon squeezy money back or exchange promise". Even you don't have to return your previous product to get the new one. Now that is really world-class customer service the Beat Butt ones is providing.
Set Up The Hammock
To set any kind of hammock you first need to find two trees/post which is relatively close. Then use the carabiners and straps to hang the hammock and it is ready.
The Bear Butt Double Parachute Camping Hammock is no different. The hammock is a little bit heavy for its material compares to the other similar styles of hammocks.
For this reason, you might need some helping hands to hang the hammock, but it is nothing difficult. Moreover, as we stated earlier, the carabiners and ropes come with the hammock so you don't need to buy it separately.
This large hammock is really easy and quick to set up unless you are finding hard to find the perfect place to hang it. With this hammock, you don't need to spend much time for setting it up.
The Main Benefit
So, these were the main features of the Bear Butt Double Parachute Camping Hammock. After considering it all features we can surely say that this is a high-quality hammock. This large hammock can support huge weight and it is large enough to fit 2 people.
The main selling point of the Bear Butt hammock among its users is that it is a heavy duty hammock. The quality of the hammock has grabbed the attention of the market. The Bear Butt Company has made a promise that their hammocks are affordable and durable and we think they have made out their promise.
The strength quality and the durability of the Bear Butt Double Parachute Camping Hammock is, therefore, the main benefit according to us.
The fabric used for the hammock is strong, tough and at the same time, it is comfortable as well. Though the company itself claimed to take weigh up to 900 lbs, we found it can carry 500 lbs effortlessly which is also great.
This means it can carry 2-3 adult persons very easily.
Moreover, if you have still doubt about the Bear Butt Hammock you have always got the money back options. This money back option shows how confident the manufacturers are about their product.
As mentioned earlier, the Bear Butt hammock is made of high-quality nylon material which has provided the durability we all want from our hammocks.
The durability and the toughness of the Bear Butt hammock have made it to enter in every top list of hammock reviews.
If you do enough survey about reviews of hammocks you will see the Bear Butt Hammock Review is always on the top list.
Users Opinion
We have written the Bear Butt hammock review considering all the user's opinions plus the features of the product itself. We have gone through several online customer review sites and obviously Amazon customer reviews to find out more about the Bear Butt Double Parachute Camping Hammock.
We must say, we are definitely impressed what we have read and found about this hammock.
The Bear Butt hammock has got solid positive and satisfactory rating in all of the review sites. People have found it travel-friendly, comfortable, durable and strong. At Amazon, more than 90% of its users have given it 5 stars.
Frequently Asked Questions About Bear Butt Hammock:
Do We Need Any Extra Hardware?
No, there is nothing needed to hang this hammock. All you need is to find two trees or two strong supports.
Is This Hammock Double Thick To Use It As A Sleeping Pad?
The hammock itself is really thick. However, it is not double thick to be used as a sleeping pad.
Will A 6'5 ft Tall Person Will Fit Into This Hammock?
The hammock is perfect for up to 6'2 ft. people. So, there won't be any problem for tall people.
How To Clean The Hammock?
First of all, they are really durable so you don't need to wash them that much. But if you have used it many times then wash it delicately with warm water and air dry.
Does It Come With A Mosquito Net?
Unfortunately, the answer is no. But the company is planning to do that.
Can It Be Used With A Hammock Stand?
Yes, you can but in that case, it will be tight. There is actually no need to use a stand.
Can We Set An Air Mattress In The Hammock?
Yes, there is plenty of room in the hammock. But rather than setting an air mattress, you will feel more comfortable if you set a sleeping pad.
What Comes With The Hammock?
The hammock comes with two 10 ft. long ropes and two carabiners. There are no other items required to set the hammock.
What Is The Ideal Distance To Hang The Hammock?
We think the ideal length between the two poles should be more than 10 ft. As the hammock, it is quite long and very adaptable in length.
Is It Waterproof?
No. However, for the fabric, it dries out really quickly.
Conclusion
The Bear Butt Hammock is the perfect hammock for everyone, starting from hipsters to non-hipsters, campers, students, and older people and for children. If you really want to have a double hammock that is durable and strong then go nowhere else.
There is actually nothing to complain about the Bear Butt Double Parachute Camping Hammock. The Bear Butt people have done everything to make it the perfect hammock for its users. They have taken pride in their product and for that reason, they are giving you money back option.
With the Bear Butt Hammock, you are going to be the happiest camper who doesn't have to worry about his/ her hammock.
This is a large yet lightweight and a compact hammock which a great option for your camping activities. The Bear Butt Double Parachute hammock is going to offer you the highest weight capacity, durability and comfort and these are the only things we actually want from our hammock.
We think, this a must purchase item if you are a nature lover. Even you can use it inside your house. We found no buts with this hammock. So, it is a highly recommended item from us.
But if you are still confused we strongly advise you to see all the reviews it got at Amazon. There are some other similar featured hammocks like the Bear Butt one, but all of them are more expensive than this. This is therefore actually the best option you can get.