You're probably gazing at the sky and counting stars with your loved ones and BAM!
Your hammock fell off because the strap couldn't withstand the weight.
Hammocks are portable furniture that can be carried around and no matter how good your hammock is, without a good strap you can't put it to good use.
Camping has gained immense popularity nowadays so have hammocks as they are a lot easier to set up than the tents. You can easily attach it to the poles, trees, boat mast or even the walls.
You can also enjoy the goodness of the hammocks even if you are not a very outdoorsy person. couldn't-withstand hang them in the backyard to spend the weekend reading your favorite book.
To ensure utmost safety and comfort, it is essential that you pick the best strap for your hammock. The best part is you don't need to break the bank to get the best strap. You can easily get the best hammock strap at a fair price.
Top Rated Hammock Straps Comparison Chart
Last update on 2020-02-28 / Paid Link / Images from Amazon Product Advertising API
Hammock Straps Reviews
The MalloMe XL Hammock Straps are excellent 12 feet long x 1-inch wide tree friendly straps that can withstand up to 1000 lbs on each strap. The one-inch width helps to protect the trees and their barks from abrasion. The straps have no stretch heavy duty triple stitched seam.
The package comes with two straps with two locking carabiners and a bag. The total withstand capability is a whopping 2000 lbs and the 40 attachment loops let you easily hang a single or double hammock with these straps. The loops also reduce sagging and help you get a strong and even distribution of tension all over the hammock
Setting up the MalloMe XL Hammock is a piece of cake that can be done within a minute or so. You don't need to learn any complicated knot to hang it or take it down.
It has a daisy-chained loop system that lets you easily adjust the height of your hammock and the high-quality polyester webbing material makes it stay in place. So, you don't need to worry about the strap falling off or getting loose even when it's soaking wet.
Overall, the MalloMe XL Hammock Straps provide superb performance within a very affordable price range. This would make your tours a lot cozier and simpler without any hassle at all.
Also, if you're looking for a perfect gift for your adventurous friend or need a comfortable place to sleep after an outdoor picnic, this strap would be a perfect companion for you.
Thumbs Up For
Easy to set up and use
40 connecting loops that allows no sagging
Polyester webbing material that doesn't stretch
Affordable
Thumbs Down For
A bit on the heavier side
Last update on 2020-02-28 / Paid Link / Images from Amazon Product Advertising API
The ENO Atlas straps are super lightweight yet sturdy straps that let you safely suspend the anchor points 25 feet apart.
Even though it is extremely lightweight, it comes with 30 adjustment features. The straps are long enough to be tied in the trees, poles, big rocks or even roof racks.
On top of that, it also comes with a storage bag which comes handy when you're on the go.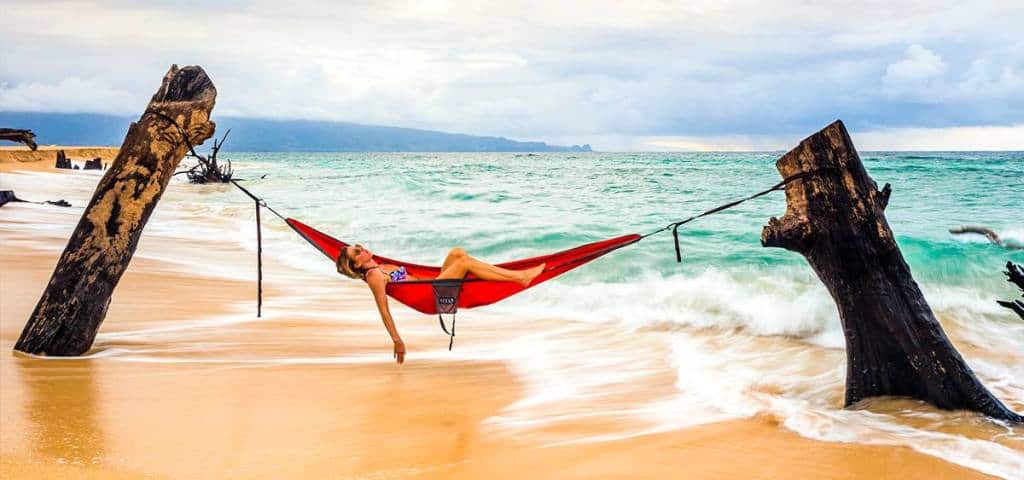 The straps have three highlights in the middle that reduces stretching so you don't need to worry about your hammock getting slack due to the loose ends of the strap.
There are 15 adjustment loops on each strap that allows you to adjust the length of the hammock according to your preference.
The Atlas strap is made with durable polyester webbing that holds up to 200 lbs on each strap with a combined sustainability of 400lbs.
So, falling off is not an option with this strap. There's a common complain that the straps tend to come down off the tree with time and eventually the person lands on the ground.
But, the ENO Atlas confirms that its superior material enables it to stay perfectly in place throughout the time.
The durable Polyester material is suitable for all sorts of weather. The ENO Atlas faces no wear and tear even in the extreme weather condition and doesn't slip off its place even during rain.
These straps form an excellent duo with the ENO hammock, however, they work surprisingly well with other hammocks as well.
So, this strap will not hinder your way even if you don't own an ENO hammock.
Thumbs Up For
30 adjustable loops
Daisy chain design for customization
Hold up to 400lbs
Made with durable Poly-filament webbing
Works well with all hammocks
Last update on 2020-02-28 / Paid Link / Images from Amazon Product Advertising API
The Favofit hammock strap is an extremely durable and strong non-stretching hammock strap that comes along with two carabiners. The straps can sustain up to a massive 1400 lbs.
So, matter how much stress you put on the straps, it would be near impossible to make a dent on the strap.
Despite being so strong, they are surprisingly light and weighs about only a pound. These straps are not only strong but they also have sturdy designs too. The non-stretchy construction of the straps helps to keep your hammock straight throughout the time.
The Favofit straps are one of the most reliable and sturdy straps available in the market. They are versatile and can be used with all sort of hammocks.
You no longer need to worry about getting your knots right as there are 36 adjustment loops in total that allows you to set up the hammock according to your convenience. This feature enables you to set up the hammock quickly and efficiently.
One of the most prominent features of a good strap is the tree friendliness. The Favofit straps are tree friendly and have a width of 1″.
The unique design of the straps makes sure that they do not damage the tree and harm the environment. This strap set comes with two tree Straps, one stuff, and two aluminum carabiners.
Thumbs Up For
36 loops for better adjustments
Lightweight
Can withstand up to 1400 lbs
Very thick and non-stretchy
Thumbs Down For
Some users prefer stretchiness in their strap
Last update on 2020-02-28 / Paid Link / Images from Amazon Product Advertising API
If you're tired of saggy hammocks then Rallt hammock straps are here to the rescue. The Rallt straps have two straps each has a length of 10 feet which gives a combined length of 20 feet that will help your hammock stay in place in all weather conditions.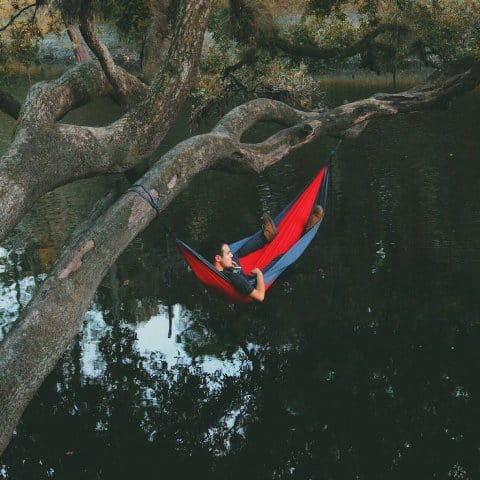 You can also chain several straps together to cover a greater distance. There are 36 carabiner loops in total that let you adjust the distance and height of your hammock according to your liking.
The Rallts straps are made with strong polyester tubular webbing refrains the hammocks from any wear and tear. The polyester adds to the durability and longevity of the strap providing a stable support system for the strap.
Thanks to the polyester webbing, the Rallts Hammock straps can sustain about 2000 lbs and more before reaching the breaking point.
These straps are super light and travel-friendly. They weigh only 11.7 ounces and they can fit into any 4″ x 4″ x 1.5″ bag easily.
Hence, you don't need to be concerned about space issues anymore when you're backpacking.
If you're skeptical about its performance with other hammock brands then rest assured that it works brilliantly with other hammock brands as well.
Setting up the hammock with this trap is nothing but a child's play. The Daisy-chain loop system makes it very convenient and quick.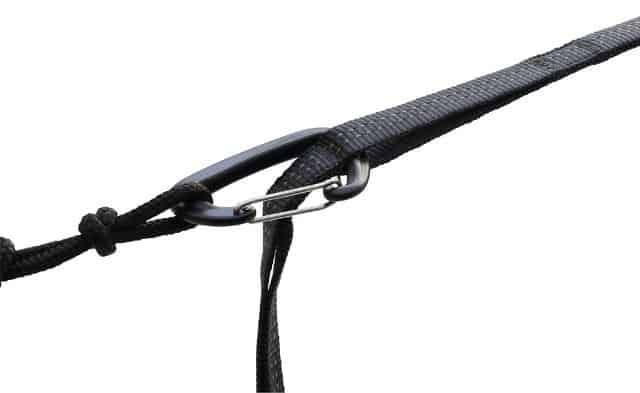 You don't need to learn any complicated knots to work with this strap. All you need to do is to wrap the strap around the tree and attach the hammock carabiner into the loops and voila! Your work is done.
Thumbs Up For
Easy setup
Affordable
36 loops for better adjustment
Comes with a small carry bag
Versatile use
Thumbs Down For
Carabiners need to be bought separately
Last update on 2020-02-28 / Paid Link / Images from Amazon Product Advertising API
The Wise Owl Outfitter Straps promises to provide you with ease of use so that you can focus solely on your expedition instead of worrying about setting up the hammock.
These straps are tree friendly as they have a width of one full inch. The straps sit flat on the trees, hence, they will not be harmed or damaged in any way during the hammock set up the process.
The Wise Owl Outfitter Straps are versatile and they fit well with any sort of hammocks. They are very easy to work with and you can set them up in a jiffy.
The best part is you don't need to learn any knots to set up this strap. This is so easy to set up that even a child can do it by himself and it wouldn't take more than a minute or two.
Be it a double, parachute, ultra-light or a portable hammock, this strap works well with all the kinds.
The Outfitter has two straps each 10 feet long with 19 loops on each side. The loops provide you the flexibility to adjust the hammock.
The Polyester straps are extremely durable that provide utmost strength and doesn't stretch at all.
However, it weighs 15 ounces which some users disliked about the strap.
Wise Owl promises a 100% satisfaction guaranteed and promises that you wouldn't regret spending your hard earned money on this.
Wait, that's not it!
When you purchase this outstanding Talon Strap, Wise Owl will provide you a discount if you purchase their other products.
Thumbs Up For
38 loops providing greater adjustability
Tree-friendly
20 feet long straps
Discount on multiple purchases
Last update on 2020-02-28 / Paid Link / Images from Amazon Product Advertising API
It's high time that you say goodbye to the old ropes. The Bear Butt Hammock Straps will make your expedition more fun with its ease of use and convenience.
These unique straps are soft as a puppy yet tough as a bear. With its superior and unique technology, Bear Butt will leave you no room for disappointment. 
Each strap is 10 feet long, so the Bear Butt has a combined length of 20 feet with one inch of width.
There are 40 loops in total making the setup process as adjustable as possible. The straps are made with specially formulated nylon that can sustain about 1000 lbs and more.
The Bear Butt straps are tree friendly and they are super easy to set up.
The soft strap wraps around the tree very gently without hurting or damaging it. All you need to do is loop it around the tree and pull it through the other end then clip the carabiner for the perfect hang.
This strap will give you the utmost satisfactory hammock experience, be it in the wilderness or your backyard.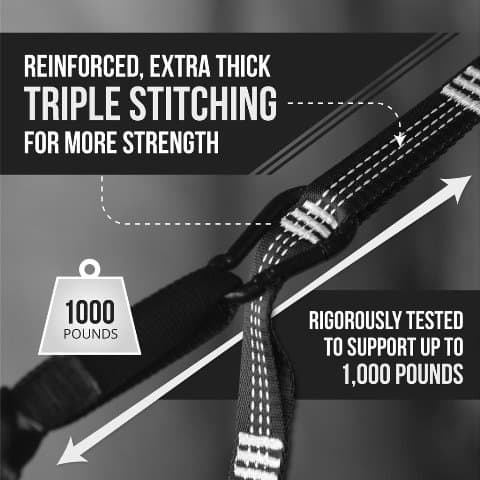 These straps are unique and versatile in their own way. They have a universal tension that does not need any specific stand and work perfectly with any hammock.
The straps come in a kit that contains two 10 feet long straps, 2 strong metal carabiners, and a lightweight carrying case to make your experience with it as smooth as possible.
Thumbs Up For
Compact and lightweight
10 feet strap on each side
Carabiner and bag included
Soft yet strong
Can withstand up to 1000 lbs
Thumbs Down For
Slightly expensive compared to other variants we reviewed
Last update on 2020-02-28 / Paid Link / Images from Amazon Product Advertising API
If you're tired with straps that have a short length and provide mediocre performance then Nature's Hangout XL is a godsend for you.
As the name suggests, this strap does provide some extra-large length for your convenience. It has a total length of 28 feet, 14 feet on each side with a total of 48 loops making it one of the longest and reliable straps available in the market.
The Hangout XL is made with high-quality Polyester webbing that can withstand a whopping 2200lbs making it one of the strongest straps in the market.
Setting up the strap is an easy task that can be done under 90 seconds or less. One of the best features of this strap is that it's even perfect for the beginners as well since you don't need to learn any knot to work with this strap.
The Daisy-chained loop system enables you to adjust the height of your hammock very quickly so that it doesn't hamper your comfort.
The high-quality polyester makes sure that you hammock stays where you placed it even in extreme weather condition. You'll face no stretching or misplacing at all even when the strap is wet.
Along with the super long straps, this kit also comes with a carrying case and wire gate carabiners.
The cherry on the top is that the company offers a money back guarantee if you're dissatisfied or unhappy with the performance of the product. 
Thumbs Up For
Whopping 28 feet length
Can sustain up to 2200 lbs
Easy setup
High-quality polyester material used
Daisy chained loop system
Comes with carabiner and bag
Thumbs Down For
Slightly bulkier than others
Last update on 2020-02-28 / Paid Link / Images from Amazon Product Advertising API
Things To Consider Before Buying A Hammock Strap
If you're an adventurous person then you already know the necessity of the straps.No matter how expensive or high quality your hammock is, without a good strap all that will go in vain. To keep the hammock in place and to provide the utmost comfort, straps are a must.
Once you get hold of the best hammock that will make your time in the wilderness a blast, it's high time you also find the best strap to go with it to create the perfect duo. There are several factors that should be considered before investing on the straps. Let's have a look.
There are many things to consider to decide on the perfect hammock strap but we are going to discuss the factors that play the most vital part.
The Versatility Of The Strap
First and foremost you need to understand whether your strap is compatible with your hammock or not. All the straps that we reviewed are versatile and they can be attached to all sort of hammocks
Hammocks are not meant for wilderness only, they are a great portable furniture that you can use to spend a lazy day reading your favorite book.
So, if you're buying a strap to use at home then make sure that you can attach it to the wall or a pole.
Also, make sure your strap can sustain through all sorts of weather condition so that you don't have to worry about the strap tearing or slipping off during the rainy season.
The Durability Of The Strap
The durability of the strap is another crucial factor in finding the perfect strap for your hammock. The suspension system of your hammock needs to be strong enough to hold all the weight and pressure you put on it.
The strap also needs to survive through extreme weather condition to justify the money you invest in it. This is more crucial if you're a frequent camper as the straps play an essential role in your sleeping routine.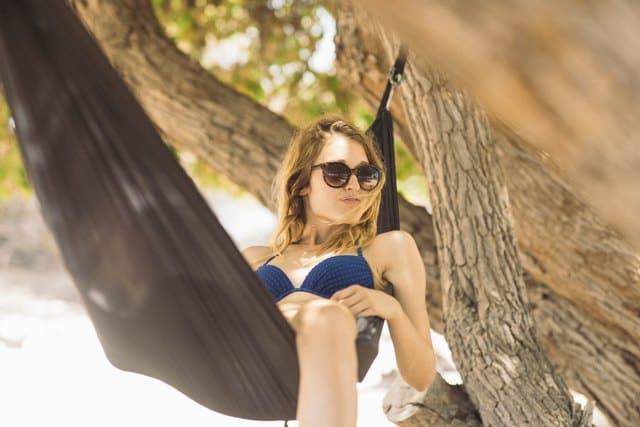 We recommend you to get a strap that is made with polyester webbing as it is the more durable and strong compared to other materials. Polyester doesn't stretch much and they hold up extremely well even in wet condition.
Stitches are also an important factor to be considered. Get yourself a strap that has two or three stitches which will help the strap retain strength and oppose any wear or tear.
Weight And Length
You might have this misconception that the more the strap weighs the better it can withstand.
Absolutely wrong.
We have reviewed some awesome straps that weigh so little yet have a monstrous hold.
When you're backpacking, weight and space is one of the biggest concerns. You don't want a strap that weighs more than your hammock itself light?
While choosing the strap you must take the weight into account and this is especially vital if you're camping, hiking or backpacking.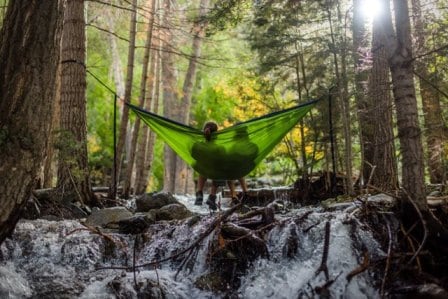 Also, you don't want a strap that will fall short or a strap too long that will cause slack in the hammock. You don't know before you reach your destination that how far apart will the trees be or where the anchor point is going to be.
So, to be on the safer side we recommend you to get a strap that has at least 10 feet on each side.
Frequently Asked Questions About Hammock Strap
Q. Does The Strap Hurt The Trees?
Ans: Most straps that we have reviewed are made with tree friendly materials and they are very gentle on the trees. The straps usually have one-inch width that helps prevent damaging the tree by putting less strain on them.
Q. How To Prevent The Strap From Coming Down Over Time?
Ans: It's a common complaint by campers or travelers that the strap comes down over time and they usually find themselves on the ground after waking up. Well, if your strap gets loose and slack, it will come down the tree with time. However, the straps we reviewed are made with Polyester webbing that helps to hold the strap in place and retain the tension.
Q. What Would Be The Appropriate Length For The Straps?
Ans: To be on the safer side, we suggest you to get a strap that is at least 10 feet long on each side. You don't know how far or how wide the trees will be. So, having a 20 feet strap will give you more flexibility even when the trees are far apart.
Final Thoughts
No matter how expensive or high-quality hammock you get, they wouldn't be any good without a decent strap.
We have picked the 7 best hammock straps available in the market to help you have a fun, carefree and safe trip without having to worry about the shabby strap.
We have discussed the different aspects that you should emphasize on so you can invest your money in the best product.
The pros and cons are there to guide you if you are hesitant which product to choose. Hope you find the best hammock strap that will give you an excellent experience overall