Today you're Mr. Chillin'-Out-Loud because you're nailing the whole vacation. The campfire looks awesome and you can hear them boys and girls dancing around the fire.
You had your part and it's time for you to have a ''Me-Time''. You get on the hammock and your eyes closed over the 'umm' of fresh coconut juice. Ah! Finally, a warm nap to embrace…. you black out.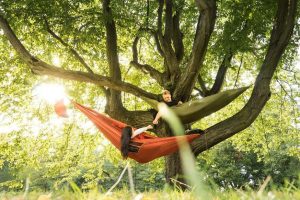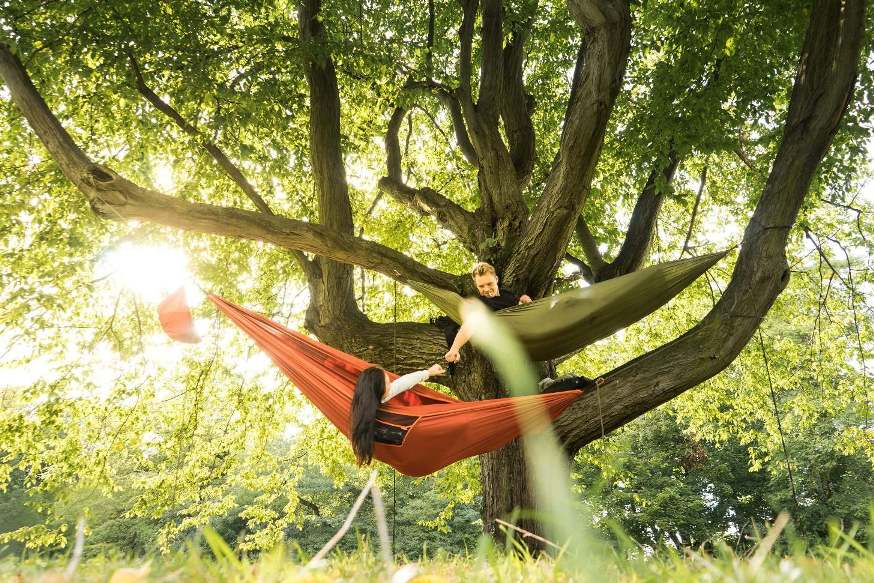 THUD! 'Oh, My Back!' You scream as you find your butt landing on the ground.
The hammock? It's all torn up!
But you had the best hammock for camping! ….. Or did you?
IN A HURRY? HERE'S OUR TOP PICKS Hammock For Camping
Accessories Included
Aluminum Wiregate Carabiners, nautical grade line, stainless-steel snap links
Rope,Carabiners & No-See-Um mosquito net
Last update on 2023-09-19 / Paid Link / Images from Amazon Product Advertising API
8 Best Hammock For Camping
Now that you know hammocks can be used for camping, you might be wondering what kind or brand you should go with. In this review, i have picked 8 of the top contenders for camping.
This particular brand is a good choice if you are looking for a hammock that is made of high-quality materials. It is made of heavy-duty 210T parachute nylon. This material is extra soft yet super strong, which ensures that you'll be comfortable and relaxed when using it.
Of course, if you'll be bringing this to your camping trip, one thing you'll be concerned about is its portability. Good thing you won't have to worry about that because it is lightweight and compact.
In fact, the SingleOwl (the version for 1 person) only weighs 16 oz! It is 9 feet long and 4½ feet wide. On the other hand, the DoubleOwl (the version for 2 people) weighs 26 oz and is 10 feet long and 6 ½ feet wide.
Both of these versions have different sets of colors you may choose from. So, if you have specific color preferences, this might be a good choice as it comes with 16 color options.
As for the accessories, you will already be provided with two 9 feet straps that have carabiners attached at each end. This makes setting it up a breeze. You won't even need to tie any knots. It also comes with 5 separate loops so you can adjust your hammock to the perfect height and comfort level.
Another good point about the Wise Owl is its compatibility with several special gears for protection. For instance, you may attach the WiseFly Rain Tarp in case of a sudden downpour.
What I Like:
Made of high-quality, heavy-duty 210T parachute nylon
Sturdy built that can support up to 400 lbs
Lightweight and compact
Available in a single or double version
Has 16 different color choices
Comes with accessories for great user comfort
Compatible with different protection gears
What I Don't Like:
Might not be suited and comfortable enough for people of a larger weight
If you are searching for something that is affordable, comfortable, and super strong, this might be the one for you. This hammock offers a lot of good features without needing to break the bank!
But just because it's affordable, it doesn't mean that it compromises on its quality. Actually, the material used for it is premium 210T nylon, which is a tear-resistant fabric.
On top of that, its unique strap design has a breaking strength of 1000 lbs! This is almost double compared to most of its competitors.
You also won't have a hard time when bringing it for your camping trip. That's because it is ultra-light and compact. It weighs only 24 oz. The stuff sack is conveniently sewn right into the hammock, too. This makes sure that you won't lose it.
Of course, being comfortable in your hammock is just as important. You won't have to worry about it either as these hammocks are extra-large. They measure 10 ½ feet x 6 ½ feet, which would easily fit two large adults comfortably.
It also comes with 7 different colors that you can choose from, which include: charcoal and blue, dark and light green, orange and gray, purple and white, red and black, and sky blue and gold. Such a wide selection of colors lets you freely decide which one you would like to bring with you.
Lastly, it is very easy to pack and set up, which is a great attribute, even for the most novice user.
What I Like:
Great quality for an affordable price
Made from 210T nylon tear-resistant fabric
Has a breaking point of 1000 lbs
Ultralight and compact
Available in 7 different colors
Easy to pack and set up
What I Don't Like:
The sturdy nylon becomes stiff sometimes, which may not be comfortable to get-in and out
This hammock has really been popular because of its very promising features. Let's look through them and see if this is the one that will match your camping needs.
ENO has quite a number of good points that people love. It is portable, durable, lightweight, and versatile – making it the perfect choice if you love camping and even other outdoor adventures.
When buying any type of gear, people want the best quality they can get. This hammock will give you just that. With its maximum capacity of 400 lbs, aluminum wire gate carabiners, breathable woven nylon, and triple interlocking stitching, you won't have to worry about it breaking easily.
It is also very portable and lightweight, so it will be very easy for you to bring it with you on your camping trip. It only weighs a mere 19 oz.
When packed, it fits perfectly into its 5-inch x 5-inch carrying bag. When unrolled, it measures 9 feet x 6 feet, which will give you plenty of room whether you want to be alone or to hang out with a companion.
One thing to keep in mind, though, the hammock does not come with mounting or hanging gears, and so, you will have to purchase the suspension straps separately. You may also opt to purchase a stand for it. If so, you have to make sure that it is larger than a 9-foot stand.
What I Like:
It is durable with its maximum capacity of 400 lbs
Portable and lightweight at only 19 oz
Equipped with aluminum wire gate carabiners, breathable woven nylon, and triple interlocking stitching
Has a 5×5 inch carrying bag which makes it adventure-ready
What I Don't Like:
Does not come with any mounting or hanging gears, so you have to purchase your suspension straps separately
Are you looking for a hammock that is easy to set up, extremely lightweight, durable, portable, and made of quality materials? If so, then this might be a good choice. Let's elaborate more on those key features that i mentioned.
First of all, let's talk about its build. This hammock is made of a 210T nylon parachute fabric that can comfortably support up to 500 lbs, which amounts to two adults. With that, you can lay with your friend or loved one and still have plenty of space.
Aside from that, you'll be amazed by its unique strap design that actually has a breaking strength of 1000 lbs! – no need to get worried about the straps breaking loose. It also has triple stitching for stronger support.
Bringing it on your camping trip won't be troublesome as well. It is very lightweight and portable at 24 oz.
On top of that, it even has a stuff sack that drastically enhances its portability. Moreover, its stuff sack is already conveniently sewn into the hammock, so you won't lose it.
The package includes the hammock that is 10½ feet long and 6½ feet wide, 2 heavy-duty steel carabiners, 2 tree straps that are 10 feet long and 1-inch wide, and 16 attachment loops.
What I Like:
Extremely durable straps with breaking strength of 1000 lbs
Hammock can support up to 500 lbs comfortably
Has triple stitching
Very light and portable
Has its own stuff sack that is sewn into the hammock
What I Don't Like:
Triple stitching may sometimes feel uncomfortable on the legs with enough pressure
Width of the hammock is not as proportionate to its length
The colors have a tendency to bleed
This hammock is a good choice for people who want something that is durable, has a variety of colors, easy to set up and take down, and portable.
Despite being spacious, Legit Camping's hammock is really lightweight and is also easy to bring with you anywhere because it has its own small attached sack.
Aside from that, it is also quite durable with its capacity of 400 lbs, and its camping gears are designed to stand up to the rigors of windy days, rainy nights, and the wear and tear that comes with outdoor survival. So, it really is perfect for camping at any season.
It is also crafted from military-grade 210T fabric, which makes it even more durable. Also, it can fit two adults comfortably.
Plus, if you are someone who cares about color selection, you'll also love that it comes in various natural or vibrant colors, which means it can be suitable for any style.
One of its really good features is how easy it is to set it up and take it down. This is particularly perfect for those who don't have much experience and want everything to be easy and very simple.
On top of all that, its safety factor is also better than most models. Its steel carabiners ensure that you don't have any surprises in the middle of the night.
What I LIke:
Lightweight and portable with its own small attached sack
Durable as it is crafted from military-grade 210T nylon fabric
Fits two adults comfortably
Perfect for any season
Has a wide selection of natural or vibrant colors
Easy to set up and take down even for first-timers
Is very safe due to its steel carabiners
What I Don't Like:
The steel carabiners are quite sharp and might accidentally get you hurt
Do you love hammock camping but hate mosquitos and bugs? Then you will probably enjoy this hammock.
Being a mosquito-proof hammock, it is a really unique model. The mosquito netting is constructed of triple-reinforced stitching that will not allow a bug to get through. It includes two top hooks that you pass two bungee cords through to pull the netting tight and prevent it from falling on your face.
Moreover, it is so convenient and easy to use. All you have to do is sit in the hammock and zip yourself in with its double-sided zipper. But if you do not need the mosquito netting, you can simply flip the hammock over and sit on it as a normal hammock.
Moreover, it's also durable and can hold up to 400 lbs. It is made of a lightweight parachute nylon silk, which makes it really comfortable and relaxing.
Conveniently, it also has two inner pockets to hold your valuables, such as flashlight or knife.
This hammock is 10½ feet long and 5 feet wide. It is very spacious and can easily be used by campers who are up to 6 feet tall.
You also won't have to worry about carrying it around as it only weighs 28 oz, which is very lightweight and won't break your back if you add it to your pack.
Setting it up is also quite easy and straightforward. It's so simple that even first-timers wouldn't have a hard time dealing with it.
What I Like:
A mosquito and bug-proof hammock with its built-in mosquito net
Very convenient and easy to use
Durable and can hold up to 400 lbs
Made of nylon and silk which makes it comfortable and relaxing
Lightweight and portable
Easy to set up
What I Don't Like:
Can be a little hard for tall people to sleep in
Does not come with a rainfly, which is sold separately
If you are searching for a hammock that is really versatile and affordable, Bear Butt might be your go-to hammock as it has a lot of really good features at a low price.
This hammock is big and durable. It is 10 feet long and 6 feet wide and has a capacity of 500 lbs, which can comfortably hold two adults with ease. The material used is the 210T 75D Nylon Taffeta, which is much durable compared to any net or mesh.
On top of that, the panels also have reinforced triple stitching to provide extra strength, durability, and safety. It also comes with 2 x 10 feet (others use 8 feet) high quality rope suspensions, which holds up to 2000 lbs as well as 2 solid d-shaped carabiners.
Moreover, it is perfect for camping as it is lightweight and compact. It only weighs 24 oz and has an attached sack that holds the entire hammock inside of it for storing. This means you can easily bring it with you anywhere.
What's great about this hammock is that it is packed with a lot of great features at a very good price point. So, you wouldn't have to break the bank to be able to get it.
What I Don't Like:
Very durable as it is made from 210T 75D Nylon Taffeta
With a weight capacity of 500 lbs, it can easily hold two adults comfortably
Straps are also durable and can hold up to 2000 lbs
Lightweight and compact
Comes with an attached sack for easy storing
Affordable price
What I Like:
Carabiners that are included are a little bit small
Comes with tree-damaging rope suspension
Are you someone who values good quality, portability, easy setup, and durability? If so, this is probably the hammock that you will be bringing with you on your next camping trip.
The Honest Outfitters unit is a good choice because it has good quality. In fact, the material used in it is the super strong 210T parachute nylon, which is very soft, breathable, and mildew-resistant cloth that is long-lasting.
On top of that, this piece can hold up to 400 lbs for its single and 500 lbs for its double hammock variants. It also has triple interlocked stitches, which makes it really durable.
The straps and two solid steel carabiners that come with it are also incredibly strong and provide incredible support, which will make sure that you are safe and secure in the hammock.
Another great thing about it is its easy setup and takedown. Usually, it will only take you less than a minute to set up.
It also has its own stuff sack, which means that packing it up is going to be fast and simple. This is really good news, especially to those people who have no experience in hammock camping yet.
Moreover, you won't have a hard time bringing it with you as it is super lightweight at 18 oz only. With its stuff sack and lightweight, it will surely be very easy to take it along on your camping trips.
What I Like:
Good quality material used
Weight capacity of 400 lbs for the single hammock and 500 lbs for the double hammock
Has triple interlocked stitches which makes it extra durable
Easy to set-up and takedown
Lightweight and portable
What I Don't Like:
The steel carabiners are quite heavy compared to aluminum ones
Straps can be troublesome at times
What To Look For Before Buying?
Now, you already have the options for the best hammock for camping. But it doesn't end there. Before you choose the one that will best suit your needs, let's first talk about the things you should consider when buying your camping hammock. Here are some of them:
Size
Yes, size does matter. The main difference when talking about hammock size is single vs. double. Double camping hammocks are popular for obvious reasons. Many people choose it for more comfort and extra security, not necessarily because they are planning to hang with a friend.
If you are wondering about the negatives when choosing a double hammock, it obviously points out to the packed size and slightly heavier weight. But with its perks, it definitely is worth it.
Considering your hammock's dimensions and configurations is something that you might want to do as well. It is up to you to choose the hammock that doesn't make you feel cramped. The idea is to be comfortable in it.
Weight
When deciding on the hammock that you will choose, weight plays a very important role. Although you might think that a few extra ounces are not going to cause any problems, those extra ounces are still going to weigh in on your shoulders when you travel on foot.
Choosing a lightweight hammock that can be packed into a small pouch will save you some of those extra ounces as well as some space in your pack. This is why a lot of hammocks now come with their own stuff sack.
Your hammock's weight will depend a lot on the materials used in it as well as its accessories. For instance, some jungle hammocks may weigh a little more than others because they have more stuff included and are also intended for long-term use.
Quality
Of course, quality is important. Who wants something that wouldn't last and would break easily?
When it comes to camping hammocks, quality is the key. Quality materials are very important not only for comfort, value, and durability but, more importantly, for safety.
If you choose a hammock that lacks quality, there are big chances of equipment failure, which puts you at risk of injuries when that happens. This explains why having a well-built hammock is a must. That's why you should choose one that is made with quality materials.
Hammocks of the best quality are made from durable materials like polyester or parachute nylon. These types of materials can resist weather effects and can, therefore, last for several years with proper care. Make sure that you don't compromise on the quality of fabric just to save a little.
Always choose trusted manufacturers that have good reputations for making sure they're worth your money. Keep in mind that the best hammock isn't always the most expensive, but if you want a strong and long-lasting camping hammock, make sure it has high-quality materials.
Weight Capacity
When purchasing a hammock, you should take into consideration your own weight and the maximum weight capacity of the hammock. This is very important because overloading a hammock may result in reducing its lifespan.
Ask yourself if you need a hammock that can support you alone or the one that can support up to two people or more. This will help you decide as to how much weight capacity your hammock should have.
Always be familiar with the weight limit of the hammock you want to buy and take note of it before inviting someone to join you.
Straps
Buying a high-quality hammock means that you cannot ignore the quality of the straps that come with it. This is why the suspension system of a hammock is very important because they play a big role in how your overall experience would be.
After all, it is essential to have the hammock firmly secured to the poles or trees to be able to use them properly. The straps must have an excellent strength to be able to support your whole-body weight while the hammock is tied to two points.
Most of the camping hammocks already include the straps and carabiners, but there are some that don't. If you decide to buy straps that are sold separately, there are tons of unique ones that will give you added benefits.
Just make sure to always check them together with their prices to decide whether they will be worth it or not.
Whether you decide to get the longer straps or the shorter ones, what's most important is to double-check their quality because you might put yourself at risk of suffering from injuries if you don't.
Cost
One good reason why people love hammocks is that you do not need to spend a fortune to get one. Even the ones that belong to reputed brands are available in budget-friendly prices.
If you are planning on using your hammock a lot, though, you might want to go for a significant one-time investment. The perfect balance between quality and price will be among your important considerations when searching for the best hammock for you.
Types of Hammock
There are various types of hammocks that are made from different kinds of materials and have different styles. To help you pick the best hammock that will best fit your intended use, we will discuss each of them below.
Parachute Hammocks:
Judging by the variety sold by different manufacturers, parachute hammocks are the most popular type of hammock in the market today. Almost every hammock brand you could think of makes them.
Why is that so?
This type of hammock offers the best combination of lightweight, durability, comfort, and affordable price. However, they usually do not include a mosquito net. You can still purchase one separately, though, but keep in mind the extra money you might spend with it.
Also, this boat-shaped hammock can accommodate either one (for single-sized) or two (for double-sized) people. Most people opt for the latter because they are longer and wider than standard camping hammocks. So, even for some people who travel alone, the double-sized one is still a popular option.
Moreover, the fabric used for "parachute nylon" hammocks is very durable with most manufacturers listing 400 lbs weight capacity. It also has a fairly soft texture, which makes it comfortable to sleep and relax on.
Parachute hammocks are also lightweight mostly and have their own stuff sack, so they're easy to bring anywhere.
If you are a casual hammocker and will mainly use it for hanging out, this should be a good choice. But if you plan on camping out a lot in your hammock, then you definitely need other types that are more suitable and have other accessories. Otherwise, you're good to go with this one.
Camping Hammock Tents:
If you are someone who has a few extra bucks to spend, you might consider getting a camping hammock tent. They are definitely not cheap, but they look really amazing and would provide you with an epic experience!
A hammock tent combines light conveniences with protection. Most of them already come with pockets for handy gear storage. They also have a built-in bug or mosquito net, which will save you from swatting all night long.
Moreover, they are designed to be used with a fly that will offer you privacy and shield for those windy or rainy days –no need to worry about those days when rain suddenly pours down.
Some hammock tents also have spreader bars, which are installed at both ends and act as scaffolding for the hammock's fabric to hang below. These bars are removable, too, so that the hammock can still pack down relatively small.
The only downside is that they tend to be heavier and are more expensive compared to the cheaper camping hammocks. But, if you will be using your hammock a lot for camping, and if you want a very good and comfortable experience with it, hammock tents are a very good investment.
Thru-Hiker Hammocks:
If you are looking for the most durable camping hammock, then you probably should choose thru-hiker hammocks. Regardless of the weather, they are considered very durable.
Not only are they durable, but they are also designed for long-term use. You may use them in your trekking adventures, camping trips, and many more! They are very comfortable and tough.
Aside from that, many of these thru-hiker hammocks include a lot of accessories that might come in handy such as guy-lines, hammock rain fly, and even mosquito nets.
The main downside with this type of hammock is that they are mostly heavier and more expensive compared to parachute hammocks. But it is worth buying if you are planning on sleeping in your hammock multiple times in a year as they won't disappoint you.
Ultra Lightweight Hiking Hammocks:
For people who are always on the go or for those that love backpacking, hiking, climbing, and trekking, this might be the one to go for. These hammocks will hardly add any weight to your travel pack. All by themselves, most ultralight hammocks weigh less than 2 lbs.
Take note of the fact that all the other accessories, such as bug and rain protection, will really add weight. That is why even the lightest hammocks will still weigh around 4 lbs with all its accessories.
Also, foregoing the weight of your hammock might also compromise its comfort. So, even if most of the ultra-lightweight hammocks are very very light, more often than not, they are also less durable and less comfortable if compared to parachute or jungle hammocks.
Having said all these, the very little difference in weight might not be worth the price. If you only need it for a night or two, and weight and space are really your priority, then you may consider getting one. Otherwise, a parachute hammock might be a better option.
Tips For Hammock Camping
It's no secret that hammock camping is becoming more and more popular. In fact, many people think that hammock camping is a good alternative if you do not want to buy a tent.
Although tents have become the universal symbol of camping, many people nowadays opt for hammocks because they are more comfortable, more enjoyable, and, most importantly, they are easier to set-up and takedown.
So, to make your hammock camping enjoyable, here are some things to keep in mind.
Choose The Right Hammock
Nowadays, there are plenty of different companies that make backpacking hammocks. It can sometimes be overwhelming to choose, but make sure to avoid cheap knock-offs that use inferior materials and construction.
Yes, we want affordable options, but we also want a hammock that is specifically designed for camping.
Always make durability and safety your top priority when deciding. Aside from that, consider the weight capacity as well as how much the actual hammock weighs. These things should definitely not be compromised when choosing a hammock.
Try It First Before You Camp
Experience is indeed the best teacher. That is why it is also a really good idea to try out your hammock before you go camping with it. Especially if this will be your first time out into the wilderness, it's best to try your hammock at home first.
Try setting up your hammock in your backyard or a nearby park, sit on it, lie down, make sure that you are comfortable in it. With this, you'll be sure that you already know what to do and how to do it when you get to your campsite.
Choose The Right Spot
You are now on your desired camping site. It's really exciting to set everything up, but don't just pitch your hammock anywhere. Look for the perfect spot that will make your camping more enjoyable and safer.
The basic requirement is to have two places where you'll anchor your hammock straps. Usually, they're trees, so make sure that they are sturdy enough to support your weight in the hammock.
An additional tip is to hang your hammock somewhere with a natural wind block and away from areas where cold pools.
Hang Your Hammock Correctly
The most important tip when it comes to hanging your hammock is to let it hang loose. One mistake that first time campers make is pulling the hammock as tight as possible to get the surface flat, thinking this will be more comfortable. However, it's the opposite.
Hanging it loose with a little slack in the middle makes it easier to sit and lay in. Also, avoid hanging your hammock too high. A low hung hammock is better because that way, it'll be easier to get in and out of your hammock as well as to reach your belongings on the ground without getting up.
Lay-In Your Hammock Diagonally
The key is to lay in your hammock at an angle. If you really pitch your hammock with enough slack, you'll easily be able to lay diagonally. This is the most comfortable sleeping position, and it also prevents the sides of the hammock from bunching up during the night.
Try a 30-degree angle first and then slowly adjust to find the one that feels the most comfortable for you.
Use A Hammock Bug Net
If you are camping during the summer, these mosquitoes will eat you alive if you don't have a bug net. This is particularly important if you'll be in jungles, beaches, and low-lying areas with still air or near water.
In those given situations, a bug net that will cover your hammock will definitely be worth the investment.
Always Bring A Rainfly or Tarp
Staying dry in your hammock is very important. This is why a rainfly or tarp is a must, especially when the forecast calls for rain. It is good to always have one with you in case the weather changes.
Not only that, but a rainfly may also help in keeping you warm at night.
Frequently Asked Questions:
What is the best hammock for me?
Personal preference will always be the deciding factor, but you might want to shop based on your estimated height and weight first. This will make your experience more comfortable. You may pick your preferred style after deciding on the size you'll need.
What are the benefits of hammock camping?
The biggest benefit of hammock camping is the extra weight and space that it saves to make way for other gears you'll need for your camping trip.
Which size of hammock should I buy?
The size that you'll need to buy will depend on what you need. But still, the bigger, the better. Even if you are camping alone, the extra space will make you much more comfortable, which is also why double-sized hammocks are more popular.
What are the downsides of using a hammock for camping?
For one, it could be difficult to sleep in your hammock when the weather isn't cooperating during your camping trip. Also, some think that storing gear for their hammocks can sometimes be a problem.
Which is better between hammock and tent camping?
A hammock is the best option if you are looking for a real camping experience. You'll be comfortable and relaxed without spending a lot of money. But at the end of the day, it still depends on what kind of camping experience you prefer to have.
Final Words
Hammock camping is becoming a popular option for outdoor adventures. After all, it is packed with a lot of good points with its affordable price.
Hopefully, reading this has helped you choose the best hammock for camping and also gave you the required information to have the best camping experience.