Some people know deep inside that they are just not made for the outdoors. They feel they will never be as comfortable as in their own beds, or that they have no chance of winning the battle against mosquitoes and other terrifying vermin.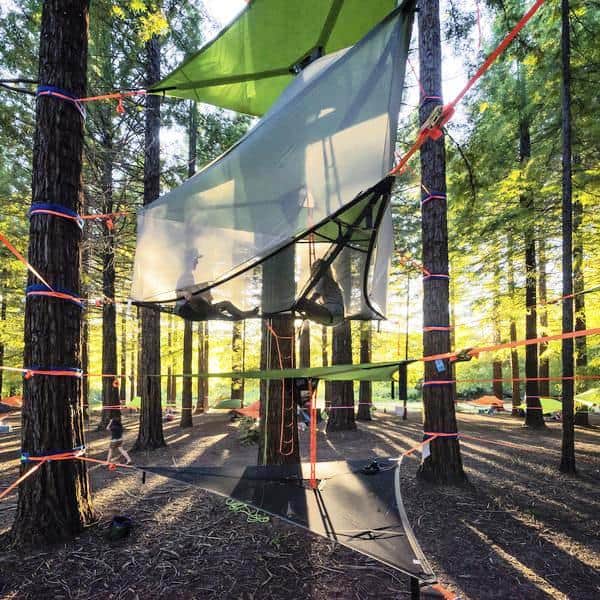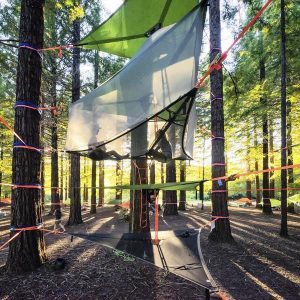 On the other hand, some look like they were born in the jungle. Big cities constrict them, and every chance they get they seek to find the pleasures that only nature can offer.
Whether you love the outdoors or have not yet dared to appreciate it properly, we have prepared for you a list of the 7 best hammocks tents available.
Enjoy!
IN A HURRY? HERE'S OUR TOP PICKS…
Last update on 2023-05-29 / Paid Link / Images from Amazon Product Advertising API
Hammock Tents Review
Stop tossing and turning on the floor of your tent. There is nothing as comfy as sleeping in mid-air, especially when you have found that beautiful landscape. Here's a list of the top-rated hammock tents available right now.
If you are new to the camping experience, you are looking, above all, for ease and comfort. You should not have to spend two hours assembling and dismantling a tent when what you want is to enjoy that time sightseeing, bathing in the river, and the like.
Lawson's hammock has your back for that awkward part of the trip. Its design makes it easy to assemble, even for first-timers. Of course, you will need a couple of strong trees, but if you can't find any, there is the option of mounting the hammock on the ground just as easily.
Now, what is the most common complaint among outdoor newbies?
They have trouble sleeping, right? "There is nothing like one's bed."
Unlike many others, the design of this hammock provides a flat surface and avoids the "banana" effect, which causes many travelers back pain.
This gear also features a rainfly – that is, an outer waterproof layer for when it pours – and a bug net, both detachable. However, for colder temperatures, you may need a sleeping bag for extra insulation.
On each side, the hammock has a bar and rope system that helps to keep its shape. In addition, the arched poles that support the bug net create a dome, which translates in extra room.
If you are in for a long walk to your sleeping post, you may start to feel the hammock's weight, but it is perfect for short backpacking trips.
Expert travelers can also trust that it will be useful for their adventures, considering positive reviews from Backpacker, Outside, and American Survival Guide.
It has also received the Prestigious Gear Of The Year Award, which makes it one of the best hammocks for camping.
Thumbs Up For
Flat hammock bed
Plenty of room inside
Detachable rainfly and mosquito net
Perfect for beginners
Thumbs Down For
May need extra equipment for more extreme adventures
The flat surface doesn't create a pocket to keep you centered
Last update on 2023-05-29 / Paid Link / Images from Amazon Product Advertising API
Etrol's hammock is another popular choice among both expert and first-timers because of its versatility and little perks.
In hot climates, its 100% reliable mosquito net offers greater protection and facilitates a pleasant sleep. If instead, you want to enjoy a breathtaking landscape, you can flip the structure around, send the mosquito net to the bottom, and it becomes a classic hammock.
Finally, if there are no trees in sight, it can be assembled on the ground, like a normal tent. For additional comfort, Etrol paid special attention to the fabrics they used.
The hammock comes with a blackout net for UV protection, and inside the sleeping area is covered by a cozy, breathable 70D nylon taffeta. You will probably need a sleeping bag for winter-hiking, though.
This hammock has received much praise for its triple interlocking stitching, which makes it as resistant as it gets.
In addition, the flexible aluminum rod used to support the mosquito net provides a wider space between the hammock's ceiling and the floor. Plus, it is equipped with an inner storage hook for hanging items such as a lamp or drying wet socks.
It is quick and easy to mount, though it is recommended that you first try it at home, in your backyard. That way, you will know exactly what to do when on your trip, no matter how tired you are.
Finally, don't fret over whether you will be able to carry it for a long-distance; its lightweight design makes it one of the best hammocks for backpacking.
Thumbs Up For
Blackout net for UV protection
Excellent weight to resistance ratio
Perfect for backpacking
Inner storage hook
Thumbs Down For
Needs additional kits to turn into a tent
May need extra equipment for colder temperatures
Last update on 2023-05-29 / Paid Link / Images from Amazon Product Advertising API
Oh, not traveling solo?
Your partner decided to join you this time? Or – better still – you are both nature buffs looking for shared accommodations even in the wild?
Well, this Tentsile two-person tree tent may be the perfect solution to ditch that old ground tent and enjoy elevated camping together.
Its triangular layout features a 43 square-foot surface, enough capacity for two adults under 6'1'', plus their gear.
In addition, a flexible pole lifts the ceiling, so you get approximately 3 feet of head height. In all, this hammock tent can support around 485 pounds.
The Flite comes with no-see-um insect mesh. We are talking about the best camping hammock mosquito net there is since it keeps away when those pests that you literally cannot see.
More so, it includes a removable UV-resistant rainfly that can perform as a second windbreak and thermal buffer when folded underneath the tent.
A little drawback is that the Flite needs three tie-on points instead of two, so finding the perfect spot is a bit trickier. Sure, you can turn it into a tent, but that would be missing its charm, wouldn't it?
Don't be afraid about the tree tent needing just one ratchet. Old hammocks used three – which increased their packed weight by a lot, but this one is industrial-grade. That and the powerful webbing straps will keep you safe.
All in all, we are talking about a 15-minute setup – let's make it 20 if you and your partner are new to this. Mount the hammock and enjoy it together. It actually isn't as comfortable if used only by one person.
Thumbs Up For
Easy-to-setup thermal buffer
Lots of floor space
No-see-um insect mesh
Plenty of head height
Thumbs Down For
It needs three tie-on points
Too heavy to carry long distances
Last update on 2023-05-29 / Paid Link / Images from Amazon Product Advertising API
This article has less from a tent and more from a regular hammock. It doesn't have a flat, firm floor; instead, it counts on you being cool about sleeping in a banana-shaped pod.
However, this hammock does come with a twist: its asymmetrical design, which allows for a larger and more comfortable sleeping space. In order to achieve this maximal spread, though, you will need to accommodate four tie-on points rather than two.
In addition, the hammock comes with a sleeve where you can lay any standard-sized inflatable pad. Apart from providing extra support for your back, it also works as insulation from cold weather.
A necessary upgrade that many Hammock Bliss users were asking for was finally taken care of: a built-in mosquito net, rather than the previous one, that you needed to mount separately above the hammock.
This one is definitely "bug-free", due to its tear- and abrasion-resistant 2100 holes per square inch no-see-um netting.
Another complaint from more experienced travelers was also paid attention to. Nobody likes to get on a hammock and have stuff flying around from the bouncing.
This one, in turn, features four interior pockets to safely store whatever you need. More so, there are six gear clips outside of the hammock to hang socks or wet equipment.
Last but not least – and we know you will like this one a lot, Hammock Bliss Sky Bed is super light. At less than two pounds when packed, it is perfect for carrying it over long distances. Don't be afraid to walk that extra mile to the perfect camping spot.
Thumbs Up For
More space than a regular hammock
Super light
Enough place to store everything you need
Built-in mosquito net
Thumbs Down For
Inflatable pad not included
Information card insufficient for first-timers to set it up
Last update on 2023-05-29 / Paid Link / Images from Amazon Product Advertising API
Ok, so your sister-in-law finally decided to join you and your partner on a camping trip. You will need hammocks because of the uneven terrain, but she doesn't want one for herself, though; it is her first time camping and she is afraid of staying alone.
Tentsile's extra big tree tent will accommodate you just fine. You won't find a bigger mid-air tent. With 78 square feet of space, it can fit three adults plus their gear.
Its industrial-grade materials make you feel secure about staying above ground feel. And why wouldn't you? The tent was made to hold a maximum weight of 880 pounds.
It also features a micro insect mesh roof to keep all vermin out where they belong. More so, the removable, waterproof and UV-resistant rainfly can be set up to create a little shaded porch, apart from working as a thermal buffer between you and the ground.
Afraid of waking up with someone else's feet in your face due to gravity pulling you to the center of the tent?
Don't be. Its interior is divided as a triple hammock, so each camper remains in his or her place.
With both a center floor hatch and a front door, you won't even have to worry about moving everything around when leaving or entering.
All in all, considering its unusual size, this hammock tent is easy to setup.You will need three strong anchor points, though, as it happened with the other triangular Tentsile tree tent we reviewed.
Last piece of advice: don't even try walking long distances with it. Its 20 pounds weight won't let you go very far.
Thumbs Up For
Ultra-spacious
Really flat bottom when adjusted properly
Perfect for traveling with the family
Creates a shaded porch
Thumbs Down For
Not suitable for walking long distances
May take a while to find the right trees to set it up
Last update on 2023-05-29 / Paid Link / Images from Amazon Product Advertising API
If you are an experienced camper, you may already own a hammock, or a bunch of them. You do feel that you are missing something, though: last time you ended up soaked because of unexpected rain, and had to cancel the entire trip.
The Sky Tent is an easy fix for those looking to upgrade their mid-air camping and make it water and bugproof. It covers your hammock and your partner's to provide a safe environment around your sleeping spot.
This article features almost seven feet of climbing rope for hanging it and easy-to-use ladder lock buckles for keeping it tense over your head. Its rainfly is oversized on purpose: it doesn't let a drop of water in, and has its own cords on the corners to extend it even farther.
The Sky Tent is not just a tarp. It also has a floor where you can keep your lightweight gear and prevent it from getting wet. That base is made of ripstop nylon for endurance and heat retention.
If you are planning on sleeping at terrain level, its corners have loops in order to stake it to the ground.
But you don't just want to be dry, you also don't want to get bitten by mosquitos all night long. Well, this tent shelter includes a 2100 holes per square inch no-see-um netting. The holes through which you pass the hammock cords are protected too, with cinched openings.
Finally, it is easy to get in and out through the tent's roll-up door with double pull zippers. It may be the piece of camping gear you were lacking.
Thumbs Up For
Cinched openings allow for hammock hanging while keeping bugs out
Easy to keep rainfly tensioned
Oversized rainfly
Easy to get it and out
Thumbs Down For
You still need your own hammocks
May require extra equipment for setup
At the end of the list, we present you with what is probably the most versatile item we reviewed.
Not sure if your camping trip will provide a nice spot in which to mount your hammock?
Haven't decided yet whether you sleep better in mid-air or on the ground?
Want to try them both on the same journey but don't have space for a hammock and a tent?
Flying Tent has got you covered with its smart, multifunctional, 4-in-1 camping gear! If you have found a nice, comfy glade that is just calling for you to sleep on it, you can set the gear as a bivy tent.
It features a side entry and a breathable ceiling to avoid condensation. When there are rocks all around, find two strong anchor points and the bivy tent becomes a hammock.
Tropical-jungle-sized mosquitos flying around? Those gray clouds look like they could burst any minute now? Zip up the fine mesh and clip on the rainfly. You don't have to hang them apart!
Finally, you don't even need to pack extra gear in case it rains: the tent doubles up as a rain poncho. Once in that mode, it easily adjusts to your body via drawstrings and features waterproof pockets as well.
Another great news is that this tent comes with everything you need to set it up – and also to carry it around: its own Flying Tent backpack.
Easy to mount and especially easy to tear down, it won't give you trouble, no matter how inexperienced you may be.
Thumbs Up For
All supplies included
You don't need to hang items separately
Super easy tear down
The most versatile hammock tent
Thumbs Down For
One of the most expensive single-person hammocks
A bit heavy for a hammock that fits just one person
Last update on 2023-05-29 / Paid Link / Images from Amazon Product Advertising API
Things To Consider Before Buying A Hammock Tent
It is a bummer to buy something you crave for to realize after a while that it doesn't fit your needs. Especially if you are not versed in the matter, you should take these aspects into account before making up your mind about a hammock tent.
Carry-on Weight
Experienced campers have learned sometimes the hard way that the weight you carry around really matters. Ten pounds may seem like nothing at the beginning of the journey, but when you are tired, every extra ounce will leave a mark.
Mind what you pack for your trip. You would like to bring your entire house along, we know. You don't want to be in the middle of nowhere and realize you forgot an item that would make your life easier.
We know. The same with your hammock tent.
Do you have a long walking distance ahead of you? Or is the camping site car-friendly?
The answer to those questions will give you a hint about what hammock you need. And yes, the cooler the hammock tent, the heavier it usually is.
Setup Requirements
There is some trickiness to camping equipment. It is not their makers' fault; their job is to keep you safe during your encounters with Mother Nature, and that is precisely when you are most vulnerable.
For instance, in order to keep your hammock tent safely fixed on mid-air, it may need ropes, latches, ratchets, straps, guy lines, and a bunch of other stuff you have probably never heard of.
Make sure you read the fine print before purchasing an item.
Do you need additional supplies to set it up?
Is it made for all kinds of campers– beginners and experts alike?
We definitely recommend that you try your new hammock tent in a safe, familiar place before taking it into the wild. Set it up in your backyard and really, really test it.
Does it hold as it should?
Do you need more straps to keep it tight?
Is it comfortable to sleep in?
Also, be aware of how much time it takes you to arm and disarm it, and if you need someone else's help to do it.
Camping Site
Where are you off to? The woods? The middle of the mountain? The desert?
The characteristics of the camping site play a big part when choosing the best hammock tent for your journeys.
If you are certain that all your trips will be to a place with strong, high enough trees, pick the hammock that you find most comfortable and you are set. Some people like the comfort of the known spots, even for camping.
However, the adventurous types usually walk the extra mile and end up in places they didn't plan for. For them, we would recommend something more versatile, suitable both for mid-air and ground-level camping, just in case.
Comfort Vs. Companionship
As you have seen by now, some hammock tents are single-person and some accommodate up to three people. You will probably sleep better in your own hammock, but don't miss out on the shared adventure of bunking with a friend or partner.
Frequently Asked Questions:
How far up can I hang a hammock tent?
We strongly advise against hanging it at a height that doesn't make you feel safe. Hammock tents feature strong, durable materials, and are tested to perform, but you don't want to tempt fate.
Where can I store dirty or wet camping gear?
Sadly, not every hammock tent features pockets or hooks to keep the rest of your gear safe. If that is really important for you, make sure yours does. Otherwise, there are separate items to cover such needs.
Are hammock tents suited for winter camping?
Though most companies market their products for all seasons, the reality is that no hammock tent will keep you warm enough during below-zero temperatures. Always pack a sleeping bag and extra winter gear.
I take my dog with me on my trips. Will mid-air camping be bad for him?
It definitely won't hurt him, but it can be problematic at first. Practice at home or in a park at first, to get him used to the rocking motion he will probably feel. Also, remember to trim its nails, so they don't rip the fabric of the hammock.
I'm a side-sleeper. What can I do?
It is true that side-sleepers may have an issue with regular hammocks. You should consider a mid-air tent with a flat floor.
Final Words
Everyone should try camping at least once in their life. It is an amazing individual and collective experience. There is so much to learn about yourself and others.
We hope we have played our part by showing you the best hammock tents available. One of them is waiting for you to enjoy it.