There can be situations where relying solely on a cellphone for communication will not be fruitful. Camping out to a remote site or backcountry is one of such cases.
As smartphones cannot offer the same ruggedness and connectivity as a walkie talkie does. Besides, hitting the road without any transmission backup can be dangerous at times.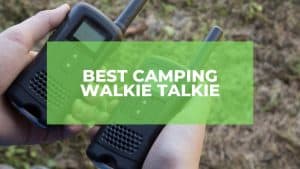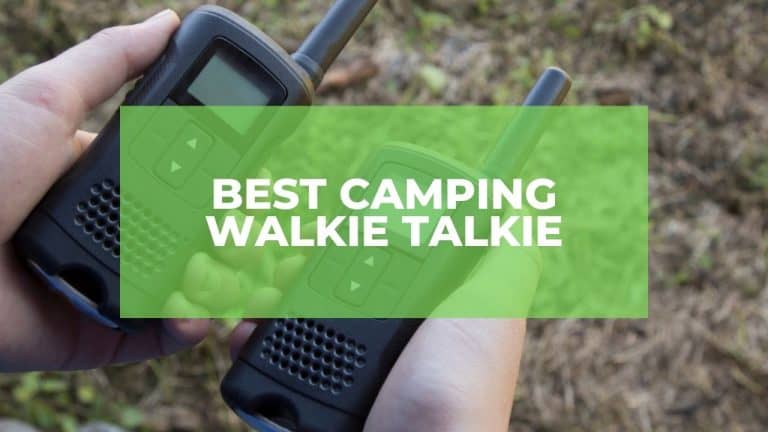 To meet the need, several long range walkie talkies with a strong built are up for grabs. However, deciding which one is the best fit for your needs gets confusing.
To make things simpler for you, we have researched and found the following walkie talkies as the best match for camping. Take a look at their key features and decide which one can go along perfectly with your voyage.
Midland GXT1000VP4 Waterproof GMRS Two-Way Radio
If you are planning to go out exploring, moving large distances apart from your group is a possibility. For this, a walkie talkie with an exclusive transmission capability is required.
The Midland GXT1000VP4 has access to 50 GMRS stations which means you will always find an active band to connect. To guarantee crystal-clear communications, 3,124 channel combinations are available on the radio.
The walkie talkie is splash and water-resistant, with a durable built making it capable of going along with your journey. Grasping the criticality of concentration while hiking or skiing, these units have an eVOX feature that allows you to transmit in hands-free mode.
And while you enjoy simple transmissions, the 10 weather bands secure that you are not hit by an unexpected calamity.
Disconnections can be troublesome, especially when you are in remote locations. To prevent this, the Midland walkie talkies work on both AA or rechargeable batteries.
Plus, you can charge them from AC or DC supply as well as from a desktop. With multiple options available, the chances of losing connection are reduced to the minimum.
What We Like:
36 miles transmission range
50 channels with 142 privacy tones
Rugged built
Multiple charging options
eVOX with 9 sensitivity levels
What We Don't Like:
Motorola T600 Talkabout Radio
Rough handling and beatings are a part of camping. A rugged walkie talkie designed dedicatedly for such events can only manage to work throughout the trip.
The Motorola T600 not only has a durable built, but it can also efficiently resist water. To accompany your sea voyages, this radio is encased in a smart frame that floats on top in case of accidental droppings.
While you explore, the 22 channels with 121 privacy tones ensure that you always have a stable transmission band to connect. To save you from unexpected climatic challenges, 11 weather channels work to update you about the forecasts.
You can also activate weather alerts to get alarmed if there is any emergency looming toward your location.
The Motorola T600 installs both rechargeable and non-rechargeable batteries. This grants the user an option of switching to different battery modes as per the situation.
Also, as the radio is compatible with any other radio, you can enjoy limitless transmissions with it.
What We Like:
Wide transmission range
Waterproof
22 FRS/GMRS channels and 11 weather bands
Multi-color LED
iVOX/VOX enabled
What We Don't Like:
BAOFENG BF-888S Two Way Radio
For those looking for inexpensive radios in bulk, this pack of 6 Baofeng BF-888S is one of the best available options. As these radios have an output power of 3-5 watts, one can rightly estimate their potential to secure transmissions over long distances.
To counter the problem of interferences, there are 50 CTCSS/105CDCSS privacy tones present in the radio.
The 1500 Li-ion battery installed charges the radio fastly and offers 8 hours of battery life. You can extend the battery life by activating the battery save mode.
Whereas the low voltage alert function informs you when the radio requires a recharge. These smart features assure that you can always rely on these radios when it comes to connectivity.
Along with it, there is a VOX function that assists hands-free transmissions. The integrated flashlight illuminates dark spots for you.
And when in need, the emergency alarm will work to alert everyone. Hence, this compact yet durable set of radios is perfect for those on a budget.
What We Like:
Economical
Strong battery life
Offers stable transmissions
VOX enabled
What We Don't Like:
KOMVOX GT60 Rechargeable Walkie Talkies For Adults
The KOMVOX walkie talkie with a bright faceplate and backlit LCD is all you need for your trips. The radio adds 22 FRS channels and 121 privacy codes to render a transmission range of around 10 miles. However, the range limits with the level of obstructions.
Since the radio pulls in FRS channels, you can start operating it right after buying without requiring a license issuance.
Besides, this unit connects with any other radio regardless of the brand or model. This grants the user the liberty of establishing seamless transmissions on a large scale.
By activating the VOX or eVOX feature, you can start transmitting in hands-free mode. To operate the KOMVOX walkie talkie, both types of batteries can be installed.
Also, the radio supports USB charging and you can use any cell phone charger to charge it.
What We Like:
VOX with 3 sensitivity levels
Micro-USB charging
2,662 channel combinations
LCD display
What We Don't Like:
COBRA ACXT1035R FLT Floating Walkie Talkies
Cobra is another reliable brand offering rugged radios for decades. The Cobra ACXT1035R features a clear transmission range for about 37 miles, thanks to the 2,662 channel combinations available. This vast communication capability can serve you in the back of beyond with minimum distortions.
To make it last for years, the Cobra ACXT1035R is designed with a strong water-resistant built. Even after dropping the radio in the sea, you can retrieve it easily as it has a floating body with an orange core that assists in locating the unit.
With the rewind-say-again feature, you will never miss a message as the radio will memorize the last 20 seconds transmission to play again if needed.
Whereas, the transmissions are made simpler by enabling the VOX function. Plus, the VibrAlert feature secures that you never miss out on transmissions by notifying you with enhanced vibrations.
What We Like:
NOAA weather alerts
Rubberized grips assist firm handling
O.S flashlight
Wide transmission range
What We Don't Like:
Takeaway
Camping out close to nature is all fun and games until an emergency arises. To counter any challenges, going with your family or friends is outright important. But taking a squad will yield no benefits if you don't have a stable channel to communicate.
By buying any of the above-mentioned walkie talkies, you can curb all the risk factors by securing strong communications. Also, as the units are super-sturdy, the wear and tear faced while venturing will not lead to disconnections. Hence, allowing you to enjoy the trips fully without any fear of losing track.