Milan is one of Italy's most famous cities as well as a popular tourist destination in the country. Situated in Northern Italy, it is the capital of the Lombardy region and has so much to offer in terms of cultural attractions, excellent dining, world-class shopping, and other fun attractions.
When it comes to camping and other outdoor activities, however, the city of Milan isn't exactly the first place that comes to mind.
This is not to say that Milan is not outdoor-friendly at all; in fact, there are a number of places within the city and surrounding areas where you can experience nature and the outdoors.
If you're looking for something new and to escape the urban feel of the city, you might want to consider going on a camping trip. Here are some of our top picks on where to go camping in and around Milan.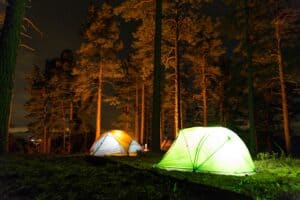 Top Campsites in and around Milan
Whether you're going on an overnight trip or staying an entire week, you'll find these places to have everything you need for a memorable camping trip. Don't forget to leave excess bags and other items at a luggage locker in the city for a hassle-free experience.
Located just next door to the famous Acquatica Waterpark, just a couple of minutes away from the city center, the Camping Village Città di Milano is the perfect choice for locals and tourists who want to enjoy nature and outdoors without having to venture too far outside of the city.
This four-star camping site is suitable for families and adventurers as well as businessmen or tourists who are looking for a change of scenery.
The campground has about 200 pitches available for tents and caravans, complete with modern toilet facilities, laundry service, a bar, and a restaurant. Guests may also opt to stay at the bungalows within the site, which feature air-conditioning and heating, a kitchen, shower, and toilet.
Other amenities include a park, playground, picnic area, a mini zoo with different farm animals, and several sports facilities.
Monza is a city situated on the River Lambro and is just around 15 kilometers north of Milan. The area is best known as the venue for the Italian Grand Prix, which draws thousands of visitors to this small town every year.
Found in the center of Monza Royal Park is Monza Camping, a no-frills and basic campsite that's famous among Formula 1 fans who want to watch the big event without having to spend too much on fancy hotels.
Monza Camping is situated just right next to the Grand Prix venue and offers a stunning, serene and quiet environment for campers. However, they only offer pitches for tents, campers and caravans, which means you have to bring your own accommodation here.
During the Italian Grand Prix, a minimum of four nights is required and campers must have a ticket to the event. There are other events that take place in the area, such as concerts held within Monza Park.
For the ultimate luxury outdoor experience near Milan, head over to the Fornella Camping & Wellness Family Resort. Nestled in one of the most stunning corners of Lake Garda, this five-star campsite and resort has been around since the 50s and is being run by the same family throughout the years.
The site offers a plethora of accommodation options, including mobile homes and luxury rooms. Those with their own gear can set up in the numerous pitches available, whether it's for tents or campervans.
Apart from the accommodation, Fornella also boasts some quality amenities, including two swimming pools, a beachside bar and restaurant, a tennis court, a spa and wellness center, boat and bike rentals, and even a dog camp. The site offers the ultimate holiday getaway from hectic city life and can be especially busy during the summer season, so it's best to book ahead of time.
Camping Panorama is a campsite found in one of the most picturesque places in Northern Italy – Lake Como. Situated in the town of Dongo, this beautiful and serene campsite certainly lives up to its name; the spot overlooks the lovely lake and is surrounded by a stunning hillside. The camping grounds have hundreds of pitches where campers can set up their tents and mobile homes.
Guests are also given access to modern toilets, Wi-Fi, swimming spots, and a playground for children. Adrenaline junkies will also appreciate the site's proximity to the lake, where water sports such as kitesurfing, windsurfing, canoeing, and sailing are available.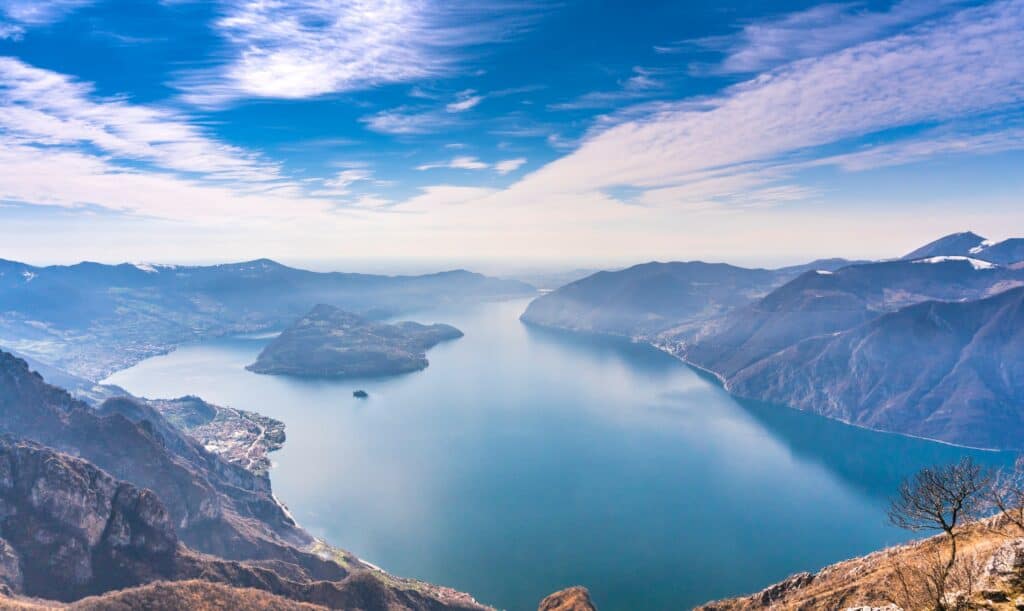 Situated on the shores of Lake Iseo, about 90 kilometers outside of Milan, is Camping Punta d'Oro. The town is easily accessible from Milan by car or via a two-hour train ride. Just a few minutes away from Iseo's city center, this campsite gives arguably the best view of Lake Iseo as well as direct access to the water.
Punta d'Oro is a quiet and quaint campsite with a total of 64 pitches available for campers, 16 of which are located by the lake. There is also a private beach on the campsite as well as a mini-market and bar.
Being surrounded by landscape, the site allows for a variety of outdoor activities such as cycling, trekking, and swimming. It is definitely a favorite among visitors from all over Italy because of the relaxing atmosphere and picturesque views.
International Camping Ispra is a four-star campsite in the small town of Ispra in Varese province. The site is located on a private beach right beside Lake Maggiore and is one of the most visited places in the area. This family-friendly camping village has 11 bungalows available for rent as well as 70 pitches available for tents, campervans, and mobile homes, all equipped with water and electricity sources.
International Camping Ispra also boasts an array of facilities for the entire family. The campsite has a swimming pool with slides, a barbecue area, safety deposit boxes, tennis court, jogging trails, a golf course, and horseback riding. There are also some essential establishments close by, such as a mini-market, laundry service, pizzeria, and restaurant.
Sources:
https://www.wheremilan.com/tips/caravan-camping-milan/
https://alanrogers.com/camping/italy
https://www.eurocampings.co.uk/italy/lombardy/milan/milan/
https://www.pitchup.com/tents/italy/lombardia/milano/milan/
https://coolcamping.com/campsites/europe/italy