Sleep is one of the most essential functions of our body. It is when it recovers from the wear and tear of our daily lives. That's why we need to do everything that we can so we can consistently get a good night's sleep. It's no joke, you'll go crazy literally and figuratively if you don't get enough sleep in just a matter of days.
What we sleep on is utterly essential to achieving said goal especially when we go out backpacking or camping. We need all the energy we can regain so we can make the most out of our time exploring and camping outdoors.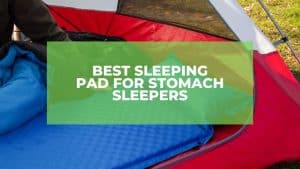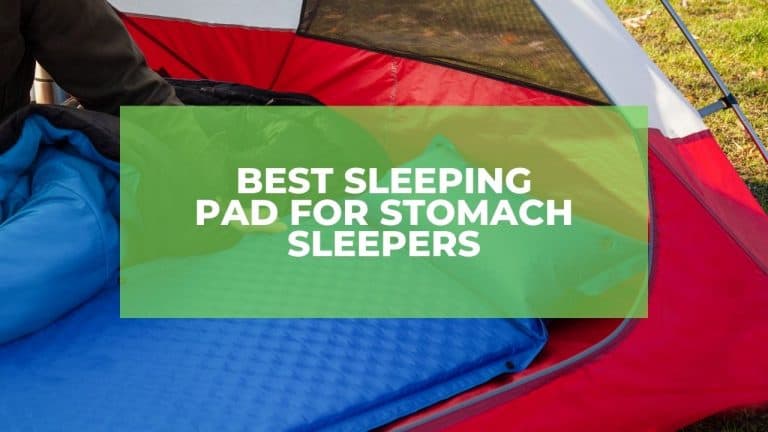 Most of us prefer to sleep on sleeping pads and a lot of us are stomach sleepers. Thus, we've listed down some of the best sleeping pads for stomach sleepers on the market today.
Before we proceed you might be wondering what we recommend as the best of the best and while we recommend that you read the entirety of our review to give other products a chance we think that the Outdoorsman Lab Sleeping Pad is hands down the best of them all.
Well, not by a lot of points if we're assigning points, actually. That's why you need to read the entirety of our comprehensive article right here to learn more about the products we reviewed and MORE!
Please go on right ahead.
5 Best Sleeping Pad For Stomach Sleepers
Let's start our best sleeping pad for stomach sleepers review with none other than the top-notch Therm-a-Rest NeoAir Xlite Ultralight Backpacking Air Mattress.
As the name implies this sleeping pad is one of the best in regulating temperature and will keep you quite warm even if it gets really cold. It also delivers the optimum comfort for anyone who sleeps on their stomach and at the same time, has minimal weight so it's pretty ideal for backpackers and campers alike. It's got a lot of innovative features and would surely be worth that investment.
Attributes:
R-Value – 4.2
Weight – 12.5 oz.
Thickness – 2.5 inches
Packed Dimension – 9 inches x 4.1 inches
Top Fabric Type – 30D rip HT Nylon
Comes with a Pump Sack for easy inflation
Comes with a Repair Kit
ThermaCapture technology
Top Features:
ThermaCapture: this is actually a proprietary material by the brand that effectively reflects heat as well as minimizes heat loss without any need of adding extra weight as well as bulk. This is how this sleeping pad retains an R-value of 4.2 and if you are not familiar, this R-value is pretty high meaning that this sleeping pad may help keep you warm even in very cold environments. As it retains the heat and reflects your body heat right back at you as you rest on it, you'll be pretty comfortable throughout the night or day.
Triangular Core Matrix: this is another patented technology for the brand that mixes two triangular baffle layers stacked that effectively creates a stable sleeping pad. This technology also helps in retaining much-needed heat.
TwinLock and Winglock Valve: a couple of patented valve technologies that will keep your sleeping pads inflated at all times but at the same time, deflate it rather easily once it is time to do so. It utilizes two high-flow but one-way valves that makes inflation as well as deflation really simple and fast.
What We Like:
Will keep you warm no matter what
Very comfortable sleeping pad
Stability guaranteed
Really easy to inflate and deflate
Compact and lightweight makes it really easy to store and carry
What We Don't Like:
Could use a little more room for it to be more comfortable to sleep on
Last update on 2023-12-01 / Paid Link / Images from Amazon Product Advertising API
Let's move on with the highly-rated, highly-touted, and our top pick for this best sleeping pad review is the Outdoorsman Lab Sleeping Pad. This is one of the most innovative sleeping pads that you may purchase today at a very affordable price point it's quite a steal.
This compact inflatable sleeping pad is perfect for outdoor activities, backpacking, camping, and hiking. It can surely accommodate both young and old. It is designed to take on any conditions and for tougher surroundings, that's why it will keep you cozy and comfortable no matter your destination.
Attributes:
Dimension – 73 inches L x 21.6 inches width x 2.2 inches height
Weight – 14.5 oz.
Temperature Rating – R-value 2.2
Style – Fits single size sleeping bags
Colors – Blue with 3 other color options
Features – Inflates/Deflates quickly & rolls up easily to a compact 8 inches x 3 inches x 3 inches
Top Features:
Compact and lightweight: weighing at only 14.5 ounces this is one of the most lightweight sleeping pads that you buy today. It actually inflates and deflates quickly making it ideal for outdoor trips. Also, it fits perfectly in its storage bag to ensure that you transport it with you rather easily. It is made out of "200 ripstop woven nylon with a laminated TPU coating lining". In just 10 to 15 breaths it's inflated and in a couple of minutes folding it and tucking it away in its storage bag, it's all set for your next destination.
Meant for the outdoors: it's got isolated air cells that help in limiting airflow and in turn, reduces heat loss. It is 2.2 inches thick so it's enough to give you insulation from the ground.
Patented design –this sleeping pad is unlike any other in that it does not have a chemical smell and at the same time, is not noisy at all. The valve does not leak either at least not for a very long time. It is firm and gives a lot of support to your body as you sleep on it. Plus, it's super affordable.
What We Like:
Very affordable with premium-like features
Very comfortable and stable material
Durable and should last for a long time
Quick inflation and deflation really meant for the outdoors
Easy to store and carry around
What We Don't Like:
Does not retain heat or warmth effectively especially in colder environments
Last update on 2023-12-01 / Paid Link / Images from Amazon Product Advertising API
One of the lightest and most compact sleeping pads on our list is the Therm-a-Rest Prolite Ultralight Self-Inflating Backpacking Pad. When it comes to the ultimate outdoor sleeping pad this should be on top of any list.
It self-inflates, what more do you need to look for apart from that? Anyway, kidding aside, this one is a bit more affordable than the previous item from this brand. Let's take a look at its details.
Attributes:
Material – Foam
Color – Poppy
Item Dimensions – 47 inches L x 20 inches W x 1 inch H
Item Weight – 0.72 Pounds
Variety – Self-Inflating Pad
R-value – 2.4
Top Features:
Lightweight and compact: this sleeping pad only weighs 0.72 pounds and that's really good for anyone wanting to spend a lot of time outdoors. You won't have any problems at all carrying it or making room for it as it's as thin as they come but at the same time still offers a lot of cushions.
Self-inflating: it comes with the patented Winglock valve of the brand and so you know that it does not leak air easily and also it inflates fast too. Well, it's self-inflating so you won't have any issues at all inthat regard.
Diagonal cut: With an R-value of 2.4 it can decently keep you warm in colder environments. The diagonal cut should also contribute to the heat retaining ability of the pad.
What We Like:
Easy to inflate and deflate
Very compact and lightweight
Good valve technology
Offers decent cushion and comfort
Retains heat effectively
What We Don't Like:
Not as durable as advertised
Last update on 2023-12-01 / Paid Link / Images from Amazon Product Advertising API
Now, if you really find yourself in colder environments as you camp or go backpacking even in winter then we highly recommend the Lightspeed Outdoors XL Insulated Sleep and Camp Foam Pad.
This sleeping pad is at a great price point as users have attested that it's perfect for those who sleep in their stomachs. It's meant for extremely cold conditions and will surely keep you warm at all times day or night.
Attributes:
Weight – 6.0 lbs.
Color – Teal and Dark Blue
Best Use – Camping, and Travel
Capacity – Single Person
Dimensions – 30 inches W x 77 inches L x 3 inches / 3.5 inches H
Materials – FlexForm 4-way stretch Polyester and TPU lamination
Stored Size – 30 inches x 7.75 inches x 7.75 inches
R-value – 9.66
Top Features:
Will keep you warm: out of its many desirable features this sleeping pad is perfect if you travel in the winter outdoors or just in very cold environments. With an R-value of 9.66 arguably the highest amongst the pads on our list, this foam pad will surely keep you warm.
Easy inflation and deflation: it is armed with 2 oversized valves for quick self-inflation and deflation process, you won't need a pump either.
Very comfortable: it comes with a comfortable pillow so you won't have to carry another one with you. It's the right size for one person, it's not noisy, and comes with a nice carry bag.
What We Like:
Very comfortable
Will keep you warm in colder environments
Easy to inflate and deflate
Very durable material
Great value for money
What We Don't Like:
It's a bit heavy and bulky
Last update on 2023-12-01 / Paid Link / Images from Amazon Product Advertising API
Last but not least is the Overmont Large Sleeping Pad. Now, this pad is the cheapest amongst every item we listed in this review. We wanted to give you options based on your activities with some of the best on varying price points.
This one actually offers great support at 4.7 inches thick and comes in 3 different colors black, navy, and green.
Attributes:
Dimension – 76.7 inches x 27.5 inches x 4.72 inches
R-value – more or less 5.0
Materials – 80D Polyester pongee & PVC Coating
Weight Limit -600 lbs.
Item Weight – 1050 g
Top Features:
Great for colder temperatures: not a lot of affordable sleeping pads will give you an R-value of 5.0. Needless to say, this pad should keep you warm and fuzzy at all times.
Offers great cushion: very comfortable support and cushion from the ground up this sleeping pad is also very stable and durable as it is made of top-notch materials.
Quick inflation: good quality valves and design meant for this pad to quickly inflate and deflate. It's got a built-in pump and should be ready in 2 to 5 minutes.
What We Like:
Quick inflation and deflation
Very affordable
Durable material
High R-value for the price
Compact and lightweight
What We Don't Like:
It leaks air rather prematurely
Last update on 2023-12-01 / Paid Link / Images from Amazon Product Advertising API
Sleeping Pad for Stomach Sleepers Buyer's Guide
There are a couple of sleeping pads that you may get actually an inflatable one which is the products that we reviewed and foam sleeping pads which are not very ideal for backpacking or camping.
Nonetheless, for the sake of this discussion, we are going to touch on both of them for you to have a broader idea of things. First of all, foam pads almost need no setup time, they are also very durable and almost indestructible, plus they are also quite affordable and multi-functional.
But, foam pads are very ideal for camping and backpacking because they are very bulky.
On the other hand, inflatable sleeping pads while they are susceptible to holes have all the qualities of a comfortable and compact sleeping pad for your travels.
Warmer is better
A good sleeping pad should also keep you warm or at least help regulate the surrounding temperature and reflect it to your body as you lie down on it to rest or sleep.
Always take note of the R-value of a sleeping pad as that indicates the level of insulation a sleeping can bring. The higher the R-value the warmer it is.
During winter, as much as possible, bring an inflatable sleeping pad with an R-value of at least 3 to keep you warm when camping or backpacking.
The goal here is for the sleeping pad to prevent the ground's temperature from getting to you and for the pad to reflect your body heat right back at you for a comfortable night's sleep.
Weight is essential
Last but not least, you need to always be mindful of your sleeping pad's weight and how compact it is. Whether a sleeping pad is easy to setup or fold into storage as you travel day in and day out can make or break a decision to purchase it or not.
Go get a sleeping pad that weighs less than a pound if you can. The lighter the better but please be mindful of the materials utilized by the sleeping pad. You could be compromising on durability if the sleeping pad is too light but this is exactly an area where the good ones stand out.
Some use lightweight materials but still offer maximum durability and reliability. Like the ones, we listed above for you.
Noise considerations
If you travel with a partner or a group, be sure to be considerate enough to bring a noiseless sleeping pad. This is especially true if you move a lot as you sleep as it can get noisy especially if you all sleep inside a tent.
Inflatable sleeping pads are especially noisy so please do watch out for them.
Frequently Asked Questions:
What are the pros and cons of sleeping in your stomach?
You can sleep on your side or your back which is the most ideal but we can't help it if some people are used to sleeping on their stomach, right? Honestly, it's not recommended to do so even by experts but it's got a few advantages such as preventing sleep apnea and snoring. Your partner would thank you for this or if you are sleeping in common quarters but yeah, sleeping on your stomach has a few problems too. If you do it for a long time, it may knock your spine out of its alignment which can be serious. This position may also create unnecessary pressure on your joints and muscles. Also, sleeping on your stomach may lead to neck and back pain. There are approximately 7% of people in the world that sleep on their stomach and if you can mix it up a little bit on your sleeping position then we highly recommend you do so.
What are the advantages of bringing a proper sleeping pad when going out camping or backpacking?
Bringing your own portable sleeping bag with you wherever you may go on your backpacking or camping trip can surely bring about a lot of positives. First of all, you won't have to worry wherever you may need to sleep as you can set them up anytime and anywhere for you to take a much-needed rest. Sleeping bags, especially the ones that we listed above, provides perfect insulation from the ground and will keep you comfortable. Also, they are pretty convenient to store and carry around and won't take up much space nor are really heavy. Not a lot of hassle for such a useful piece that you really should bring on your trips. It's a surefire way to get a good night's rest for a ton of exploring the day after. It would also allow for any sleeping position without any restriction at all.
Do you have any tips I should remember as I go camping or backpacking?
The first thing that you have to remember when backpacking or camping is not to bring too much unnecessary stuff that will just add to your load. Only bring the essentials and that's why these sleeping bags we listed for you are convenient for they won't occupy much space on your space nor are too heavy to carry. Bring first aid, of course, and as much as possible travel with a companion or better yet a group. Also, pair your sleeping bag up with a quality tent to better insulate you from cold or warm temperatures and all sorts of elements when outdoor camping. And most of all, ENJOY!
Can I use my sleeping pad when I'm at home? What are the advantages of a good sleeping pad?
Why not, right? A sleeping pad provides a good and solid cushion from the ground plus it should either keep you warm or cold enough for whatever the temperature will be. It's very easy to set up and fold too which requires minimal effort plus it's also a time saver.
How to ensure my sleeping lasts? Any maintenance and safety tips?
When backpacking and on a trail, be sure to keep your sleeping pad folded and secure inside its pack. It will be rendered useless once you poke a hole in it so be sure to keep it intact. Be sure to wash your sleeping pad regularly and properly so it stays clean and away from any debris that may damage it. You probably won't be using it all year long so when at home and you plan to store it, make sure it's dry and store it valve open with a temperature and humidity controlled room.
Final Thoughts
There you have it, these are some of the best sleeping pads for front sleepers that you may choose from. What we have here is a pretty diverse list and each would bring value to your trips for sure. We want to make sure that each item would cover an aspect that you might truly need at the moment.
But if you want a well-rounded sleeping pad then still we recommend the Outdoorsman Lab Sleeping Pad with the Therm-a-Rest NeoAir Xlite Ultralight Backpacking Air Mattress a close second. When outdoors or on trips we need to ensure that we are comfortable so we don't have to deal with additional and just focus on having a great time and experience.
And, ensuring that we have a good pad to sleep on can eliminate a lot of worries on trips. So go grab a sleeping pad or two now and may you have a great time. Stay Safe!