Do you ever wish to experience the best sleep outside?
Because with a very bad cot, we doubt you can have that. But what if we tell you that you can get yourself a cot and that too with a bonus air mattress?
Won't it excite you?
Exactly, this is what Coleman can provide you with their most popular QueenCot. And we can assure you that this Coleman QueenCot With Airbed Review will be honest enough to bring both the plus and the minus sides to the light.
Thumbs Up For
Air mattress comes with AirTight system for offering leak-free perks.
Easy to carry and store for its folding and compact feature.
Able to hold people weighing up to 600 pounds.
Able to accommodate people around 6 feet 2 inches in height.
Comes with a 4D battery operated pump for inflating and deflating airbed for coziness.
Can be used both indoors and outdoors.
You can double the space by separating airbed from the cot.
Features 2 side tables and cup holders to keep essential items nearby.
Comes with a carry bag to stuff the cot and airbed and transport.
Thumbs Down For
Has been stitched light at the very corners that can rip up the thread seams with minor use.
Extremely bulky and heavy.
Unfolding the cot and airbed is very tricky in the tent.
Pump clips are plastic, cheap and flimsy.
The pump is not strong enough to pump the mattress quickly.
Cup holders have used cheap materials.
Last update on 2023-12-01 / Paid Link / Images from Amazon Product Advertising API
Features Of Coleman QueenCot With Airbed
This QueenCot by Coleman can be a perfect buddy for your camping. Not only it can give you enough coziness to sleep on but also can bestow you a lot of features just to benefit you.
Firstly, it comes with air mattress incorporating AirTight system. With a system like this, you won't be having any leaking issues from the mattress.
Secondly, it has been designed with ComfortStrong coil construction so that it can give you all the support and coziness that you can expect from the bed.
Talking about the cot, it is made up of solid steel. Hence, holding heavier people will not be a big deal for the cot. Not just that, the brand has also claimed it to accommodate people who are somewhat taller in height.
Do you know the best part? Its 4D battery-operated pump through which you can inflate the cot to enhance its coziness.
Additionally, there is another plus point that can impress you well enough.
And that is, you can double the sleeping space by separating the cot from the airbed.
See, how kind the cot can be for you?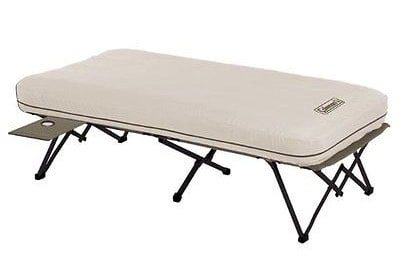 Moreover, you will also find two side tables and cup holders nearby the bed so that you can keep essential stuffs there close to you.
And when it comes to the convenience, its folding feature is nothing but icing on the cake.
Target Group
QueenCot has not only targeted all the queens out there who look for comfort to sleep outside, but also has focused on all the kings.
So, both the male and female will be able to use it without any hitch.
Besides, the cot or the air mattress is capable enough to hold the weight of people up to 600 pounds. And we think that's something to appreciate.
Not only that, it can also accommodate you even If you are someone 6 feet 2 inches taller. Because it's that much wide and big.
So, that already answers to your question that why would you have it.
The Main Benefit
QueenCot has earned a lot of plus points for its features. If you want to sleep peacefully anywhere outside the home, this cot can be your answer.
Not only you can inflate and deflate the airbed with just a 4D battery pump, but also can separate the mattress from the cot to widen the sleeping space. So, now you and your friend or your partner can use it at the same time.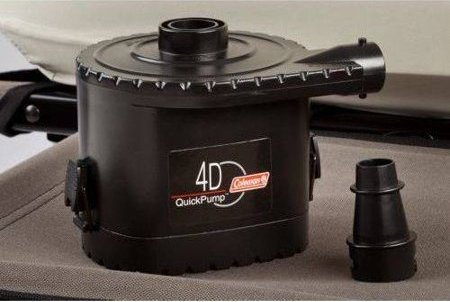 Besides, its AirTight system also ensures leak-free bonus, so your mattress will not leak anytime soon. And these features are the reasons how campers can improved their lives.
Not only that, its folding ability is another point that must be taken into consideration. Because, this convenience, will let you carry and store it easily in a jiffy. So, these are the reasons why you should actually have the cot.
Real Details
Well, QueenCot does not act pricy but some of you might find it reasonable while some might find the opposite.
Although, the price is what it should be considering the airbed that costs alone the price of the combo. So, in that sense, the price is reasonable.
Other than that, some users have felt it to be a little steep and even taken a star away for that. However, this should not disappoint you.
As for the delivery, if you buy it from Amazon, then you will be able to witness the fastest delivery. Some have also mentioned to have it arrived before the mentioned time. That is one of the biggest plusses.
Speaking more about bonus, since it's a Coleman product, you can enjoy 1-year warranty for the cots. And if you buy it from Amazon, you can get 30-day replacement warranty.
Although, some people have indeed used the replacement warranty from Amazon as they had got a damaged product. But the good news is, the replacement job was fast too. So, thumbs up for such customer service.
User's Opinions
Positive:
Side tables are great addition to keep the stuff nearby
Easy to set up
I am above 6 feet and I can easily sleep on it without any inconvenience, which is great
The airbed feels very comfortable. Didn't have any leak issues
Negative:
Light stitching at the corners can rip up the threads easily for inflating the airbed.
It feels extremely tough to carry it for its heaviness and bulkiness
Pump is not strong enough to get the mattress pumped up quick
Both pump clips and cup holders are flimsy
Frequently Asked Questions About Coleman QueenCot:
Does The Frame Fold Up?
Yes, the frame can be folded up. But take out the mattress from the cot before folding it.
What Are The Dimensions Of The Folded Cot?
The dimensions of the folded cot are about 39by 10by 9 inches.
Will You Get Pump Batteries With The Product?
No, you will not get batteries with the product. They are sold separately.
Are The Cup Holders And Side Tables Removable?
Yes, the cup holders and side tables are removable.
Final Verdict
Now that Coleman QueenCot With Airbed Review has been exposed, it will be easier for you to decide. If you think you can forgive all those minor drawbacks, then this is one of the coolest and most comfortable cots you can have. Besides, its perks are so much in number that going for it will rather be a good deal.
Check our full reviews on: 12 Best Camping Cots