Food is, alongside a good company, one of the most essential parts of quality camping time. Regular grill and barbecue are a sure-fire way to make everybody happy, but you could make the trip even better if you spiced up your catalog of meals with a handful of fresh, unique recipes.
We're here today with five of them that are guaranteed to hit home, so without any further ado, let's dive in.
Mountain Man Scramble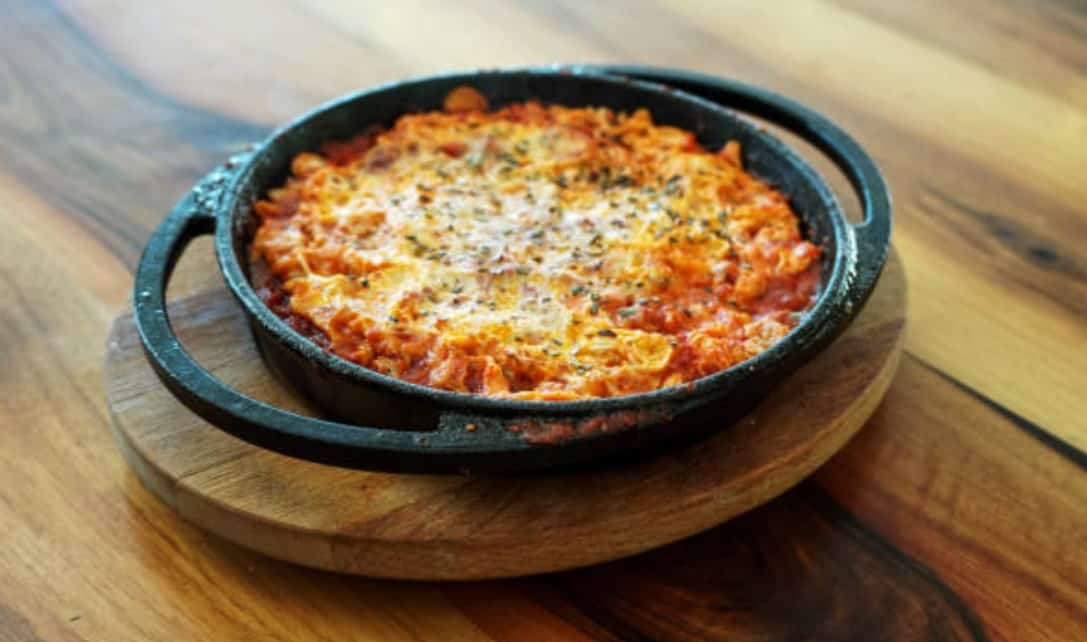 The Mountain Man's Scramble is an excellent opener, a quick & easy breakfast option that is absolutely perfect for campers who want to experiment with different ingredients and spices.
It's essentially an omelette dish that can cater to the needs of both vegetarians and carnivores, allowing you to enrich it with the most basic food supplies to great results.
The original recipe requires two pounds of sausages, eight eggs, and two cups of grated cheese, and the dish should take about 25 minutes to prepare. Now, the greatest thing about this Scramble is that you can season it with most types of spices, and replace sausages with any kind of meat you have in the bag.
Pork meat works great in combination with cottage cheese while bacon is an excellent choice if you're using feta. Chicken meat would sit well with cheddar and tomato sauce, but it's ultimately up to you.
Scramble the eggs and gradually add chunks of cheese as they start changing color. Prepare the meaty ingredients on a skillet and throw them into the pot right before the eggs are ready. Once the dish is fully prepared, add whatever spices and toppings each camper wants on their plate.
The versatility of this dish is what makes it so great – your camping squad will receive a healthy bump of energy from the get-go while getting to enjoy a thoroughly tasty and relatively light meal.
Tin-foil hotdogs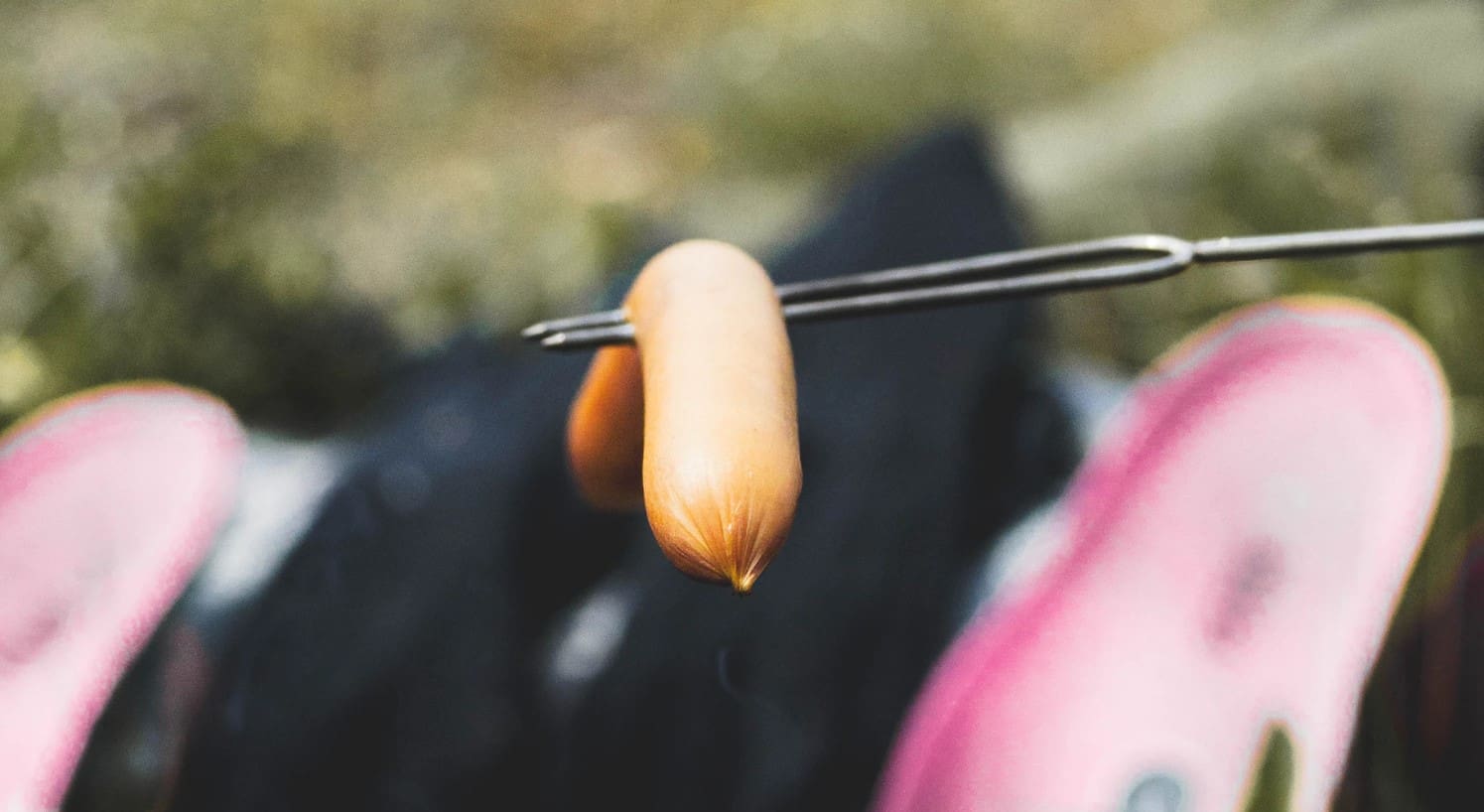 Another easy dish that will lift the spirits of your companions early in the morning, preparing them for the remainder of a beautiful day. The simplicity behind tin-foil hot dogs is such that they don't require conventional cooking tools and can be prepared within fifteen minutes.
Just like Mountain Man's Omelette, this dish can be prepared in any number of ways – you can roll them in bacon, fill them with cheese, sprinkle them with bits of sliced cheddar, or fit them in any kind of sandwich.
Essentially, you'll need as many hotdogs as there are people on your camping trip times two, an equal amount of string cheeses, some basic toppings, and optionally some bacon or thin-sliced salami.
Fill the hotdogs with a cheese type of your choice and wrap each in bacon/salami. Close the tin foil wrap and put the hotdogs over the fire.
The only potentially annoying thing about this dish is that you'll have to check the meat every five to six minutes. The hotdogs should gradually change their color over time, so you can easily tell whether they're ready by the state of the bacon wrap.
Another great thing about tin-foil hotdogs is that this breakfast dish can easily become a regular lunch if you prepare it in sufficient quantity.
Shish kebabs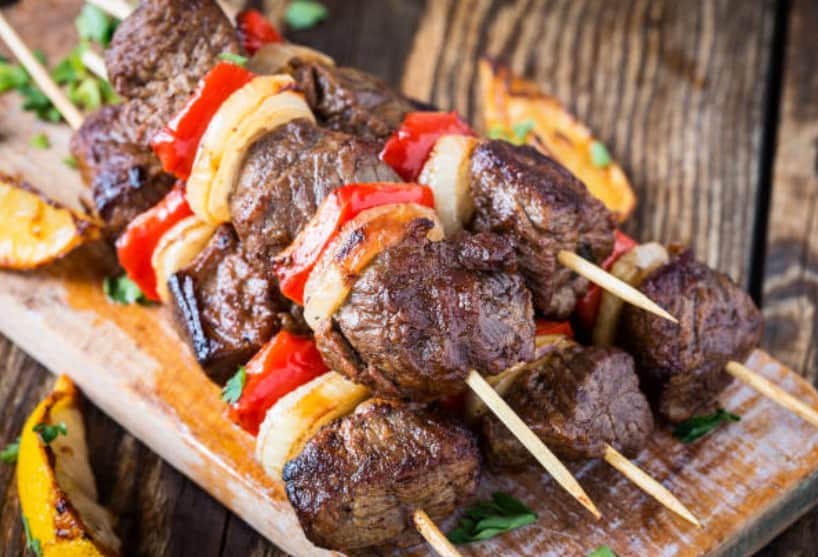 A demanding, but remarkably rewarding dish, the Shish Kebab is one of the most all-encompassing dishes you can grace your camping table with.
The recipes are different from country to country, especially so from one camp to another, so feel free to experiment as long as you use the ingredients everyone's content with.
The essential ingredients include three teaspoons of paprika, half a teaspoon of cinnamon, a teaspoon of chili flakes,
a juiced lemon, three cloves of grated garlic, and either pork or chicken meat (or both).
Make sure to buy kebab sticks in advance, and try to buy better-quality ones. Good sticks are resistant to heat and are much easier to handle.
Slice the meat in relatively thick pieces and cut whatever vegetables your camp mates love to eat. Ideally, you should attach one piece of meat per two pieces of sliced vegetables. Once the kebabs are done, add your preferred toppings lightly.
Beans & Franks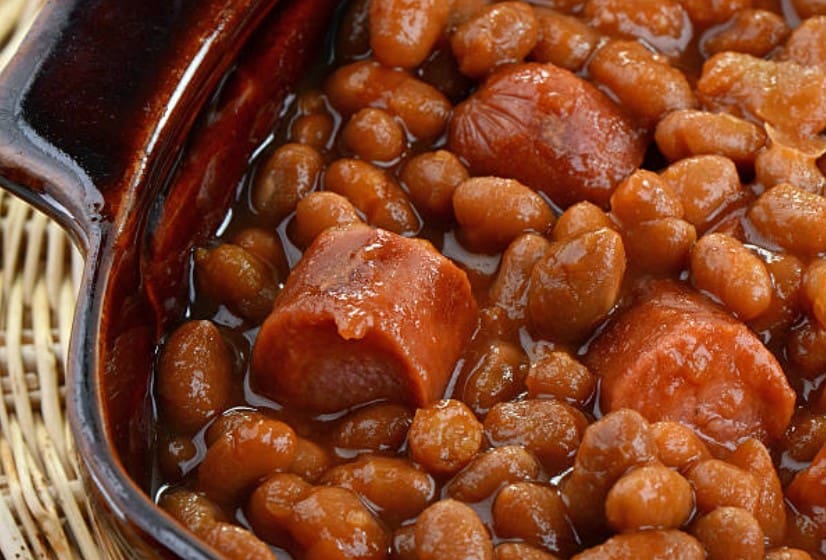 If you've prepared a ton of activities to participate in during the day, you may want to load up on fibers and carbs with Beans & Franks.
Aside from being incredibly tasty, beans are also both quick and easy to prepare, mostly due to the fact that you'll simply have to sip them from the can into the pot.
You have a variety of choices as far as other ingredients are of concern – you can throw any hotdog or sausage leftovers into the mix, sliced pork or chicken, or leave the meat altogether. Onions are absolutely essential; if some of your friends don't particularly like this vegetable, they won't even feel it if you grill it enough.
Stir the pot and slowly add onions, chunks of meat, and spices. The process shouldn't take more than ten minutes, and you'll have a huge lunch for the whole pack ready.
Goulash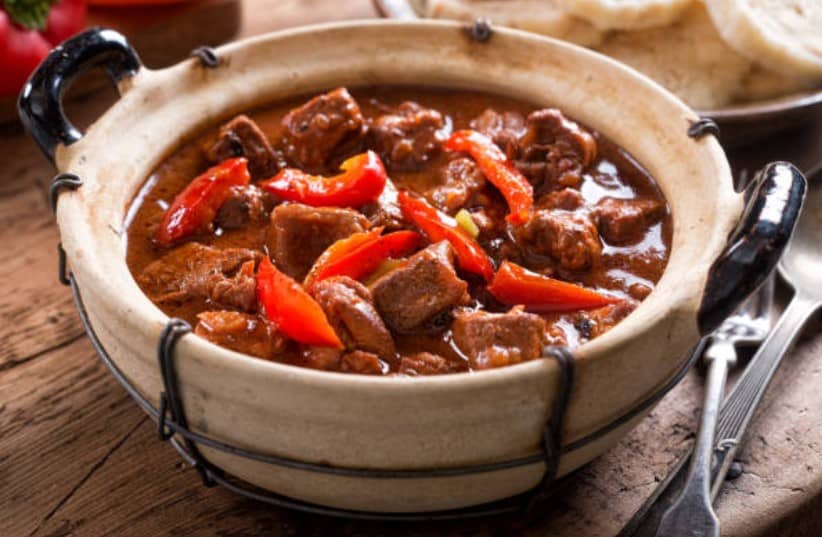 The absolute all-time favorite dish of camper gourmets, Goulash is a traditional piece of Hungarian culinary dish catalog that takes a while to master, but it will be the dish that will be talked about throughout the remainder of your camping trip.
Now, the traditional Gulyas is a meat stew that requires beef, pork, lamb, and veal pieces, more paprika than you'd think, a handful of sliced onions, alongside choice vegetables (tomatoes, carrots, caraway seeds, peppers, potatoes).
Start from the ground up by boiling the water in the pot; add garlic, paprika, and seeds every couple of minutes. Add the rest of the vegetables before proceeding to add chunks of meat.
This dish requires a lot of time to prepare, so it would be ideal if your camping buddies could switch places with you every twenty minutes or so. Again, it's outstandingly tasty and no other dish screams 'camping time' like it.
Final Words
Whether you want to keep things simple with a couple of hotdogs or want to impress your friends with that long-awaited goulash, there are many dishes you can easily prepare with the simplest of tools and culinary skills. We hope that you've liked our selection of the top 5 camping recipes, and wish you safe travels. Make sure you are staying safe in these times we are all going through and have a good one, guys!