There are over 40 million outdoor enthusiasts who go camping annually. Most of which happens in the summer or when it's great weather to stay outdoors and enjoy the sun.
Summer camping is a well-known and crowd-favorite pastime; others are still not open to the idea until they get the first-hand experience without compromising the quality of your life. 
Elaborate preparation, bugs, inclement weather conditions, and more are some of the setbacks that wreak havoc to the beauty of outdoor adventure. However, suppose you have the right essential, mindset, a heart that's open for unique experiences, and a love for nature.
In that case, camping is your highest comforting activity when everyday life seems to weigh you down.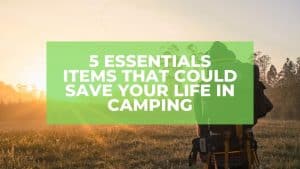 To help you get the most of your outdoor expedition, bringing the right tools will help you get into a camping mood. With today's technology and innovation, you can even bring all your favorite devices and machines outdoors for total convenience. Some have their portable TVs, camping refrigerator, handy stove, portable generators to keep their appliances working, or light their tents during the night.
It takes a couple of tries, some pro advice, and your gut feeling to love camping and its benefits.
What Are The Essential Things To Bring When Camping
Camping is a unique and personal experience that most outdoor adventurers take their desires, needs, weaknesses, and strengths. It means no two campers have similar needs when outdoors and you'll end up bringing a different set of tools that simplifies your life compared to another camper.
While basic outdoor necessities must always be on the priority, some things are not essential to carry along while others must stay on your list to help you survive the wilderness. The essential camping list won't have much difference and knowing which one to bring is crucial.
For new campers, you'll need to get familiar with the tent camping essentials to help you survive the outdoors. These include your sleeping bag or temporary shelter to keep you protected from inclement weather conditions, camping clothes, fire starter, multitool kit, navigational tools, hydration supply, food, flashlight. And medications.
Other campers may need more of this list but taking it as a basis can help you get through almost anything and survive the wilderness, even for a few days.
Camping radically varies per place you want to explore, the number of people coming on the trip, and the duration of the camping plan. This guide will help you set the right priorities based on your preference, camping experience, and more important factors.
Nonetheless, camping should provide you with an escape from the stress of daily work and rejuvenate your soul while being close to nature. 
5 Fundamental Camping Gear To Help You Survive Outdoors
Some camping essentials are ideal for individual use, and some are best to take if you'll be camping in a group. Here's what you'll need to help you survive the outdoor life like a pro.
Temporary Shelter or Beddings
Sleeping under the beauty of the night sky may be one of your deepest desires, but when camping in a foreign place, it's not a great idea. That's why taking with you a temporary shelter like a tent can provide protection and security, especially with sudden downpours.
Tents are handy, so as adding some camping beds to keep you cozy when it's time to hit the couch after a tiring day. 
First Aid Supplies or Bug Spray
Camping is all about stepping into a new and unplanned, rugged nature. It's exhilarating and hanging out into a place that's never been modified for human presence can prose danger.
Falls, bugs, creepy crawling insects, or even snakes are some of the potential encounters when outdoors. The first-aid kit can minimize risk until help arrives. These things can save your life in case of emergencies.
Cooking Supplies
Camping allows you to be creative and plan ahead of time. There are a couple of options when you go for an outdoor adventure, like packing ready-to-eat food to skip the hassle of cooking or do the latter.
Suppose you plan to cook when camping, portability, and convenience should be an essential factor always to consider. Portable stove or propane tank, cooking tools, and other essentials are vital.
It's ideal if you go camping in groups and ask everyone to carry along something to share or cook for later.
Hydration Supply
We can stay for a couple of days without food but not water. Taking enough hydration supply with you when camping can help you survive the wilderness.
If you'll be going in groups, a water filter is also a great option to help you purify water found in the site or camping area to provide a good source of safe and drinkable water. 
Navigational Tools
Navigational tools are vital if you are planning to explore a foreign place. It will help you get to your desired destinations safely and efficiently. Whether you plan to bring old-school maps or digital maps, these vary per individual preference but are a sure lifesaver at your end.
Conclusion
The bottom line is that every camping adventure, group, or individual is different. While there are essential lists to help you survive the outdoors, some campers may need more based on their preference and needs.
Doing quick research of the terrain you want to conquer cam help you decide what and which camping essential can guarantee safety, convenience, and memorable experience.