Taking proper preparation before doing it is the best way to have success. We know it right?
This same concept also applies to camping. It is essential for any outdoor activity that you take enough preparation for it and when talking about preparation for camping making your camping Checklist is the first thing that you need to do.
No matter how well you think you can remember everything, there is something that you will miss if you don't make a proper camping list.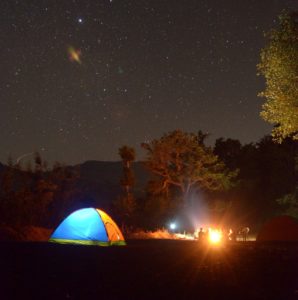 For camp lovers, making a complete camping list is a must even if you have done hundreds of camping already. A camping list makes sure that you have got all the important camping essentials.
Now camping list doesn't mean carrying your personal items, rather than it means a list of those things that you have to carry to make your camping hassle free.
Moreover, camping list can save a lot of your time. While packing for camps, you don't have to think again and again what to take and what not to take. You just look out to your camping list and pack all of those things.
Some items are common for every kind of camping, so when you have made a camping list you can actually use it for several times.
We agree that doing camping is not a very easy task. However, this can become more difficult if you have not prepared enough for it. Whereas making a camping list is important, there are some other tasks which are equally important.
For example, fixing the date and place, buying a perfect tent, inviting your friends and to make a placement for a campground. After doing all of these things you need to make your camping checklist. This is something that can change your whole camping experience.
The best way to make your camping list is to divide it into several categories. Don't put all the items just randomly.
There is a chance if you do it like this, then you will somehow miss something. Make different categories and make a list for each category. Think thoroughly about each category and make a list.
Obviously, you won't be able to write everything at a time. So whenever something hits on your mind write it down according to its category.
The good news for you is the fact that we have already prepared an infographic that should solve a lot of problems. Our designers wanted to make sure that you get a visual image to Making a camping list in this way and it will also assist you when you will go shopping these things for camping. So here, you go.
Enjoy the visuals.

Share this Image On Your Site:
Essential Camping Checklist:
Below we have made a camping list that will surely help you a lot for your camping.
Tent Checklist
Sleeping Checklist
Cooking and Kitchen Checklist
Campsite Checklist
Toiletries
Cloth Checklist
Campfire Checklist
Personal Items
Camping Living Checklist
First Aid Kit Checklist
Cleaning Checklist
Tent Checklist
Tent
Pegs
Tent porch, carpet, and footprint
Dutch tape
Hooks
Gazebo
Repair kit
Rooftop Tent
Sleeping Checklist
Pillow
Blankets and sheets
Air mattress( with a foot pump)
Repair kit (for mattress)
Sleeping mat (optional)
Extra clothing for an emergency weather change
Cooking and Kitchen Checklist
Water
Different energy drinks
Camp cooler (to carry foiled/frozen food)
Gas stove
Pots and pans
Lighter
Plastic zipper bags (to store foods)
Aluminum foil paper
Wooden spoon
Knife
Forks
Cutting board
Plates
Bowls
Folding table
Bottle openers
Charcoals
Measuring cups
Paper towels
Napkins
Dishwashers
Different seasonings
Paper cups
Peeler
Campsite Checklist
Campground contact information: Always keep the contact information with you.
Research about the places
Trash bags: Make sure to keep the place clean.
Portable toilet: Take a changing pop up tent which can be used as a toilet or changing room.
Windbreak
Torch
Toiletries
Toothbrush
Mirror
Towel: Try to take Microfiber towel as they are light and can get easily dry.
Insect repellent: Must if you are going for forest camping.
Hand sanitizer
Loo roll
Cloth Checklist
Shoes
Shorts
Comfortable t-shirts
Socks: Always carry extra socks when camping.
Sleeping clothes
Rain gear
Raincoats
Jackets
Swimsuit
Plastic bags: To carry your wet dresses
Underwear
Campfire Checklist
Axe
Firewood
Firepit
Newspapers: To start the fire.
Gas
Personal Items
Deodorant
Comb
Shampoo and soap
Razor
Towels
Shower bag
Medicines: Medicines that you required for only yourself.
Feminine products
Other personal items
Camping Living Checklist
Sunscreen
Backpack
Working gloves
Batteries
Chargers: Take extra so that you can it if first one got damaged.
Fuel
Mats
Water containers
Umbrella
Portable speakers
Zip ties
Life jacket: If you are going for swimming.
Whistle: Take whistle for each and every one.
Maps: A must item to carry. There can be no networks, so maps will be required.
Screwdrivers
Shovel
Fishing gear
First Aid Kit Checklist
Cotton swabs
Safety pins
Tweezers
Roll bandages
Adhesive taps
Antiseptic wipes
Bug repellent
Bee sting kit
Antibiotic cream
Sunburn lotion
Aspirin/paracetamol
Cold/heat packs
Thermometer
Latex gloves
Try to keep these things as organized as possible, so there is any kind of emergency things can be found easily.
Cleaning Checklist
Garbage bags
Dustpan
Tea towels
Sponge
Clothesline
Broom
Paper towels
You have to make sure that you have left the place just like the way it was before you had your camping. So, please give enough importance to this section. Remember after you, there will be more people who will come to this place for camping.
Apart from all of these things, there are some other basic things that people usually carry while camping. For example, cameras, different fun items, cards, toys, bikes and etc.
We think the list we have made for you is applicable for any kind of camping whether you are going for an extreme one or just a casual one. These are some very basic things which you have to carry.
Still, you will find many things from the list that won't be very necessary for you. This is another advantage of making a camping list. A camping list makes sure that you carry all the essential things and at the same time also makes sure that you don't bring anything unnecessary.
There is no fixed camping list. We have just given you an overview how you should make your camping checklist.
Now it is your turn to edit it, add more items if you need or remove items if you think that is no use for your camping.