When camping is mentioned, one may easily make the mistake of relating it to extreme sports, long hikes, mountain climbing, and the like. But that would make camping exclusive for fitness enthusiasts of a certain age, and there is nothing further from the truth.
Immersing yourself in nature, finding a beautiful landscape, and sitting quietly to watch the sunset in the company of family and friends; that is also part of camping.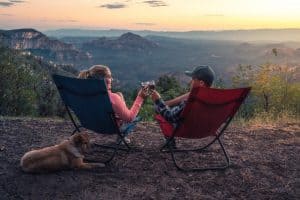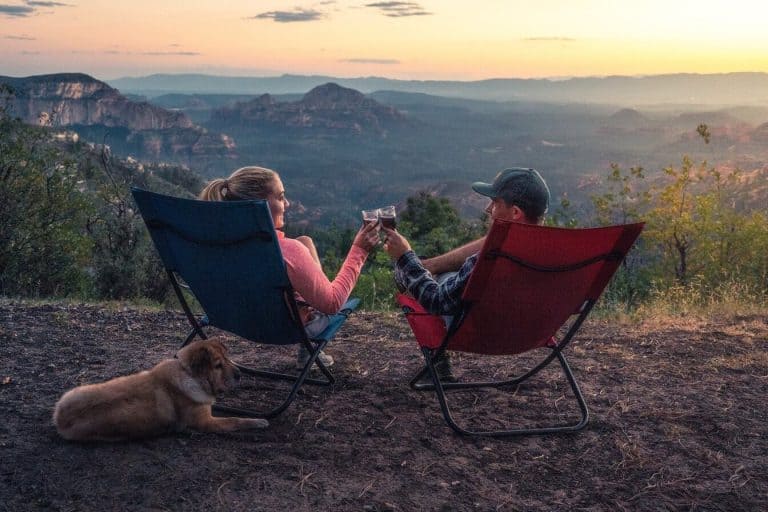 However, people with minor health issues —may be as common as a bad back— sometimes don't get to enjoy that experience for the lack of appropriate gear.
To solve that problem and let you relish in those encounters with nature, we bring you the best camping chairs for bad backs.
IN A HURRY? HERE'S OUR TOP PICKS…
Folded Dimensions ( L x W x H )
(37.4 x 30.4 x 5.8) inches
(38.6 x 26.4 x 6.3) inches
Fabric Material
Diamond Ripstop Polyester
Polyester With Padded Foam
Diamond Ripstop Polyester
Frame
Powder Coated Steel Frame
Last update on 2023-12-01 / Paid Link / Images from Amazon Product Advertising API
Camping Chairs For Bad Backs Reviews
Stop turning down family trips because of the fear of being uncomfortable. We present you with a list of amazing chairs that will effortlessly keep your back in place and your spirits up.
We start with an item built to withstand the harsher elements of nature while providing you with the comfort your back needs.
The chair's fabric is made from Textilene, most commonly used in patio furniture to endure lots of solar abuse and other nasty weather conditions. This means that when you are not camping, you can leave the chair outdoors without even thinking about it.
Its double bungee-cord system allows you to lean into the chair with all your weight until you find the perfect spot. This feature is encouraged as well by its recline function, which stays in any position available. Fall back and effortlessly stay that way, due to the dual fingertip locking technique.
More so, to take extra care of your back, you can move the headrest down the steel frame and adjust it to support the lumbar system. Combined with the zero-gravity effect which lets you elevate your legs, this chair will thus offer you a padded relief that works wonders.
Its ergonomic and solid armrests will help with stability and also with getting in and out of the chair.
For easier transportation, this item folds down to 6.3 inches wide and weighs an overall of 18 pounds. It may seem a bit much, but you can blame it on the chair's high strength steel frame, which supports up to 300 pounds.
Put it in the back of your car, or on top of it, and sail away with your mind at ease. Your back will be taken care of.
Thumbs Up For
Headrest doubles up as lumbar support
The zero-gravity effect works wonders on back problems
Made of durable Textilene
Locks in any position
Thumbs Down For
No cupholders
A bit heavy
Last update on 2023-12-01 / Paid Link / Images from Amazon Product Advertising API
We now bring you a slightly different kind of chair, one that is more appropriate for outside events than for a backyard.
It has a seat made of a durable nylon ripstop fabric that is elastic enough to keep you comfortable but, at the same time, hard enough to prevent sagging.
This last characteristic addresses one of the most common complaints among camping people with back problems: "I can't get up from this chair!". Kijaro, in turn, is so cozy that you won't want to get up from it, but when you finally do, it is really easy.
On its back, it features a breathable mesh to give you some air during humid summer days.
One small drawback is that both of these fabrics —ripstop and mesh— don't perform well when left outdoors for a long time. They start to lose their color and elasticity.
But we are pretty sure that you won't leave the chair at home. You will probably take it wherever you go because it is very easy to do so. When folded, this relatively lightweight item —a total of 9.5 pounds— can be transported either inside its carry bag or from its built-in strap.
While designing this chair, Kijaro traded reclining for extra stability through a dual lock system. Just by pushing on the armrests, it locks in place, sturdy as it gets.
Going home already? Fold it, and it locks shut. Pretty amazing!
Did we mention that it is perfect for outside events?
We were thinking about a tailgate party or a concert line. Keep your drinks steady in the two mesh cupholders, and your wallet safe in the organizer pocket with zipper.
Thumbs Up For
Two cupholders and organizer pocket
Convenient to transport
Easy to get up from
Breathable back
Thumbs Down For
A bit of hassle to fit in the bag
Doesn't recline
Last update on 2023-12-01 / Paid Link / Images from Amazon Product Advertising API
This next chair is dedicated to those tall guys and gals who constantly feel like they live in Lilliput. Yes, we feel your pain.
We have seen what you go through on an airplane, not knowing how to make your legs fit in that tiny space.
Also, we have seen you in theaters, curled up so the guy sitting behind you doesn't pat your back every ten minutes to tell you, "Would you mind?"
And we have seen you on camping trips too, laying on the grass, uncomfortable and bitten by bugs, because no chair is spacious nor cozy enough. If on top of that, you have back issues, we would understand why you have decided to turn down any further invitations to meet with nature.
Well, not anymore. Your long-lasting suffering has come to an end due to Kijaro's XXL camping chair.
It has all the perks of the item we just reviewed, plus some more. Weight capacity goes from 300 to 400 lbs. This chair is a bit heavier too, but only by a couple of pounds. You can still carry it around by the same built-in strap.
The best thing is that it will fit you without a problem. It is two inches wider and one inch taller than its Lilliput-sized version.
More so, Kijaro heard users complaining about their chairs' cupholders being too small, and made one of them super-sized. It can now hold a 32-ounce drink.
So pack your bags —and your chair! You don't need to be uncomfortable in the wild anymore.
Thumbs Up For
The best solution for big people
More seating space than any other chair
Larger cupholder
Sturdy
Thumbs Down For
Doesn't recline
Small particles, such as sand, may ruin the locking system
Last update on 2023-12-01 / Paid Link / Images from Amazon Product Advertising API
Next on the list, we have a very good-looking chair that also has many bonus features.
Let's start with what we loved the most about it: its amazing 170° reclining angle. You can adjust it at any point in between, but if you decide to go all-in, you will be almost as horizontal as in your own bed. But outdoors!
Its clamp locking system makes it very easy to find the position, which best suits that achy back of yours. Plus, its sturdy steel frame combines with an extra brace in the chair's legs for enhanced stability.
Remove or adjust the pillow to where it feels better. It can perform as a padded headrest, and also fall down to your spine to facilitate lumbar support.
This lounging chair's bungee suspension system holds a full padded seating covered in 100% polyester. Add that to its ergonomic contour, and you may be looking at the best camping chair for a bad back.
And we can keep listing little perks. The armrests are made of natural wood for a sophisticated, handsome touch that is soft on your arms. This chair looks elegant on every patio.
It also comes with a large detachable cupholder that can be pinned on the side and features a non-slip mat for you to place your feet.
Yes, the chair is a bit heavy —just over 20 lbs.— to be carried long distances, but it is very spacious and supports up to 350 pounds.
Make sure not to leave it outdoors, since its fabrics won't endure constant sunlight nor too much rain.
Thumbs Up For
Great stability
Easy locking
Sophisticated-looking wood armrests
Amazing reclining angle
Thumbs Down For
Not suitable for staying outdoors
Pricier than most options
Last update on 2023-12-01 / Paid Link / Images from Amazon Product Advertising API
Maybe you don't want to spend too much money. You feel like you don't need to. Or maybe you want a chair for each member of your family and are looking for the budget option. Well, this is it.
AmazonBasics's lounge chair gets rid of some of the little, dispensable features while still performing as it should, which is by keeping you comfortable and your back relaxed.
It achieves so due to the zero-gravity effect, which lets you elevate the legs and feel weightless. Find your perfect spot and lock on it using the star-shaped knobs on each side.
The double bungee support system, as we said earlier, work wonders on your back problems, because it allows you to sink in the chair but without sagging.
This chair's skeleton is made of a strong steel frame that supports up to 300 lbs while weighing just 16.5 lbs. On the other hand, the seat features weather-resistant Textilene fabric that you can leave in the backyard without any worries.
The padded, adjustable headrest can be slid down to aid your lower back. Encourage that comfortable feeling by placing your higher extremities on the contoured, ergonomic armrests, and you are set. Enjoy your stay wherever you go, and don't let anyone take you off your chair.
All in all, though AmazonBasics's may not be the best-looking chair you will find, it does offer great value for its price. It lacks features such as a cupholder, an organizer, or something to carry it with, but it won't disappoint you.
Thumbs Up For
Suitable for staying outdoors
Easy return to an upright seated position
Breathable fabric
Good value for its price
Thumbs Down For
Quite simple-looking
Cupholder sold separately
Last update on 2023-12-01 / Paid Link / Images from Amazon Product Advertising API
So far, we have shown you chairs that you can picture yourself with on a Spring or Summer day. Their light fabrics —some even had mesh on the back— probably made you think about them as appropriate for pool parties or camping near the beach.
But what if you are a late-Fall or mid-Winter kind of camper? What if you need to be protected from something more than just a light breeze?
CORE Equipment has designed a chair that you can take on your journeys even if the day is extra chilly. Its polyester, quilted seat will provide warm touch for your body —and especially your back.
Picture yourself sitting by the lakeside, with a blanket over your lap. The chair's padded armrests offer the perfect mixture of support and comfort. Cold air won't surprise you from behind; you are covered and cozy.
Even though the chair is sturdy and has a thick fabric, it can be folded and easily transported by its built-in strap, or in its carry bag. It amounts to a bit over 12 lbs and supports up to 300 lbs.
It features a built-in, compressible, over-sized cupholder with a perforated bottom. This allows for drink condensation to fall to the ground, rather than accumulating forever and ever at the base of the cupholder.
More so, a gear pocket made out of mesh keeps your items safe and near you.
Above all, we are thrilled about this chair's elegant design. Apart from being a relief and a safeguard for your back, it will look nice on every patio.
Thumbs Up For
Cozy seat
Comfortable armrests
Elegant design
Brilliant cupholder design
Thumbs Down For
May be too hot for the summer
Doesn't recline
Last update on 2023-12-01 / Paid Link / Images from Amazon Product Advertising API
Last but not least, we bring you Coleman's comfortable suspension chair. Its design is composed of bungee cords and leg springs that let you sink into the chair. You will feel like it takes your shape as it hugs you. It is as cozy as it gets.
On the back, the chair has a breathable nylon mesh to keep you cool even on the hottest of Summer days. The seating, instead, is covered with ripstop nylon that dries up quickly.
Add to that the heavy-duty materials used for the chair's frame, you get an item that you can not only take along with you wherever you go but also leave in a patio without worrying that it will be ruined by rain or sunlight.
Apart from its suspension being good for your back, this chair has strong, padded armrests that will help you get up with absolute ease.
It is easy to transport, too. Its collapsible design allows you to fold it and fit it into the carry bag easily.
More so, in all its 12 lbs, it is lighter than most chairs and still can support up to 300 lbs like most of them.
One letdown, though, is the chair's integrated cupholder. We don't know what the company was thinking. It is made of two black plastic rims, which are attached together by six fragile-looking little chains. Sadly, it doesn't look good, and it doesn't feel right.
Anyway, we strongly believe that the chair stands for itself even with that small issue.
Thumbs Up For
Really comfortable design
Suitable for staying outdoors
Strong arms to lift yourself from the chair
The fabric dries quickly —perfect for pool parties!
Thumbs Down For
Fragile cupholder
Doesn't recline
Last update on 2023-12-01 / Paid Link / Images from Amazon Product Advertising API
Things To Consider Before Buying A Camping Chair For Bad Backs
Have you made up your mind yet? If you have good luck and enjoy camping! But if you haven't, don't worry, you will get there eventually. A few more tips to guide in the right direction is best for you.
Carry-on Weight
If your back gives you trouble, likely, you don't want the burden of a heavy chair, no matter how comfortable it feels. You probably need to be able to carry it around on your own, lest you have an adorable gentleman or gentlewoman ready to do that for you.
You may also want to take into account the chair's transport options.
Does it fold?
To what dimensions?
Does it have a strap to carry it from?
Does it come with a carry bag?
Can you easily fit the chair into it?
We know it is a lot of questions, but weight is an important aspect to think about when planning a camping trip. Read about your preferred model's weight and, at home, practice carrying something similar.
Sagging vs. No Sagging
Some people feel more comfortable when curled up, and others that like it better to have their backs straight, their spine completely aligned.
Which side are you on?
The answer to that question will give you a hint about the kind of chair you need for your trips.
If you are the curled-up type, there is a big chance you may like a chair with bungee cords and a fabric that hugs you. On the other hand, if you have to sit up straight, you should go with a chair whose seat is hard enough to prevent sagging.
Last question here: do you have a hard time getting out of chairs?
If that is the case, whether you like it or not, it will be better for your body to get a no-sag chair.
Reclining vs. Fixed
As you have seen from our list, camping chairs can be roughly divided between those that recline and those that don't. You are faced once again with a matter of likes and dislikes, but this time with a matter of situations as well.
Do you want a chair you could eventually fall asleep in?
Will you, for instance, use it for sunbathing?
If that is the case, there is no point in getting a chair that doesn't recline. You want something you can fall back into and conveniently lock.
Are you looking instead to get a chair you can take on fishing trips?
Are you a fan of tailgate parties?
If dozing off is out of the question, a straight, sturdy chair will be the best option for you.
Patio-Friendliness
By definition, a person spends more time at home than on a trip.
So, it is nice that you have a perfect camping chair that feels good and takes care of your back. But where do you put it when you are not traveling?
Do you mind that the chair stays forever in the trunk of your car waiting for the next vacation? Or would you like to make it blend with your furniture?
This situation puts you in front of another conundrum.
Do you need your new chair to be resistant to a lot of sunlight or rain?
Would you rather want it to be handsome to fit with your already handsome house?
Why not both?
If that is something on your mind, you may want to take a good look at the fabrics and the colors of the chair.
Breathability vs. Warmth
There are no such things as "summer chairs" or "winter chairs." However, depending on the fabrics used, some chairs can be hotter than others.
Of course, everything with a breathable mesh will perform better in humid, warm weather. This feature is meant to allow your back to find some ventilation.
On the other hand, quilted or polyester-covered chairs will generate more friction with your clothes, which also means more heat. These kinds of chairs are perfect for a trip to the mountains, for instance.
So, before deciding on a chair, you may want to take into account where you live and where you usually travel to.
However, if you happen to go to places with all kinds of weather, we suggest breathability over warmth. You can always cover the mesh, but you can't make holes in the back of your chair. Well, you shouldn't, anyway.
Size
If you are a tall guy or gal, you know better than us how hard it is to find something your size. It applies to camp chairs as well.
Luckily for you, most companies now offer XL —and even XXL— camping equipment to make you feel comfortable wherever you go.
Larger, wider, and bigger chairs are waiting for you. Just make sure you examine their measurements before buying one.
Frequently Asked Questions:
Do bungee cords need to be replaced eventually?
Yes. Like almost every piece of equipment, bungee cords start to wear down after continued, heavy use. They won't break, but rather stretch. Any good sporting store will have replacements and probably even change them for you.
How safe are the locking systems in these chairs?
They won't easily collapse if that is what you mean. Nonetheless, no matter how strong or what system, after continued use and friction, they may start to loosen up a bit.
Why don't these chairs come with shade umbrellas?
Yes, we know! It is a bummer. A sun protection accessory will be a nice add-on. You can get one separately at some sporting store, though. They come with clip-on that you can fit on the frame.
Are these chairs suitable for the beach?
Yes, of course. One piece of advice, though: you should hose them down once you get home. Sand is very intrusive and could mess with the locking system, or make folding the chair extra difficult.
After a camping trip, I found mold in my chair. How can I clean it?
You can spray alcohol on the fabric and then let it stay in the sun for a while.
Final Words
We know how important it is for you to find the best camping chair for your bad back. No one goes on a trip to be uncomfortable.
We hope that our guide led you to many new and wonderful experiences. Lay back and enjoy the ride!