Hammocks have found their way out of the backyard and are gaining more popularity among campers worldwide. They are becoming one of the best, and a feasible means for camping and tenting.
But then, things always happen for a reason, and it is the benefits that those long-lasting hammocks have delivered to date, which has made them trending and on the rise in recent times.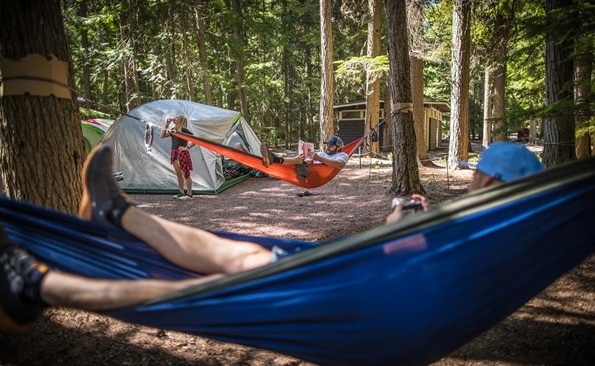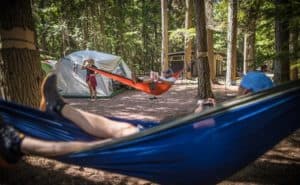 To help you understand better, let us have a closer look at those certain distinct advantages that the use of a hammock delivers when it comes to camping.
Sleep Like A Baby
Hammocks serve amazingly well for people with sleep disorders and insomnia. Besides, it is highly beneficial for your nerves, spine, and is well known for delivering a good sleep. You better choose your camping place wisely because hammocks are well known to help people sleep like a baby.
The rejuvenating experience for the coming day after a relaxing sleep is what makes the camping trip worth and for such hammocks come in handy.
Cosiness That Makes You Feel Like Home
The benefits of relaxing in a hammock are not just limited to good sleep. It also helps in avoiding the uncomfortable and uneven ground surfaces which if ignored, can turn your camping into a painful experience.
If you are carrying a hammock, you never have to worry about the ground and the surface underneath. It also cuts off the extra time that you may spend choosing the right tenting spot.
Setting up a hammock may come as a challenge if you are a beginner, but it is always worth it when it comes to cosiness that you feel once when you hop in. You can also make your own natural mosquito repellent to bring on your trip.
Hammocks Work Great For All Terrains
When you have a long-lasting hammock, the terrain where you are planning to camp becomes a lesser matter of concern. No matter if it is the mountains that you chose for your camp-and-hike or a swampy area for fishing; hammocks work great for all kinds of terrains.
You can always jump in and forget about what's beneath, without worries about the type of location you are camping.
Hammocks Are Available For All-Seasons
Good-quality hammocks come with decent features to make it work for all types of season and weather conditions. Depending on the existing climate of the camp area, it is also necessary to look for the built-up material quality to make it work out for such troublesome conditions.
However, there are several varieties and add-on equipment available with a long-lasting hammock that makes such typical conditions easily manageable. Besides, carrying such light-weighted pieces of equipment least bothers the overall camping experience.
Preparation of carrying such useful add-on equipment with your hammock helps you get along with the surprises that Mother Nature.
They Are Relatively Easy To Set-Up
Hammocks are quite easy to set-up when compared to typical traditional tents. A quick shelter set-up becomes a necessity, especially when the camping trip involves a couple of tiring recreational activities.
That is where a hammock set-up comes into effect. So if you are carrying a hammock for your trip, you will find yourself relaxing in your shelter while watching your friends poling up the skeleton to prepare their tent.
With that said, hammocks come well-equipped with plenty of added features such as mosquito nets, tarps, gear lofts, and others that are easy to use. With such kind of features, a hammock can be as comforting as your tent (and even more indeed!).
Acquires Even Lesser Space And Is Easy To Carry
The best thing about hammocks, they are light-weight and easy to carry. Hammocks usually weigh less than 4 lbs and maximum up to 8 lbs with all its add-ons and accessories, which makes it quite handy and easy to carry.
Moreover, they can be easily folded to a spatially-compatible size, thus acquiring even lesser space within your backpack. This particular feature is highly beneficial when hiking is a part of your camping trip as it cuts down the extra weight of carrying a relatively large and heavy tent.
A Long-Lasting Hammock Is Always Worth The Money
The durability of a hammock depends on the type of material used to manufacture the hammock, with proper deliberation of the design, ergonomics for ease of set-up and use.
The good ones often come with high-end fabric, enhanced tensile strength, and reinforced stress points with quality material.
Final Verdict
Even though it may bother you a little in the beginning as you may have to go through a short learning-curve before properly setting up a hammock, they are overall a great replacement for tents.
Thanks to its distinct set of benefits it carries for camping, hammocks bode well when compared to traditional tents and its related complexities and a great choice of sheltering when it comes to camping in the open!