Comfort traveling to different places, including those far from civilization benefits, became possible not only with the invention of cars and other personal transport, but also with the emergence of various universal devices – tourist stuff such as tents, inflatable mats, cushions, gas burners, and headlights.
And folding tourist furniture will please even a glamorous girl or demanding mother-in-law who will be surprised you can eat at the table, sitting in a cozy chair in a forest. Of course, the folding furniture is also a universal solution for short outdoor trips (picnic, fishing, beach party, etc.), especially if the ground is wet.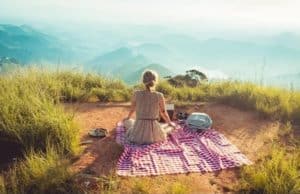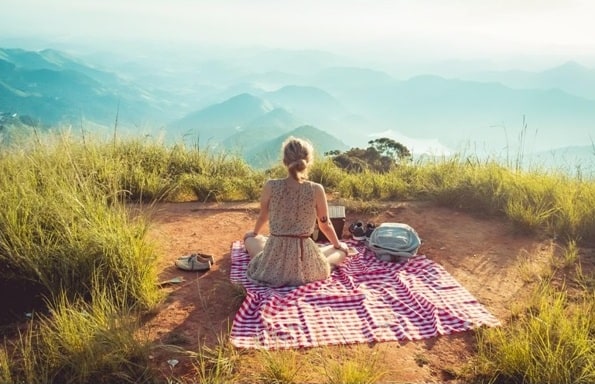 Modern solutions for picnic furniture are born due to the specific needs – lightness, compactness (folding), durability, and comfort.
Tourist furniture consists of usual items: tables, chairs, loungers, as well as folding beds, along with lockers, storage compartments, side shelves and cabinets for a camp kitchen. Some also have a lantern tower included which is very convenient in the evening or at night.
Let's consider the features of each element.
Types Of Folding Furniture:
Folding Tables
Quite a popular type of folding furniture because it is much more comfortable to sit at a table than on a mat.
Picnic tables can be of different designs.
Folding Tabletop
For a large group of people, a tabletop of a large table is folded in half and its legs are folded inward, then it becomes a compact flat "suitcase" with handles.
Monolithic Countertop
There are smaller tables that have tabletops which are not foldable, and only the legs have different folding mechanisms, depending on the brand.
Fabric Tabletop
For a solo trip, e.g. on a bike, a table with a fabric "tabletop" is very convenient. Thanks to its ergonomics and fabric compactness, it will effortlessly fit into a large case, and it will be easier and more comfortable to use in a camp.
The choice of a picnic table depends on the number of people and the way of travel. For cycling or motorbike trips, outdoor furniture is more suitable – compact fabric models with an aluminum frame.
Chairs Or Recliners
Perhaps, a true tourist may be skeptical about folding chairs or recliners, but for campers, fishermen, and motorcyclists this kind of furniture is an indispensable comfort thing.
According to this website, the market offers a lot of design solutions for these camping furniture pieces. This for fishing. There are small chairs with a triangular seat on 3 liregs, rectangular fabric seats on 4 legs or 2 arcs. 
For fans of camping comfort, manufacturers offer a model of a backpack with an integrated folding light chair.
For those who travel by car or big camper vans, full-sized chairs or recliners can be recommended. I will tell about them later.
Camping Chairs
Modern chair models for picnics and tourists are just a delight in terms of convenience and simplicity. Manufacturers offer various models, from compact comfortable minimalist chairs, as well as "upgrade" variants with additional accessories, e.g. cup holders, sliding side tables/shelves, several backrest positions, adjustable armrests and legs, lightweight frames, additional soft headrests, etc.
But remember, the best designed durable camping furniture is not cheap.
There are ergonomic solutions which provide a full-fledged convenient place in terms of their compactness. A striking example is Chiller folding chair from Leki, it's unique design cannot be confused with anything else.
Folding Beds And Lounge Chairs
Lounge chairs have an elongated design which means you can comfortably rest your legs and stretch out along the entire chair length.
The design may be light but these chairs are bulky enough to carry, so it is the best option for recreation in nature for campers, not hikers.
Perhaps, in terms of relaxing, a hammock is the only thing that can rival such a chair on a picnic. In the model range, you can also find loungers with additional sun sheds that create shade in the headrest area.
Folding beds are another type of furniture which is also used by campers and travelers. Modern folding beds have progressed significantly: the market offers light models which provide not only ergonomics but also comfort.
Ready-made Sets Of Folding Furniture
In addition to individual elements such as chairs or loungers, folding furniture sets are also popular. To choose a set of folding furniture for a picnic means to solve the problem of a table and chairs simultaneously.
Folding cabinets/cupboards are a separate element of picnic furniture, as well as a complete "set" of an outdoor kitchen. Such a kitchen is thought out to the smallest detail and, besides drawers for dishes, shelves, and tabletops, has special wind protection.
Easy folding camping kitchen simply folds up and is packed in a case for carrying. A similar solution is for perfectionists who want to cook soup in the woods with comfort.
What Is The Most Important Thing In Folding Picnic Furniture
Folding furniture for recreation has a number of basic key characteristics which are essential when choosing.
Material;
Folding mechanism, design;
Weight and dimensions;
Design.
Depending on what you need tourist folding furniture for, the priority will be this or that characteristic.
Materials
Lightweight and practical:
Aluminum and its alloys;
Plastic and its modern version, carbon fiber reinforced plastic;
Strong, synthetic fibers.
Aluminum alloys or aluminum are the most common materials of frames and legs because it allows you to make furniture for recreation and tourism easy and implement the most effective design solutions – for easy transportation, the furniture should be compact when folded.
Hollow pipes made of light metal are a universal solution for folding chairs and loungers. Aluminum will serve for a long time without any rusting.
Carbon fiber reinforced plastic is the second most popular material which, apart from being lightweight, is also resistant to deformation. However, it is slightly more expensive and often used by premium brands, especially in certain patented designs. Wood or steel alloys have a clear disadvantage – they are heavy.
In terms of durability, carbon fiber and aluminum alloys also provide a head start. However, folding wooden furniture is much more aesthetic than plastic or aluminum-fabric options. It's an excellent variant for summer houses.
Fabric chair, lounger, and folding bed seats should be only synthetic or ripstop nylon. It is durable, fast to dry, resistant to various mechanical impacts and quite light.
Design And Folding Mechanisms
Folding furniture for recreation has to be simple in unfolding/folding up. As spending time for setting it up (when you also have a tent) in camp conditions is a bad idea. Therefore, it is advisable that the unfolding mechanism was actualized in a single movement, and the furniture its was ergonomic and does not take up much space in a vehicle.
The mechanisms are reliable, durable and have protective solutions to prevent accidental folding/unfolding. The construction itself is geometrically stable and designed for a certain indicated weight.
Weight And Dimensions
You can choose your camping furniture by its weight. The optimal weight for each type is:
Small chairs – less than 2.2 lbs, max. 3.3 lbs
Camper chairs –4-6.6 lbs, depending on the equipment. Simpler fishing chairs can be more comfortable, and, therefore, slightly heavier.
Loungers – minimalist solutions from 6.6 lbs, advanced loungers – up to 17.6 lbs.
Folding beds are slightly heavier than loungers – from 11 to 24 lbs.
Tables – from 8.8 to 26.5 lbs.
Dimensions depend on the way of use. The most compact variants are for hiking, cycling or motorcycling.
Triangular three-legged chairs are the most popular lightweight models. For fishing and car travels, full-sized chairs are chosen. Auto campers have carte blanche: any loungers, large tables, and chairs, country furniture can also be bulky.
Which Folding Furniture Is Better To Choose?
So, folding furniture basically has 4 directions:
Summer houses;
Hobbies (fishing, hunting, camping);
Hiking;
Traveling
Folding furniture for recreation at a summer house or backyard camping can be made of wood because it does not need to be transported and has a cozier look. Folding elements make it compact, thus, your guests will always have enough room.
In matters of short-term fishing or picnic trips outside a city, compact chairs are quite enough. They are light and easy to deal with and put into a car. A number of chairs have covers with convenient strap handles to carry on your shoulder.
For hiking, naturally, the lightest versions of high chairs with durable fabric seats and light legs are chosen.
For traveling in your car, you can choose a camp folding kitchen, let alone folding beds or deck chairs. It all depends on how much you like comfort and the space you have in a car. However, most often, chairs (or a set of a folding table, including chairs) are chosen for cars, and camper vans can accommodate loungers with sets of camping furniture.