When you hear about hammock camping, the first thing that comes in your mind is that hammock involves finding two good trees in order to set it up. Traditionally, it's true that hammocks are slung between two support trees.
However, it's not certain that you will find a good pair of trees everywhere including at your backyard or any camping sites you want to spend your time. With the same token, this does not mean the end of your camping adventure.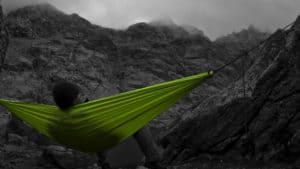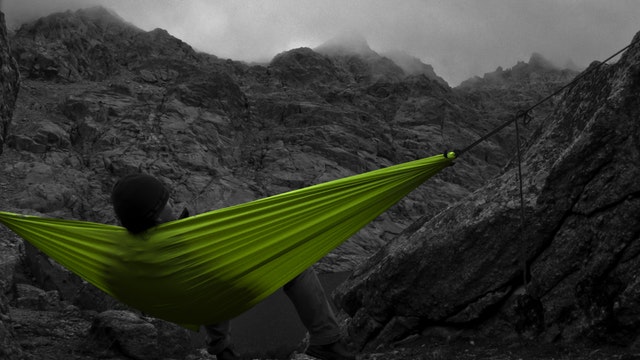 With little creativity, there are myriad ways to hang your hammock in nearly any position you would like. While hammock camping without trees seems to be a challenging idea among campers, this is where the real fun begins.
Nowadays, the whole environment surrounding us is a hammock-friendly zone. You can hang anywhere, even if your favorite spot doesn't have a tree in sight.
The only thing you need at this point is two strings for you to tie off both ends of your hammock.
5 Ways You Will Learn To Do A Hammock Camping Without Trees:
Hammock Portable Stands
One of the best way of camping without trees, especially on the beach, is to consider getting a hammock stand. Hammock stands come with all kinds of options to choose from, ranging from ultralight backpacking stands that are portable to permanent stands for your backyard.
Last update on 2023-09-25 / Paid Link / Images from Amazon Product Advertising API
These stands are made from either metal or wood and are designed in a way that they can hold your hammock anywhere you want to set up your post. Having one is a sure way to guarantee a good hammock adventure.
Things To Consider When Selecting Hammock Stands
Backpacking is usually tedious. You have to endure long-distance hikes and sometimes climbs. Therefore, it is advisable to choose hammock stands whose style and design is light and compact.
It is important to ensure that your hammock suits the type of stands you choose. Also, consider tasting your assembled hammock several times to ensure that it is a safe structure for your camping.
Buildings
You can also try hammock camping from outdoor structures such as pavilions, rain shelters or sides of a building. This types of building are commonly available in public areas and state parks.
They allow you to hang your hammock without involving any trees hence bringing you an enjoyable camping experience with your hammock without involving any tree.
You can also tie one end of your hammock to a building and install a sturdy post to the opposite end to provide them with support. You need to be careful when fastening hammocks to the building as it requires strong hooks to tie the cords.
Hammock Structures
Another vital option of hanging your hammock is the use of the hammock structure. One good thing about these structures is that they let you hammock with other people without having to spread out too much. These structures are available in public areas, colleges and all over the place in the cites.
Posts And Poles
These include telephone poles, porch post, or fence posts which make great hammock hangs in a pinch. One of the most important things to consider is to ensure that you choose posts that are big and strong enough to support your weight.
Porch Posts
Front porch posts are commonly used along with the sturdy post in providing hanging support for your hammock.
Fence Posts
You can set up fence posts in concrete to help you serve the same purpose as trees. It is easy to determining the height of the posts to hold the hammock above the ground.
When using concrete, make sure you follow the manufacturer's instructions so that you don't mix things in a ratio that will end your camping experience in a bad way.
A Combination Of Car And Trucks
The car-truck option is one of another best hammock camping without any need for trees. You only need one extra support to get your hammock set. Having a vehicle (more preferably pick-up) to attach the hammock makes it easier to get another sturdy post for hammock set up. Be sure to identify a good spot on your car to attach the hammock. You can anchor your hammock to the bed of your pickup. Avoid clipping your hammock on to your rear-view mirror.
Take Away Tips on How to Hang a Hammock Without Trees:
Installing hammocks support rather than depending on the trees provides you with a wider range of freedom to pick safe and best locations. There are a number of considerations you need to keep in mind before setting up your hammock:
Choose Your Best Location
Falling and hitting a rocky terrain ground can be very dangerous when camping. Choose a plain and clean land first before setting your hammock. You can also consider cleaning beneath area if it is dirty.
Choose The Required Distance
Before setting up your hammock, it won't do you harm meeting the standard required distance for ideal hammock stretch. The maximum distance is 18 feet, but you can do it from 10 feet so long as you don't go below the distance limit.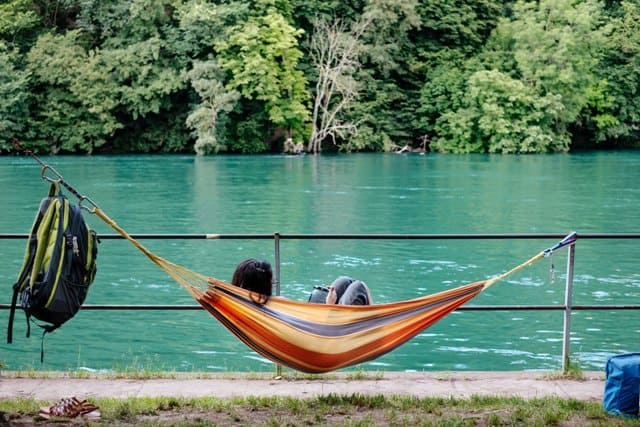 Having this in mind will make you simple and easy work of choosing the best hammock stands or choosing the poles or building you need to hang your hammock before setting it up plus, you can use an extra rope or straps to support your hammock suppose you get a spot that is too wide and open.
Ensure You Meet The Required Height
Since hammock is a little bit stretchy, consider giving a sufficient height allowance in order to be safe when it sags. This will help you to avoid cases of waking up only to find your back on the ground. In the same case, you should also always hang your hammock not high enough, to prevent any injury in case it falls.
Choose Your Preferred Hanging Method
Some campers prefer using ropes to tie their hammock. However, this method is somehow challenging since it's difficult to tie a strong knot. It is, therefore, suggested to use hammock straps for a faster set-up without hassle. Straps have loops features which make it easy to adjust the distance you require.
Creative Ways To Hang A Hammock
Final Word
Hammock camping without trees is an exciting experience you need to try out during your next camping trip. The traditional way of hanging hammocks between trees has limited campers on areas that only contain trees.
You don't need trees in your yard or beach in order to get an amazing experience from the hammock. As we have seen, you only need two strong ends that will be able to serve you the same way as trees.