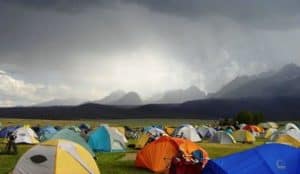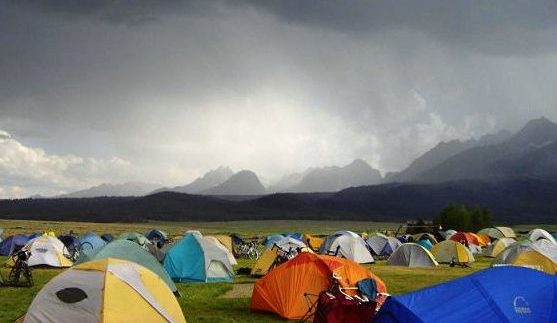 Sleeping in your camp with the beautiful sound of rain dropping outside is one of the best experienced that you can have in your life.
But this whole experience can be ruined if you don't take enough preparation for camping in rain. Camping in the rain can be really fun and memorable if you are fully equipped for it.
The more you have taken preparations for wet weather the better will be your camping experience.
One of the most important things that you should do before you go for camping is to check the weather forecast.
Even if it doesn't show rain in the forecast it is always better to take preparation for it. Check the previous records of that place for that specific time being.
Does it usually rain at that time?
Is it heavy rain or moderate rain?
Try to find out these answers, this will assist you while preparing for camping.
8 Necessary Things Need To Be Consider While Camping In The Rain:
Waterproof Tent
Have Plastic Bags
Ventilation
Have an Extra Groundsheet
Microfiber Towel
Set Your Tent on Higher Ground
Choose Cloth Wisely
Use Gazebo
Waterproof Tent
We cannot emphasize more, how important it is to use a waterproof tent. Always go for a tent that is water resistant.
What we have seen that some people think that as they don't go for extreme hiking maybe they don't need a waterproof tent.
Nature has no rules, it can rain anytime. Even if you are doing camp just in the backyard of your house, it is always good to go for a waterproof rent.
Moreover, make sure that the tent has rain fly so that rainwater drips off the side and cannot enter the tent. It would be better if the floor of the tent is made of polyurethane or any other product that can keep the floor wet proof.
Have Plastic Bags
It is really important to have a sufficient amount of plastic bags or trash bags when you are camping. Especially if you are camping in rain then plastic bags become a necessity.
Bring plastic bags of different sizes so that you can keep your wet cloth and at the same time seal your sandwich also.
Moreover, plastic bags don't weigh anything, so there is no problem to have more than you need. It is not good to use the same plastic bag repeatedly so try to use a new one every time.
You can keep safe all your electronics in a sealed plastic bag. If you are carrying any important paper with you keep that also in a plastic bag.
Ventilation
A waterproof tent will keep dry inside your tent and when you are going to sleep you will feel nothing.
However, after a heavy rain when you will wake up in the morning you will feel a little damp inside your tent. The warm breath and the cold surface of the tent will create moisture inside the tent.
As the inside of the tent is warm it will condense the cold air of the surface and it will feel damp. To reduce this, there should be a proper ventilation system in your tent.
Therefore, use a tent that comes with a vestibule. By using a vestibule you can pull out the damp air from inside the tent to outside.
Have An Extra Groundsheet
Though you have taken enough preparation for rain having an extra groundsheet is always safe. Sometimes when it is heavy raining and raining for a longer period the floor can start to feel wet.
Therefore, pack an extra groundsheet that you can lay under while camping in rain.
Microfiber Towel
Take a lightweight and compact towel when you are going for camping. And if you are camping in rain then use a microfiber towel. Microfiber towels can dry more quickly than the normal ones.
It is super absorbent; therefore it will be really helpful in the rain.
Set Your Tent On Higher Ground
After reaching to your campsite, look out for the whole site and then choose the highest ground to set your tent. Your chosen place needs to be elevated and must be away from hills or any slope.
What many people do mistakenly, that they set their tent under big trees. It may help you to keep away from the raining, but at the same time, it is very risky too.
In the storm, tree branches can fall on your tent and thus it can cause serious injuries. Try to set your tent in a position where the tent door will face downhill so that it can prevent any water running inside your tent.
By the way, please remember; if you are doing camping in a high mountain then don't choose the highest point. In that case, there is the serious chance of lightning.
Choose Cloth Wisely
When choosing to clothe, it is also important to pack wisely for camping in the rain.
Try to avoid cotton clothes, as these are heavier and at the same time it takes more time to dry them. Try to choose woolen clothes or synthetic material. These are light and will also keep you warm in cold weather.
Don't forget to take your rain jackets with you. Moreover, take your rain pants which can be dried more quickly.
Lastly, bring extra socks to wear while camping in rain. Make sure you store these socks in a plastic bag. Nice warm and dry sock will give you a comfortable feeling after a long rainy day.
Use Gazebo
o give you more protection while it is raining using a Gazebo will be really helpful. This is like placing a trap over your tent so that it will be more weatherproof.
Using a trap will also keep your tent more durable. While setting the Gazebo, make sure that it is angled nicely. Additionally, using a gazebo will let you enjoy rain more.
Camping in rain won't be a difficult task to do if you simply follow these steps. Just follow these steps and you will be never afraid again to go for a camping in rain.
Hope this article was able to help you. Stay safe while camping and have fun with your close ones.