Campers must brace themselves for hitting a lot of snags while handling their tents outdoors. One of the most common catch-22 situations likely to be experienced in the field is when the tent's zipper is damaged. It means less security, more cold, and other unpleasant expectations.
However, you shouldn't panic if your tent is the victim. You won't get hurt because this article features the comprehensive guidelines for fixing the mess instantly.
Isn't that good news? I believe it is.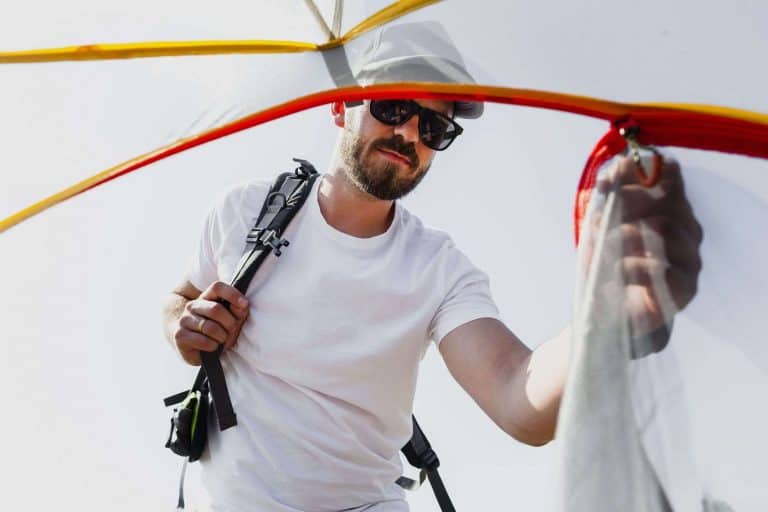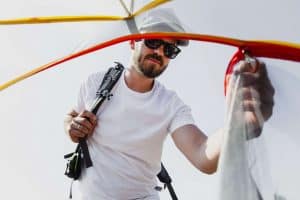 Before I get to the steps, I'd like to remind you that it's always wise to carry with you an arsenal of emergency tent repair tools to the campground.
We can only get ready to tackle but not prevent uncertainties like the underlying one in this situation (a broken zipper).
However, since they're uncertainties by name and nature, we may fail to prepare for them, and that's why I've partitioned my tips into two. One explains how to fix the zipper without tools, and another one with tools.
Here we go.
Repairing The Zipper "Without" Tools
You may not have the necessary tools, but it's uncommon to leave behind pliers and zip ties. The two can work the magic of your zipper is damaged. Read about that in the points below.
A separating track is one of the most common problems that can be fixed without special tools. You'll only need a pair of adjustable pliers to fix this. First of all, open the zipper so that the slider is at the end of it. We want to apply some pressure on the slider so that it gets tight again. Therefore, you'll need to position the pliers parallel to the track and do the pressing on the right side then repeat the same for the right side.
What you need to observe is the amount of pressure you apply. Too much pressure will break the slider. Also, you can only perform this while the zipper is open to access both sides of the slider.
The slider's pull may have broken away so that pulling the slider alone is impossible. A zip tie will serve the purpose perfectly. Simply enter the zip tie's pointed end through the slider's eye and pull until it firmly grips the slider. You have the freedom of choice in the length that remains for pulling.
In the case of a lagging slider, you need to apply some smooth substance, and a pencil can do in this case. Simply rub the pencil's graphite along the zipper on both sides. The graphite will offer a soft surface for a smooth ride so that the zipper runs uniformly.
If the zipper is stuck on the way because of cloth or fabric, applying soap will unlock it to move. Use wet bar soap. This can also apply if the zipper is stuck on the teeth.
Note: Always pull stuck zippers gently. A forceful pull will damage it, and you may have to replace the whole system at a higher cost.
Repairing The Zipper With Tools
Firstly, you'll need the right zipper repair kit. Choosing the right one shouldn't be a problem. Just make sure that within the kit, there are various sizes of sliders, a glue, a needle and thread, a seam ripper, new zippers and their parts, and a pair of pliers.
Identify The Problem
Your zipper may fail due to several reasons. So, you must know the problem to identify the appropriate solution for it. Some of the famous problems include a stuck zipper, damaged zipper stitches, separating zippers, and broken sliders.
Identify The Solution
Here, I'll explain how to tackle the most common problems that meet your zipper.
Broken Slider Replacement
In case the slider is broken, it needs a replacement.
The steps of replacing the zipper start with removing the track end stopper. You'll use a pair of pliers for this.
Your slider is now ready to slide off the track; slide it off.
Now you're prepared to slip in another one. So look for one of the same sizes and slide it in. As you insert this new slider, make sure that its nose faces the front part. If it doesn't work well and it's of the right size, you can use the pair of pliers to fix it like in step #1 above (repair without tools).
If the slider fits well, the zipper should close behind it. In this case, close the zipper halfway to give room for adding a stopper at the start.
Now add the stopper and stitch the finish using the needle and thread in your kit. Sew carefully, avoiding any threads that get in the way of the slider.
Replacing A Zipper
To replace a zipper, you only need a few steps, because the slider and zipper are already compatible and in place; you only need to stitch it onto your tent.
First of all, remove the old zipper using a seam ripper. The seam ripper helps you cut the old stitches easily.
Fix the new zipper by stitching it in place using your needle and thread. Make sure that the new zipper has the same length as the old one.
While stitching, ensure that no thread crosses the slider's line.
If you have a variety of colors, choose the one that rhymes with your tent's color.
Sale
FixnZip (Black Nickel) - Universal Zipper Repair Kit for...
REPAIR MOST ZIPPERS EASILY: apparel, backpacks, tents, boats, marine, sleeping bags, purses, jacket, pants, bag, luggage, wetsuits, and more. Works on open-end, closed-end, invisible, and watertight zippers.
NO TOOLS OR SEWING REQUIRED: Fix zip isn't your average zipper repair kit. It's a replacement zipper slider that you can install without tools or sewing. Anyone can do it! You'll have your zipper handle in best condition in no time!
DURABLE, QUALITY BUILD: Stop replacing your zippers over and over! These top-quality black nickel replacement zippers are made strong, so they won't need to be replaced again. When someone pulls on them, they won't accidentally break or pull off. Strong enough for outdoor use.
ECONOMICAL 3-PACK: Save money by buying this 3-pack of zippers replacement fixer parts. No need to buy three separate kits to patch things up. No need to have a large stash of extra zipper pieces - this is just what you need!
SIZE GUIDE: Small zipper slider: Tooth and coil sizes 1-4 (pants, skirts, fine garments, cushions). Medium zipper slider: teeth and coil sizes 5-7 (jackets, sleeping bags, tents, purses, duffel bags). Large zipper slider: teeth and coil sizes 8-10 (wetsuits, boat covers, canvas tents, heavy duty clothing)
Last update on 2022-11-23 / Paid Link / Images from Amazon Product Advertising API
Dealing With Stuck Zippers
Stuck zippers may be due to a fabric or cloth stuck on the path or too much friction. In case of stuck fabric or threads, use wet bar soap to smoothen the removal before actually cutting the material off, if it's less critical. If it's due to friction, add a lubricant along the path.
The Bottom Line
You'll be leaving and coming back to your tent more often, thus, you'll open and close the zipper frequently. As you operate it, just make sure that you're always gentle to avoid more cases of replacement and fixes.
Meanwhile, you now have the shortest and DIY fixes for your tent's zipper. You don't have to spend much on simple repairs.