When camping outdoors, you need to have all the protection you can get. Picking the right clothes is just one aspect of this. Another thing that you absolutely need to have with you is a good camping tent.
If that's exactly what you are looking for, then our Coleman Hooligan Tent Review may interest you!
At first glance, the Hooligan tent seems like a rather nice tent. It isn't very expensive. It also appears to have plenty of weather protection.
However, how does the first impression stand up when you start to look into this tent deeper?
Let's find that out!
Thumbs Up For
Great weather protection.
Has a dry vestibule for entry and storage.
Secure pin-and-ring system.
Highly portable.
3 sizes available.
Thumbs Down For
The vestibule door is tiny.
Could have more ventilation.
Requires staking.
A bit heavy.
Features Of Coleman Hooligan Tent
Great Weather Protection:
The first thing you' want from a tent is weather protection. Coleman Hooligan tent does deliver on that.
What is particularly great in Coleman Hooligan tent is its water protection. Thanks to the patented WeatherTec system, this camping tent is highly water-resistant.
The Hooligan tent employs inverted seams: the needle holes are hidden inside the tent rather than outside, which reduces the risk of water getting in the tent.
Another feature that contributes to the water protection of this tent is its weather-resistant zipper cuff fabric. What it basically does is providing extra protection from outdoor weather elements.
The tent's welded, needle hole-free floor of this tent is also waterproof, so there should be no risk of water getting inside the tent from underneath.
Coleman also includes a rainfly cover with this tent that can be extended over the entire tent for better weather protection.
The wind-strong and wind-responsive frame with guy-out triangles and redesigned poles are also remarkable. On one hand, this tent is sturdy enough to withstand wind, and on the other, it is shaped in a way to direct wind away.
And the last feature of this tent in regards to weather protection is its covered vestibule area. It basically creates a dry spot for entry, as well as for storage.
Although all these features make Coleman Hooligan tent rather protective, comfort is also rather good in it thanks to its mesh interior. We think it could use a bit more ventilation though: in very hot areas, you may discover that the interior of the tent is too warm.
In the end, the Hooligan tent is more about protection than ventilation. And besides, the vestibule door is rather small: it requires you to crawl inside, which some people may dislike very much.
Secure Pin-And-Ring System:
The patented pin-and-ring system of the Coleman Hooligan tent is also remarkable. It consists of two main parts – a ping and a ring, as you could probably guess from its name. What this system basically does is keeping corner pole connections secure.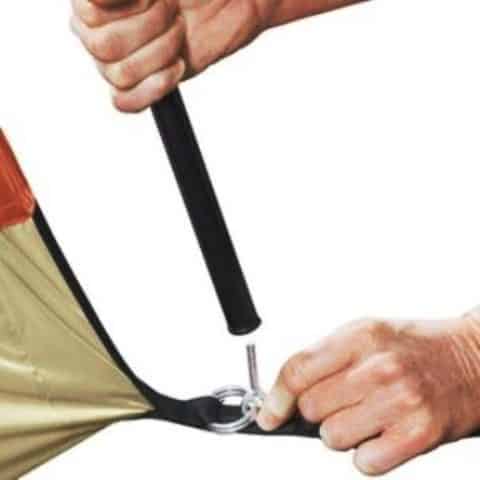 Now, what this means is that Coleman Hooligan tent isn't a freestanding tent. It requires staking, which may be a cumbersome task depending on your skill and the ground. This requires time, obviously. Especially with the rainfly.
And another thing that you need to keep in mind is that you'll need to pick a spot for the tent carefully. You can't just put it anywhere you wish: the spot has to provide you with adequate ground for staking.
While the pin-and-ring system may annoy you during setup, it does deliver one thing that freestanding tents don't have. Coleman Hooligan tent will be standing much more securely on the ground, which will be great for windy conditions.
Good Portability
Portability in Hooligan camping tent is rather good. Coleman includes a carry bag with this tent, first of all. And because you can easily fold it up and stuff it inside the carry bag, traveling with it should be very easy.
There is one small downside: this tent is a bit heavy, probably due to all the stakes and other mounting equipment included.
Coleman Hooligan weighs about 8 – 12 pounds, depending on what size you choose. This may not seem heavy, but you'll most likely feel the weight when carrying a lot of other stuff with you.
Multiple Sizes
Coleman offers 3 size options for their Hooligan tent: 2-, 3-, and 4-person. All the options are rather roomy and provide the users with plenty of sleeping or resting area.
Needless to say, the larger sizes will be heavier, so keep that in mind when choosing a size for this tent.
Frequently Asked Questions:
Does This Tent Come With Stakes Or Other Mounting Equipment?
Coleman Hooligan comes with all the necessary mounting equipment. You may want to buy longer stakes though for more secure setup.
Can You Fit A Queen-Size Mattress In This Tent?
You could try to do that. In the small 2-person version, it would take up almost the entire floor, so keep that in mind. The larger sizes would be more practical for queen-size mattresses since they'd leave more floor room for all your stuff.
Can This Tent Be Used In Cold Weather?
It is protected well enough to prevent the interior from getting wet in pretty much any condition. Snow wouldn't be a problem for it. However, it may be lacking in terms of heat retention, so you shouldn't rely on it in this regard. Instead, you would need to think more about getting warm clothes, sleeping bags, etc.
Conclusion
In the end, our Coleman Hooligan Tent Review showed us that this indeed is a rather good tent. It has every essential you'd want from a tent for an outdoor camping trip! The Hooligan has a couple of downsides, but it still is a great tent for its price!
As good as this tent is, don't rush to buy it. You really need to understand what kind of a tent you need for your camping trip. A lot of things need to be factored in like weather conditions, surface, and how much gear you'll be having with you. In the end, remember that this tent isn't made for extreme conditions.
But if you've found that the Hooligan is the perfect tent for your camping needs, then go and get it!